Los Angeles Photos
Browse photos from live + streaming theatre in Los Angeles.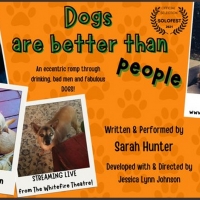 BWW Interview: Playwright and Actor Sarah Hunter on Why DOGS ARE BETTER THAN PEOPLE
by Shari Barrett - Los Angeles

(1/24/2021) - Dogs Are Better Than People, written and performed by Sarah Hunter, and developed and directed by Jessica Lynn Johnson, is an eccentric romp through drinking, bad men, and fabulous dogs who each tell Sarah's story. But why, you may ask, does Sarah Hunter truly believe that Dogs are better than people? I spoke with her to find out
---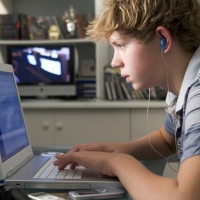 Kentwood Players to Hold Auditions for STATE OF INDEPENDENCE 1/23-1/24
by Shari Barrett - Los Angeles

(1/3/2021) - AUDITIONS for STATE OF INDEPENDENCE, a Part of Kentwood Players Virtual Theater Series, Written for Zoom by Paul Koster and Directed by Susan Goldman Weisbarth, will be held via Zoom on Saturday, January 23, 2021, from 12pm – 4pm PST, by appointment only or Sunday, January 24, 2021, 7pm-9pm PST, by appointment only
---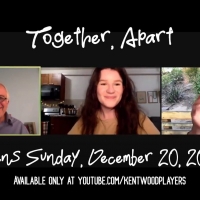 BWW Feature: THIS WEEKEND at Kentwood Players
by Shari Barrett - Los Angeles

(12/18/2020) - It's going to be a very busy weekend on December 19 and 20 for Kentwood Players with our 8th Annual Coat Drive, Auditions for 'Surf's Up,' Virtual Theater Series plays 'Recipe' and 'Together, Apart' along with our KP Live interview series on the Kentwood Players You Tube channel. Join us at youtube.com/kentwoodplayers
---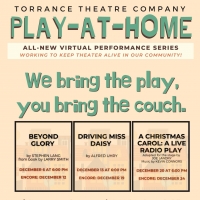 BWW Feature: Torrance Theatre Company Completes its First PLAY-AT-HOME Series in December
by Shari Barrett - Los Angeles

(12/1/2020) - Torrance Theatre Company is completing its first PLAY-AT-HOME series of online theatrical experiences, designed to entertain audiences during the stay-at-home orders. All productions are performed live onstage within the theater while observing all COVID-19 restrictions, and recorded for broadcast. The final three plays presented in December include Beyond Glory, Driving Miss Daisy, and A Christmas Carol: A Live Radio Play.
---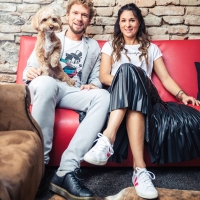 BWW Feature: THE CLAIRVOYANTS Online with Thommy Ten, Amelie van Tass and their dog Mr. Koni Hundini
by Shari Barrett - Los Angeles

(11/29/2020) - Facing the current challenge of how to keep entertaining audiences, the duo's new online show was broadcast in English (both speak several languages) on Sunday, November 29 with over 100 people from all over the world in the audience. In addition to never before seen tricks, the show features their dog, Mr. Koni Hundini, a Maltipoo who is always with them, whether at home or on the road. "So, most of the time we know what he is thinking and the other way around," Amelie shared.
---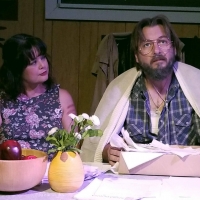 BWW Feature: Torrance Theatre Company Continues Their Play-at-Home Series with ANNAPURNA by Sharr White
by Shari Barrett - Los Angeles

(11/20/2020) - ANNAPURNA is driven by the emotionally charged relationship between a husband and wife. What makes the Torrance Theatre Company's Zoom production not like most others is that a real-life married couple is portraying the two characters, taped together on an actual stage with blocking - just without an in-person audience. Emma's good heart and deep-seated love for her ex shines through thanks to Baker-Kreiswirth's open-hearted and soulful character work, not to mention her loving way of making sure he has the supplies he needs to keep going. But it is Wolski who steals every scene with his wildly-intense emotions on his sleeve as well as his face
---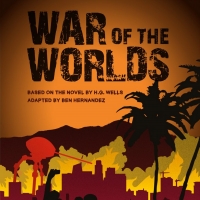 BWW Feature: Modern Adaptation of WAR OF THE WORLDS Brings Live Virtual Theater Into a New Realm of Artistic Possibility
by Shari Barrett - Los Angeles

(11/15/2020) - Tonight I witnessed proof that the new medium of virtual theater is being transformed in the minds and hands of young people whose vision of what could be knows no bounds, thanks to MFA and Undergraduate students at Cal State LA whose production of WAR OF THE WORLDS, adapted by Ben Hernandez based on the novel by H.G. Wells and directed by Stephen Rothman, offered a very modern take on the classic Sci Fi tale of aliens invading the Earth, seemingly with destruction of the human race as their goal.
---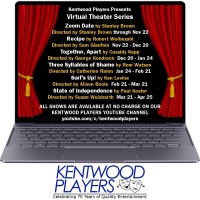 BWW Feature: VIRTUAL THEATER SERIES Continues by Kentwood Players
by Shari Barrett - Los Angeles

(11/10/2020) - The Kentwood Players Virtual Theater Series, offering new plays free of charge on its You Tube channel at https://youtube.com/c/kentwoodplayers, announces upcoming new plays presented November 2020 through April 2021.
---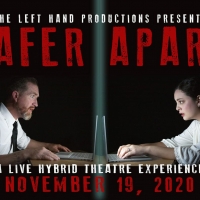 BWW Interview: Shawn Plunkett on SAFER APART by The Left Hand Productions
by Shari Barrett - Los Angeles

(11/8/2020) - Writer and director Shawn Plunkett wants to fill the void of no theater by taking audiences back to days of live television, just without the in-person studio audience. 'SAFER APART will be performed LIVE so anything can happen, which is one of the major appeals of attending an in-person show. I am aiming to give it a cinematic touch, making sure it is not as static as actors sitting in a chair and just reading a script. We are moving, adjusting, using more than one camera. I will even be walking outside while holding a camera in one scene. And there will be lots of action, made all the more exciting since it is being done live.'
---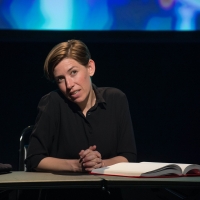 BWW Interview: Diana Wyenn on Her Very Personal Journey in BLOOD/SUGAR
by Shari Barrett - Los Angeles

(11/7/2020) - Diana Wyenn's solo show BLOOD/SUGAR takes place at the intersection of public health and performance, focusing on her life as a diabetic. Performed live and broadcast from Wyenn's home, using multimedia effects, original movement, and Wyenn's physical surroundings to create a vivid account of the life-sustaining self-care that diabetes currently demands from one out of every 10 American adults. And since I am also a Type 1 diabetic, I knew I was the perfect person to speak with her about the creation of the show.
---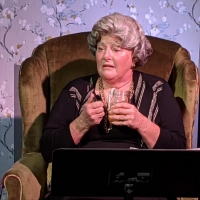 BWW Feature: THE VELOCITY OF AUTUMN at Torrance Theatre Company
by Shari Barrett - Los Angeles

(11/2/2020) - The timely nature of the play, given how many seniors are now dealing with living alone in isolation which can lead to loneliness and depression to the point of feeling hopeless, THE VELOCITY OF AUTUMN adds in a much-needed dose of how important it is to stay in touch and support our elderly family members who are struggling during our current on-going pandemic.
---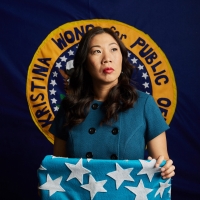 BWW Feature: KRISTINA WONG FOR PUBLIC OFFICE at Kirk Douglas Theatre
by Shari Barrett - Los Angeles

(11/1/2020) - KRISTINA WONG FOR PUBLIC OFFICE is a 75-minute comedic performance that crosses the aesthetics of campaign rallies, church revivals, and solo theater shows to tell the story of what it means to run for local office, the history of voting, and the impact artists can have on democracy. The subject matter reflects Kristina Wong's experience as an actual elected representative of Koreatown, Los Angeles. But before she created this raucous show about her current stint in Public Office, Wong was a scrappy performance artist with a bright future in reality television. So which career better suits her talents? Perhaps both!
---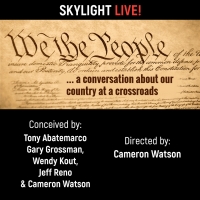 BWW Feature: WE THE PEOPLE Opens a Conversation About Democracy as Our Country Rests at a Crossroads
by Shari Barrett - Los Angeles

(10/30/2020) - Now more than ever is the time to consider what the foundation of democracy means to you, especially with the Presidential election less than a week away with our country so divided it seems there is no middle ground on which to stand. Perhaps it's been more years than you can count, if ever, when you last read the Constitution upon which our democracy is based and our rights as American citizens are outlined. I encourage you to tune in to WE THE PEOPLE streaming through Monday, November 2.
---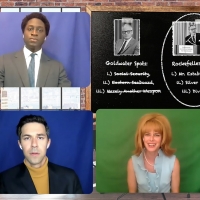 BWW Feature: DAISY Examines the First Political Attack Ad Created in 1964
by Shari Barrett - Los Angeles

(10/26/2020) - Based on true events and strikingly relevant today, DAISY explores the moment in TV history when the political attack ad was born. In the autumn of 1964, one year after the assassination of President John F. Kennedy, bloody turmoil over Civil Rights was spilling onto the streets, a fearful ideology that made the threat of nuclear war palpable was growing from the conservative right, and a skirmish in the far-off nation of Vietnam wouldn't go away. With the presidential election looming, an advertising agency working for Lyndon Johnson unleashed the most devastating political commercial ever conceived, the 'Daisy' ad.
---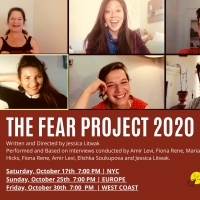 BWW Interview: Playwright and Director Jessica Litwak on THE FEAR PROJECT
by Shari Barrett - Los Angeles

(10/24/2020) - Here is my interview with Jessica Litwak, the playwright and director of THE FEAR PROJECT and Artistic Director of the H.E.A.T. Collective, who shares information about the group, the show, and the actors/collaborators who worked with her on its creation. Then register and tune in on October 25th and/or 30th.
---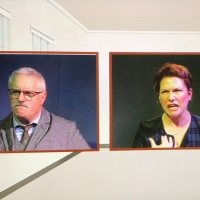 BWW Feature: BAUER Continues PLAY-AT-HOME Series by Torrance Theatre Company
by Shari Barrett - Los Angeles

(10/20/2020) - For the past few months, I have been enjoying the PLAY-AT-HOME series of nine plays being presented online by Torrance Theatre Company. What makes their virtual theater series unique from others is that each play is being broadcast live from within the walls of their theater, staged on three pre-set playing areas separated far enough apart to follow COVID-19 safety guidelines for the cast and production team. On Sunday, October 18th, I tuned in for Lauren Gunderson's BAUER which has a 24-hour encore on Sunday, October 25th.
---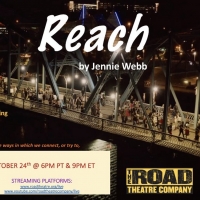 BWW Interview: Christine Joëlle of REACH at The Road Theatre Company
by Shari Barrett - Los Angeles

(10/17/2020) - For an inside look at the creation of 'Reach' by Jennie Webb, one of the four plays being streamed on Saturday, October 24 as part of the UNDER CONSTRUCTION Zoom series, I reached out to that play's producer Christine Joëlle, who shared how the short piece was created via a collaboration with the two musicians of firehill and their first song 'Believe.'
---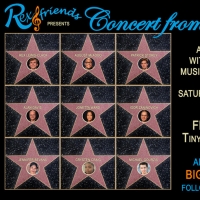 BWW Feature: Rex & Friends CONCERT FROM THE STARS at The Blue Door 10/24
by Shari Barrett - Los Angeles

(10/14/2020) - CRE Outreach and Rex & Friends are please to present CONCERT FROM THE STARS, a Zoom performance by musicians with disabilities on Saturday, October 24, 2020 at 7pm PST. Led by musician Rex-Lewis Clack, the 23-year-old blind and autistic pianist hailed as a musical savant by a?oe60 Minutes,a?? and helmed by Musical Director Laurie Grant, Rex & Friends provides training and performance opportunities for musicians with disabilities, during which participants develop their musical repertoire in an environment that grows friendships, self-esteem, and interpersonal skills while performing for live and virtual audiences.
---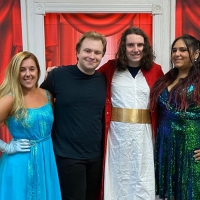 BWW Feature: THE GREEN ROOM by Dramatically Incorrect Theatre Group
by Shari Barrett - Los Angeles

(10/13/2020) - Imagine being in your last year of college as a theatre major. There are so many things happening: recitals, senior projects, juries and final productions. THE GREEN ROOM musical takes us on a journey of 4 college seniors who are approaching their final days on campus together, wondering and worrying about entering the real world.
---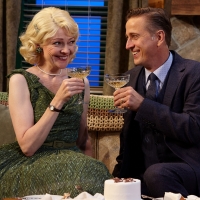 Photo Flash: SAME TIME, NEXT YEAR at North Coast Repertory Theatre
by BWW News Desk - Los Angeles

(10/9/2020) - Cherished by audiences and critics alike both in America and abroad, Bernard Slade's wickedly funny comedy explores a 25-year love affair between two seemingly ordinary people who meet once a year.
---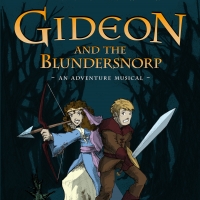 BWW Feature: New Family-Friendly Musical Adventure GIDEON AND THE BLUNDERSNORP Debuts Online October 11
by Shari Barrett - Los Angeles

(10/8/2020) - Broadway and Los Angeles artists join forces in an online workshop of the new musical adventure, the family-friendly GIDEON AND THE BLUNDERSNORP in which Gideon is a stableboy who dreams of being a knight, despite belonging to the wrong social class. Alanna is a young viscountess trapped in the system of royal succession. Together they team up to escape bandits, navigate a treacherous forest, and confront the vicious Blundersnorp, whose dream is simply to eat everyone. Ita??s a musical about aspiration, adventure, and escaping societya??s expectations. (And fighting giant monsters.)
---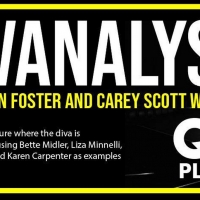 BWW Feature: DIVANALYSIS by The Quarantine Players
by Shari Barrett - Los Angeles

(9/28/2020) - DIVANALYSIS began as Divas themselves begin: in front of the mirror. Stephen Foster and Scott Wilkerson wanted to combine their interests (Diva culture and Deconstruction Theory) into one theatrical experience. Thus, with a rented theater on Santa Monica Boulevard, four dresses, two cast members, and a borrowed lighting kit, DIVANALYSIS arrived as a kind of post-modern drag review with extensive footnotes.
---
BWW Interview: Lesley Fera on Creating the PRETTY LITTLE WINE MOMS Podcast
by Shari Barrett - Los Angeles

(9/11/2020) - Combining her television and stage experience has led Lesley and her husband Ned Mochel to create the podcast, 'Pretty Little Wine Moms,' producing new episodes every Wednesday. Lesley hosts the show along with her 'Pretty Little Liars' co-stars and friends Holly Marie Combs and Nia Peeples. But it isna??t your ordinary podcast. During each installment, the trio break down a complete episode of the fan-favorite TV series for listeners, revealing little-known facts and behind-the-scenes tidbits during each episode, which also includes an in-depth interview with special guests from the series and a quiz show testing everyonea??s knowledge of the episode.
---