SHOW
DATES
THEATRE
HOT PICK


935 Days Later: A Journey With Stephen Sondheim


On March 22, 2020, Victoria Gordon (LA's premier young cabaret artist) was supposed to perform a 90th birthday salute to her all-time favorite composer, Stephen
10/13

The Pico Playhouse
10508 W. Pico Blvd.
Los Angeles

CalArts Center for New Performance Presents: World Premiere of "Scene with Cranes"


CalArts Center for New Performance (CNP) kicks off its 20th anniversary season on Thursday, September 29, 2022, with the World Premiere of Scene with Cranes,
9/29 - 10/1/2022

REDCAT
631 West 2nd Street
Los Angeles

Disney's 101 Dalmatians Kids


In a loving home in the city of London, Dalmatian parents, Pongo and Perdita happily raise their Dalmatian puppies, until the monstrous Cruella De Vil
9/29 - 10/1/2022

Sierra 2 Community Center
2791 24th St
Sacramento

How To Be Japanese: Your Normal Is Not My Normal


What is your normal? Conforming to a standard; usual, typical, or expected. All of us at some times or in some ways feel like outsiders.
10/1

Fanatic Salon Theater
3815 Sawtelle Blvd
Culver City

Kinky Boots

9/14 - 10/1/2022

City Of Vista-moonlight Amphi.
Vista

Kinky Boots


Victoria Theatre
9/1 - 10/1/2022

Victoria Theatre
2961 16th Street
San Francisco

Once On This Island


For tickets and more information, visit the website.
9/8 - 10/1/2022

Merced Center For The Perf. Arts
301 W Main St,
Merced

The Hunchback Of Notre Dame

8/27 - 10/1/2022

Stage Door Repertory Theatre
Anaheim

The Revolutionists


Long Beach Playhouse
9/2 - 10/1/2022

Long Beach Playhouse
Long Beach

West Side Waltz


Forty-one years after its premiere at the Ahmanson Theatre, Academy Award-winning writer Ernest Thompson (On Golden Pond) has deconstructed his script for The West Side
6/25 - 10/1/2022

Will Geer's Theatricum Botanicum
1419 N. Topanga Canyon Blvd.
Topanga

The Doo Wop Project


Featuring stars of Broadways smash hits Jersey Boys and Motown: The Musical, the Doo Wop Project brings unparalleled authenticity of sound and vocal excellence to
10/2

Carpenter Performing Arts Center
6200 E Atherton St
Long Beach

A Faery Hunt Enchanted Adventure


Youre invited to join the Faeries on a magical interactive adventure! As children we believed in magic, we knew there was something enchanted, kind &
10/2

Crestwood Hills Park
1000 Hanley Avenue
Los Angeles

Animal Farm


Revolt is afoot at Manor Farm, when downtrodden beasts of burden rise-up against the cruel Farmer Jones. But self-ruled animal utopia quickly gives way to
8/28 - 10/2/2022

A Noise Within
3352 E Foothill Blvd
Pasadena

Annabella in July


This World Premiere comedic fantasy transforms a ski resort during the off-season into a strangely magical environment of self-discovery. Playwright Richard Strand (of last seasons
9/7 - 10/2/2022

North Coast Repertory Theatre
987 Lomas Santa Fe Suite D
Solana Beach

Closer Than Ever


In this brilliant companion to their hit revue "Starting Here, Starting Now," Richard Maltby, Jr. and David Shire follow up their earlier "songs of innocence"
9/16 - 10/2/2022

Point Loma Playhouse
3035 Talbot St
San Diego

Disney's Beauty And The Beast


Back by Popular Demand following its sold-out 2010 engagement.
9/9 - 10/2/2022

Davis Musical Theatre
607 Pena Dr
Davis

Disney's Moana Jr.


Available January 2020
9/23 - 10/2/2022

Steele Lane Community Center
415 Steele Ln
Santa Rosa

Dogfight


Fallon House
9/1 - 10/2/2022

Sierra Repertory Theatre
13891 Mono Way
Sonora

I'M NOT HERE RIGHT NOW


LA-based writer/actress and New York City Native Becca Beberaggi has been a huge supporter of oversharing in front of audiences since birth and cannot wait
10/2

The Glendale Room
127 Artsakh Ave, Glendale, CA 91206
Glendale

Jagged Little Pill


Directed by Tony Award winner Diane Paulus (Waitress, Pippin, upcoming 1776) with a Tony-winning book by Diablo Cody (Juno) and Grammy-winning score, this electrifying production
9/13 - 10/2/2022

Pantages Theatre
6233 Hollywood Blvd


Little Shop Of Horrors (broadway Version)


Feed the need for musical hilarity with this delicious sci-fi smash about a man-eating plant, featuring the 2003 Broadway orchestrations.
9/16 - 10/2/2022

Camino Real Playhouse
31776 El Camino Real
San Juan Capis

Little Women


Visual content only
9/22 - 10/2/2022

Lyn Alessandra
1419 H St
Sacramento

Nunsense


Nunsense is a hilarious spoof about the misadventures of five nuns trying to manage a fundraiser. Sadly, the rest of the sisterhood died from botulism
9/9 - 10/2/2022

Theatre Palisades
927 Temescal Canyon Road
Pacific Palisdes

Nunsense


Nunsense is a hilarious spoof about the misadventures of five nuns trying to manage a fundraiser. Sadly, the rest of the sisterhood died from botulism
9/9 - 10/2/2022

Theatre Palisades
P.O. Box 881
Pacific Palisdes

Peter And The Starcatcher


Lyceum Theatre
9/16 - 10/2/2022

Lyceum Theatre
55 Fair Dr
Costa Mesa

Peter Pan and Wendy


The Lerner Family Theatre: - Alyn Cardarelli, Steve Goers; dir: Kate Bryer.
9/23 - 10/2/2022

Village Stage Productions
1050 Elk Grove Town Center
Elk Grove




Back to the Main Page | Browse Local Theatres
---
Latest Los Angeles Reviews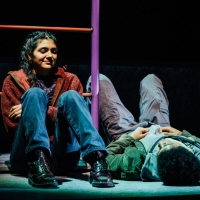 Review: SANCTUARY CITY at Pasadena Playhouse
by Evan Henerson - September 30, 2022
As directed by Zi Alikhan with a pitch-perfect technical team and acted to the nines by Ana Nicolle Chavez, Miles Fowler and Kanoa Goo, SANCTUARY CITY is the kind of intelligent evening that may get you talking before the final blackout....
Review: Sally Struthers and Company Revive Mel Brooks' YOUNG FRANKENSTEIN to Glorious Life in La Mirada
by Michael Quintos - September 21, 2022
Overall--especially in this tighter, revised version lifted from London's West End production that's much zippier than the original--there is no denying that YOUNG FRANKENSTEIN is a witty, super funny, and genuinely enjoyable musical comedy that earns plenty of laughs and smiles along the way....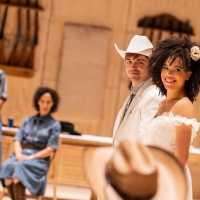 Review: OKLAHOMA at Ahmanson Theatre
by Tracey Paleo - September 20, 2022
It seems everybody is having one of two reactions to Director Daniel Fish's revival of OKLAHOMA! currently playing at the Ahmanson Theatre. But love it or hate it, so much of this update of Rodgers & Hammerstein's acclaimed 1943 musical in which a farm girl is courted by two rival suitors, works....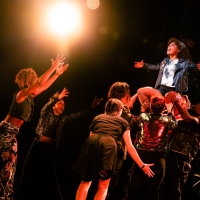 Review: JAGGED LITTLE PILL at Pantages Theatre Is Outstanding
by Evan Henerson - September 19, 2022
As these projects go, the Alanis Morissette-scored JAGGED LITTLE PILL may not have entirely broken the mold of jukebox musicals, but it has sure put a dagger-sized gash in it and made it bleed....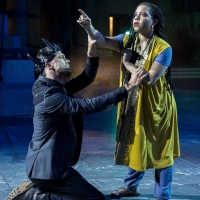 Review: Worlds and Tragedy Collide In Bilingual OEDIPUS TYRANNUS at Getty Villa
by Evan Henerson - September 15, 2022
Koons' moody production at the Fleishman is trying to tap into a noirish whodunnit vibe in which the story's professed detective is the one person in the building (or in this case, the amphitheatre) who doesn't realize that he is himself is also the murderer....
Review: 13: THE MUSICAL at Simi Valley Cultural Arts Center
by Evan Henerson - September 10, 2022
In the staging of 13 at the Simi Valley Cultural Arts Center, the kids are more-than-allright; occasionally a little rough around the edges, but so is this musical. Frequent Panic helmer Barry Pearl, music director Lloyd Cooper and a rocking company of 19 give this heartfelt ode to self-discovery bo...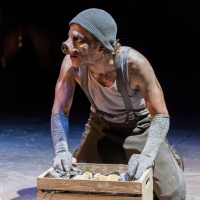 Review: ANIMAL FARM at A Noise Within
by Andrew Child - September 06, 2022
The best way to describe my experience at A Noise Within's production of Peter Hall, Adrian Mitchell, and Richard Peaslee's 1984 musical version of Animal Farm is that when the ensemble came out to bow and I only counted 11 actors, my jaw dropped....
Review: LAVENDER MEN at Skylight Theatre
by Tracey Paleo - August 25, 2022
Taffeta's dialog is often an attack on the audience rather than a composition about Lincoln.  A passive character study with a blow-horn built in so that you don't doze off into your own fantasy about who she is and what SHE represents....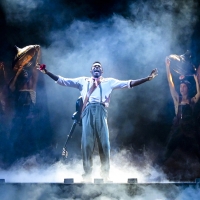 Review: Tony Award-Winning HADESTOWN Enchants Audiences at OC's Segerstrom Center
by Michael Quintos - August 15, 2022
An enchanting, deeply resonant, and wholly entertaining reimagining of a classic Greek myth, HADESTOWN---now on stage at Orange County's Segerstrom Center for the Arts in Costa Mesa, CA through August 21, 2022---is a beautifully layered piece of imaginative theater that stirs as it entertains and is...
Review: THE PROM at Center Theatre Group
by Andrew Child - August 12, 2022
Though fused with the pop sounds of the latest Broadway grab toward tween-friendly franchises, Matthew Sklar and Chad Beguelin's score has a heart that leans more toward the unabashed sincerity of The Pajama Game or The Music Man than the more saccharine offerings from the current scene....