SHOW
DATES
THEATRE

HOT PICK!





Calvin Berger


Loosely based on the story of Cyrano de Bergerac, the musical Calvin Berger is the contemporary and hilarious story of unrequited feelings, love notes, and
2/16 - 3/26/2023

The Colony Theatre
555 N. Third St.
Burbank

Annie Jr


It's upbeat plot and flamboyant characters have made Annie one of the most beloved musicals in history--what girl hasn't dreamed of performing the title role
1/28 - 1/29/2023

Broadway Arts Studio
26741 Rancho Pkwy 105 b
Lake Forest

Cold Tofu Live


Cold Tofu, the nation's first and longest-running Asian American improv and sketch comedy troupe, will perform at Sierra Madre Playhouse on Sunday, January 29, 2023
1/29

Sierra Madre Playhouse
87 W. Sierra Madre Blvd.
Sierra Madre

DIRTY BLONDE


Tony® Award-winning actress CADY HUFFMAN (THE PRODUCERS/Tony Award for Best Performance by a Featured Actress in a Musical, THE WILL ROGERS FOLLIES/Tony nomination) will star
1/17 - 1/29/2023

Coachella Valley Repertory
68510 East Palm Canyon Dr.
Cathedral City

Dirty Blonde


This hit comedy garnered five Tony Award nominations and tells the story that is as unlikely, outrageous and as fascinating as Mae West herself. Come
1/17 - 1/29/2023

Coachella Valley Repertory
68510 E Palm Canyon Drive
Cathedral City

Disney's Beauty And The Beast Jr


The Brainy and Beautiful Belle yearns to escape her provincial life...and her brute of a suitor, Gaston. However, Belle gets more adventurous than she wanted
1/20 - 1/29/2023

Brightstar Performing Arts
1776 Erringer Rd #100
Simi Valley

Disney's High School Musical


p align="left"This page is for the full-length edition of strongDisney's HIGH SCHOOL MUSICAL/strong./p Also available:br stronga href="http://www.mtishows.com/show_detail.asp?showid=000311"Disney's HIGH SCHOOL MUSICAL - ONE ACT EDITION/abr/stronga href="http://www.mtishows.com/show_detail.asp?showid=000341"strongDisney's
1/20 - 1/29/2023

Lindsay Community Theater
190 N Elmwood Ave
Lindsay

Disney's High School Musical


p align="left"This page is for the full-length edition of strongDisney's HIGH SCHOOL MUSICAL/strong./p Also available:br stronga href="http://www.mtishows.com/show_detail.asp?showid=000311"Disney's HIGH SCHOOL MUSICAL - ONE ACT EDITION/abr/stronga href="http://www.mtishows.com/show_detail.asp?showid=000341"strongDisney's
1/26 - 1/29/2023

West Covina High Schoo;l
West Covina

Disney's The Little Mermaid


In a magical kingdom fathoms below, a beautiful young mermaid longs to leave her ocean home to live in the world above. Adapted from Disney's
1/12 - 1/29/2023

Curtis Theatre/city Of Brea
1 Civic Center Cir
Brea

Disney's The Little Mermaid


In a magical kingdom fathoms below, a beautiful young mermaid longs to leave her ocean home to live in the world above. Adapted from Disney's
1/12 - 1/29/2023

Curtis Theatre
1 Civic Center Cir
Brea

Disney's The Little Mermaid Jr


In a magical kingdom fathoms below, the beautiful young mermaid Ariel longs to leave her ocean home to live in the world above. But first,
1/27 - 1/29/2023

Children's Creativity Theater
221 4th St
San Francisco

Into The Woods

1/25 - 1/29/2023

Biola Univ - Lansing Hall
La Mirada

Into The Woods

1/20 - 1/29/2023

Howard Brubeck Theatre
1140 W Mission Rd
San Marcos

LACO Presents Baroque Concerti


Start off 2023 with this sparkling and virtuosic program, featuring soloistsYura Leein one of the earliest known Viola Concertos,Telemann's Concerto in G major, andDavid Washburnperforming
1/29

The Huntington's Rothenberg Hall
1151 Oxford Road
San Marino

Mamma Mia!


MAMMA MIA! is the ultimate feel–good show that has audiences coming back again and again to relive the thrill. Now it's your turn to have
1/25 - 1/29/2023

Jac Black Box Theatre
10855 Sorrento Valley Rd
San Diego

Palm Springs Getaway


December 2 - 18, 2022 and January 20 - 29, 2023 **Please note: the performances from December 2-18, 2022, will feature Holiday songs.**    This
12/2 - 1/29/2023

Palm Canyon Theatre
538 North Palm Canyon Drive
Palm Springs

Pirates Of Penzance Jr


Wacky, irreverent and as entertaining today as it was when it first opened in 1879, THE PIRATES OF PENZANCE spins a hilarious farce of sentimental
1/28 - 1/29/2023

Space Theater
508 W Perkins St
Ukiah

Roald Dahl's Matilda The Musical


A joyous girl power romp! This is the story of an extraordinary girl who, armed with a vivid imagination and a sharp mind, dares to
1/13 - 1/29/2023

Jackson Theatre
Fremont

Something Rotten!

1/14 - 1/29/2023

Bankhead Theater
2400 First St
Livermore

Songs For A New World

2/1

Westminster Church
1100 Shasta Ave
San Jose

Annie Jr


It's upbeat plot and flamboyant characters have made Annie one of the most beloved musicals in history--what girl hasn't dreamed of performing the title role
2/2

Sinai Akiba Academy
Los Angeles

Peter Pan Jr


Wendy Darling loves to tell stories to her brothers, Michael and John. But when her father announces she must move out of the nursery, Peter
2/2 - 2/2/2023

Red Bluff Community Center
Red Bluff

Disney's Beauty And The Beast Jr


The Brainy and Beautiful Belle yearns to escape her provincial life...and her brute of a suitor, Gaston. However, Belle gets more adventurous than she wanted
2/2 - 2/3/2023

The Pico
Los Angeles

Disney's The Lion King Jr


The African savannah comes to life with Simba, Rafiki and an unforgettable cast of characters as they journey from Pride Rock to the jungle and
2/2 - 2/3/2023

Hoover Theater
San Jose

Jenny Lind Presents P.T. Barnum


P.T. Barnum, that Greatest Showman, has put Jenny Lind, the Swedish Nightingale, on an exhausting tour of multiple cities that made Barnum extravagantly wealthy and
2/3

Whitefire Theatre
13500 Ventura Blvd.
Sherman Oaks

1776


The musical "1776" is about the events leading up to the signing of the Declaration of Independence. It tells the story of the efforts of
1/27 - 2/4/2023


James Armstrong Theater
3330 Civic Center Dr
Torrance




Back to the Main Page | Browse Local Theatres
---
Latest Los Angeles Reviews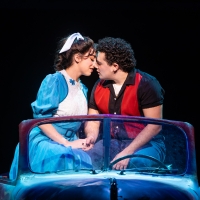 Review: Gleeful GREASE Revs Up Nostalgia in La Mirada
by Michael Quintos - January 27, 2023
Despite outdated, cringe-inducing tropes, McCoy Rigby Entertainment's new production of this ubiquitous rock-and-roll stage musical---now on stage at the La Mirada Theatre for the Performing Arts through February 12---manages to still entertain thanks mostly to the superb musical numbers energetical...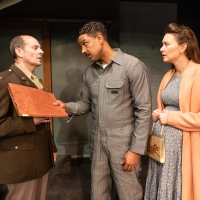 Review: HOME FRONT at Victory Theatre Center
by Evan Henerson - January 22, 2023
"On a night like this, anything can happen," says Lt. James Walker, "The world is never going to be the way it was." In a strong West Coast premiere at the Victory Theatre directed by Maria Gobetti, Warren Leight's gut punch of a play, HOME FRONT, proceeds to prove Lt. Walker both correct and devast...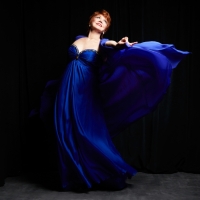 Review: Donna McKechnie in TAKE ME TO THE WORLD: THE SONGS OF STEPHEN SONDHEIM at Catalina Jazz Club
by Valerie-Jean Miller - January 20, 2023
Read BroadwayWorld's review of Donna McKechnie in Take Me To The World: The Songs of Stephen Sondheim at Catalina Jazz Club. ...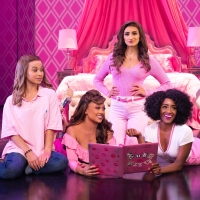 Review: MEAN GIRLS at Pantages Theatre
by Harker Jones - January 11, 2023
Despite some deficiencies in the script, MEAN GIRLS still skyrockets in ways most large-scale musicals don't these days. The young talent on the stage is astonishing and you'll leave the show wanting to both download the original cast recording and stream the film....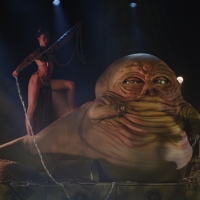 Review: THE EMPIRE STRIPS BACK at Montalban Theatre
by Evan Henerson - December 28, 2022
Skillfully melding elements of traditional strip tease with a knowledge and deep affection of the STAR WARS franchise, THE EMPIRE STRIPS BACK figures to attract both leering dude bros and sci-fi obsessed geeks, to say nothing of the curious....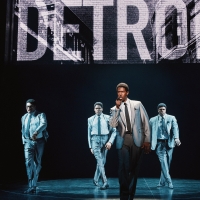 Review: AIN'T TOO PROUD: THE LIFE AND TIMES OF THE TEMPTATIONS at Ahmanson Theatre
by Evan Henerson - December 22, 2022
Watching the mega-blast that is AIN'T TOO PROUD, the musical written by Dominick Morisseau based on the group's history, this critic wanted nothing more than to be able to move like the members of Des McAnuff's cast even for five minutes....
Review: THE TRISTAN PROJECT at LA Philharmonic
by Andrew Child - December 20, 2022
It is difficult to imagine a better team than conductor Gustavo Dudamel and director Peter Sellars to allow Wagner's score to freely and mystically float through the Walt Disney Concert Hall uninhibited by stage mechanics and repurpose every inch of the space to paint reverberating aural images....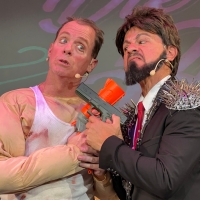 Review: DIE HEART at Troubadour Theater Co. At The Colony Theatre
by Evan Henerson - December 14, 2022
Serving up a stage adaptation of DIE HARD featuring the music of Heart, the Troubies have once again given L.A. theatergoers a plum of a yuletide gift to unwrap and savor....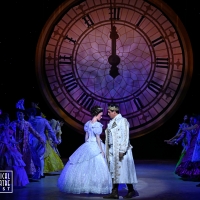 Review: Musical Theatre West Charms with Lovely New Production of CINDERELLA Musical
by Michael Quintos - December 14, 2022
While many of the well-meaning narrative tweaks and modernized additions do seem slightly forced and somewhat at odds with the story's original innocence, for the most part, this revised CINDERELLA is a genuinely entertaining, effectively escapist musical filled with joy and magic. MTW's production ...
Review: PROMISES, PROMISES at Lonny Chapman Theatre
by Cary Ginell - December 12, 2022
What did our critic think of PROMISES, PROMISES at Lonny Chapman Theatre? Excellent leads and good singing highlight this attractive show....