SHOW
DATES
THEATRE

L.A. WOMAN All Femme Revue


L.A. WOMAN All Femme Revue is back with our Holiday Spectacular! Join us for this modern take on the classic variety show steeped in the
12/4 - 12/8/2022

The Three Clubs
1123 Vine St., Los Angeles 90038
Los Angeles

Lionel Bart's Oliver!


Shows times are: 8:00pm  Thursday , Friday  Saturday

2pm  Saturdays and Sundays Orchestra = $35 Mezzanine = $29 FOR MORE INFORMATION

12/7 - 12/8/2022

Founders Hall
Mill Valley

Disney's Frozen Jr


For the first time in forever the theatrical take on a modern classic, Disney's FROZEN JR is set to be performed right here in the
12/8 - 12/9/2022

Angeles Mesa- Scott Hall
2611 W 52nd St
Los Angeles

Disney's Frozen Jr


For the first time in forever the theatrical take on a modern classic, Disney's FROZEN JR is set to be performed right here in the
12/8 - 12/9/2022

James Franklin Smith Elementary
2220 Woodbury Ln
San Jose

Honk! Jr


Produce the show that beat The Lion King out of the Olivier award (the British equivalent to the Tony Award)! Honk! Junior is a contemporary
12/8 - 12/9/2022

Sun Valley Multi-purpose Room
San Rafael

Peter And The Starcatcher

12/8 - 12/9/2022

Marina High Cove
Marina

Schoolhouse Rock Live! Jr


The Emmy® Award-winning Saturday morning educational cartoon series is now the basis for one of the most fun, energetic, and easily mounted musicals ever to
12/8 - 12/9/2022

Founders Hall
Pasadena

Shrek The Musical Jr


Beauty is in the eye of the ogre in Shrek The Musical JR., based on the Oscar-winning DreamWorks Animation film and fantastic Broadway musical. It's
12/8 - 12/9/2022

Montessori De Terra Linda
610 Del Ganado Rd
San Rafael

9 to 5


9 to 5 THE MUSICAL, Music and Lyrics by Dolly Parton, Book by Patricia ResnickBased on the Twentieth Century Fox filmDirected by Kirk Larson, Produced
11/11 - 12/10/2022

Kentwood Players at Westchester Playhouse
8301 Hindry Avenue
Los Angeles

9 To 5, The Musical


9 TO 5: THE MUSICAL is a hilarious story of friendship and revenge in the Rolodex era. 9 TO 5: THE MUSICAL tells the story
11/11 - 12/10/2022

Westchester Playhouse
8301 Hindry Ave
Los Angeles

A Faery Hunt Magical Adventure


Nickelodeon named A Faery Hunt Best Children's Theater in Los Angeles!Come celebrate the beauty of nature with us on a gentle quest through the forest
12/10

Orcutt Ranch
23600 Roscoe Blvd
West Hills

Annie Jr


It's upbeat plot and flamboyant characters have made Annie one of the most beloved musicals in history--what girl hasn't dreamed of performing the title role
12/9 - 12/10/2022

Starlight Theatre
6648 Alhambra Ave b
Martinez

Disney's Aladdin Jr.


Greasepaint Theatre for Youth presents Disney's Aladdin Jr. For tickets and information, visit the website.
12/10

San Jacinto Valley Academy
480 N San Jacinto Ave
San Jacinto

Disney's Frozen Jr


For the first time in forever the theatrical take on a modern classic, Disney's FROZEN JR is set to be performed right here in the
12/8 - 12/10/2022

Granite Ridge Intermediate
2770 E International Ave
Fresno

Disney's The Jungle Book Kids


The jungle is jumpin? with jazz is this exciting Disney classic! Join Mowgli, Baloo, King Louie and the gang as they swing their way through
12/6 - 12/10/2022

Rancho Buena Vista Auditorium
Vista

Freaky Friday


When an overworked mother and her teenage daughter magically swap bodies, they have just one day to put things right again before mom's big wedding.
12/2 - 12/10/2022

Nuview Bridge Early College H.s.
30401 Reservoir Ave
Nuevo

Roald Dahl's Matilda The Musical


A joyous girl power romp! This is the story of an extraordinary girl who, armed with a vivid imagination and a sharp mind, dares to
12/2 - 12/10/2022

Aghs Studio Theater
Arroyo Grande

Rudolph The Red Nosed Reindeer-the Musical

12/10

Rasmussen Community Center
115 E Roberts Ln
Bakersfield

Seussical


Celebrate Dr. Seuss's birthday and promote excitement in reading and literature with Seussical! This whimsical musical is based on the books of Dr. Seuss and
12/2 - 12/10/2022

Auburn State Theater
985 Lincoln Way
Auburn

Sweeney Todd

12/8 - 12/10/2022

Caroline's Loft Theatre
Circle Dr
Los Angeles

The Music Man Kids


There's trouble in River City when a fast-talking salesman gets his heart stolen by the town librarian in this adaptation of the Tony Award-winning Broadway
12/10

Tba
Belmont

When The Cookie Crumbles-theatreworks Usa

12/10

Wismer Theatre/csu
Calif State Un

A Christmas Carol


Old Town Temecula Community Theatre
12/2 - 12/11/2022

Temecula Valley Players
42051 Main St
Temecula

A Christmas Carol

12/2 - 12/11/2022

Old Town Temecula Community Theatre
42051 Main St
Temecula

Annie Jr


It's upbeat plot and flamboyant characters have made Annie one of the most beloved musicals in history--what girl hasn't dreamed of performing the title role
12/8 - 12/11/2022

Star Theatre
402 N Coast Hwy
Oceanside




Back to the Main Page | Browse Local Theatres
---
Latest Los Angeles Reviews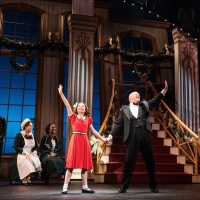 Review: ANNIE at Dolby Theatre
by Harker Jones - December 02, 2022
With the state of the world these days, we need a heroine like Annie. With her positive outlook, her moxie, she should be a role model of hopefulness. We just need a better Annie. And Annie deserves a better vehicle....
Review: THE BROTHERS PARANORMAL at East West Players
by Evan Henerson - November 30, 2022
Prince Gomolvilas's tale of a pair of aspiring sibling ghostbusters is actually a shrewd rumination on cultural identity and the processing of grief that also happens to contain – in director Jeff Liu's solid production – some first-rate scares....
Review: CLYDE'S at Mark Taper Forum
by Tracey Paleo - November 26, 2022
Quite possibly, a perfect production.  Two-time Pulitzer Prize-winning playwright Lynn Nottage's Tony Award-nominated CLYDE'S at the Mark Taper Forum is heartfelt, funny, and seriously delicious....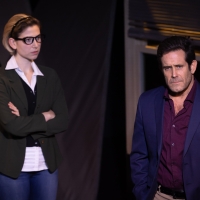 Review: BROKEN STORY at The Sherry Theater
by Harker Jones - November 23, 2022
The set-up of BROKEN STORY is interesting, it just never catches fire in this lackluster production....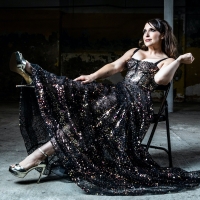 Review: Jessica Vosk is Beguiling in Solo Cabaret Debut at OC's Segerstrom Center
by Michael Quintos - November 21, 2022
Broadway fan favorite Jessica Vosk's solo cabaret debut at Segerstrom Center for the Arts---which opened Thursday, November 17, 2022 and continues for two additional shows through Saturday, November 19---is, quite possibly, the most enjoyable cabaret concert this reviewer has experienced at the Cent...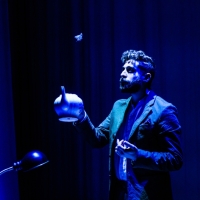 Review: MINDPLAY at The Geffen Playhouse
by Andrew Child - November 20, 2022
Vinny DePonto is an extraordinarily engaging performer who, in front of a simple white backdrop, captivates the crowd like a bonafide vaudevillian....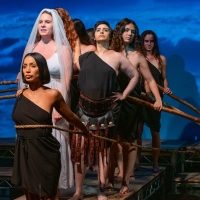 Review: THE PENELOPIAD at City Garage
by Evan Henerson - November 18, 2022
Where the much-acclaimed TV adaptation of Atwood's THE HANDMAID'S TALE coincides with the heat of the #MeToo movement, not every Atwood adaptation is created equal....
Review: Overwhelming Splendor Arrives with MOULIN ROUGE! at OC's Segerstrom Center
by Michael Quintos - November 17, 2022
Loosely adapted from Baz Luhrmann's 1999 hit movie, the campy, sensory overload that is the Tony Award-winning stage adaptation of MOULIN ROUGE! THE MUSICAL---now playing at OC's Segerstrom Center for the Arts through November 27, 2022---is an entertaining pop-music-tinged feast for the senses....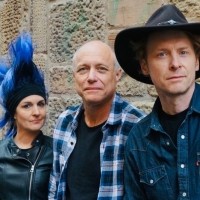 Review: Eagle Rock Theatre Company's UNSEEN SHEPARD at Edinburgh Fringe Festival
by Ani Arutyunyan - November 12, 2022
What did our critic think of UNSEEN SHEPARD at Edinburgh Festival Fringe 2022?...
Review: AURORA'S SUNRISE Animated Movie: Presenting Her Story to the World
by Ani Arutyunyan - November 12, 2022
'Aurora's Sunrise' turns a family story into history: 15 years old Arshaluys (her name was changed to Aurora in the US when she entered this country through Ellis Island) - an Armenian genocide survivor who miraculously escaped from death in the Ottoman harem, first fleeing to Saint-Petersburg, then...