Latest High School Theatre News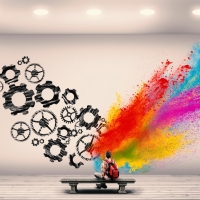 STEM VS. STEAM: Does Arts Education Really Benefit Schools?
by Carian Lynée Parker - June 27, 2022
STEM vs. STEAM: Which is a better focus for schools? While both STEM and STEAM have differences, there is an opportunity for growth across all occupations in the science, technology, engineering, and mathematics fields. Check out results from a recent study funded by the National Endowment for the Arts....
View More High School News...
High School Show Calendar
| | | | |
| --- | --- | --- | --- |
| Once On This Island Jr | Lehigh Valley Charter High School For The Perf Art | Bethlehem, PA | 6/22-6/22 |
| Disney's The Little Mermaid Jr | Grace Prep High School | State College, PA | 6/22-6/22 |
| Schoolhouse Rock Live! Jr | Georgetown High School | Georgetown, SC | 6/22-6/22 |
| Newsies | High School Auditorium | Pleasant Hill, IA | 11/12-6/22 |
| Tarzan | Decorah High School Auditorium | Decorah, IA | 11/11-6/22 |
| Freaky Friday | Adel Desoto Minburn High School | Adel, IA | 11/12-6/22 |
| Catch Me If You Can | Spencer High School Auditorium | Spencer, IA | 11/12-6/22 |
| Disney's High School Musical Jr. | Romeoville High School | Romeoville, IL | 6/22-6/22 |
| Disney's Frozen Jr | Clark High School Of Northside Isd | San Antonio, TX | 6/23-6/23 |
| Roald Dahl's Matilda The Musical Jr | Andover Central High School | Andover,, KS | 6/23-6/23 |
| Disney's High School Musical Jr. | Highland High School | Highland, WI | 6/23-6/23 |
| Once On This Island Jr | Central High School -east Campus | Tuscaloosa, AL | 5/11-6/23 |
| Disney's Moana Jr. | Brooke Point High School | Stafford, VA | 6/23-6/23 |
| That's Not How I Remember It by Don Zolidis | Tupelo High School | Tupelo, MS | 6/20-6/24 |
| The Addams Family Younger@Part | Mother McAuley Liberal Arts High School | Chicago, IL | 6/23-6/24 |
| Disney's The Jungle Book Kids | Heritage High School | Ringgold, GA | 6/20-6/24 |
| Disney's The Little Mermaid Jr | Lutheran West High School | Rocky River, OH | 6/24-6/24 |
| Kinky Boots | Lincoln Southwest High School | Lincoln, NE | 12/3-6/24 |
| Groundhog Day | Bradford High School / Kenosha Youth Perf. Arts Co | Kenosha, WI | 10/29-6/24 |
| Roald Dahl's Willy Wonka Jr. | Lemon Bay High School | Englewood, FL | 6/24-6/24 |
| Dear Edwina Jr | Randall K Cooper High School | Union, KY | 6/24-6/24 |
| Mti's Broadway Junior Revue-raise Your Voice | Williamsville Junior High School | Williamsville, IL | 6/23-6/24 |
| Disney's The Lion King Kids | Gfw High School Theater | 55396,, MN | 6/24-6/24 |
| Disney's The Lion King Kids | Potomac Falls High School | Sterling, VA | 6/24-6/24 |
| Disney's Aladdin Jr. | La Cueva High School | Albuquerque, NM | 6/24-6/24 |
| Once On This Island Jr | Sandra Day O'connor High School | Phoenix, AZ | 6/23-6/24 |
| Disney's The Jungle Book Kids | Lovejoy High School Auditorium | Lucas, TX | 6/24-6/24 |
| Disney's The Lion King Jr | Owatonna High School Auditorium | Owatonna, MN | 6/24-6/24 |
| Disney's Frozen Jr | Holy Family High School Theater | Broomfield, CO | 6/24-6/24 |
| Annie Kids | Sycamore High School Auditorium | Cincinnati, OH | 6/24-6/24 |
| Disney's Aladdin Jr. | Sycamore High School Auditorium | Cincinnati, OH | 6/24-6/24 |
| Disney's The Little Mermaid Jr | Nordonia High School | Macedonia, OH | 6/25-6/25 |
| Disney's The Lion King Jr | Mt Carmel Junior High School | Mt. Carmel, IL | 6/23-6/25 |
| Disney's Descendants | Richland High School | Johnstown, PA | 6/24-6/25 |
| Disney's Beauty And The Beast | New Albany High School | New Albany, IN | 11/12-6/25 |
| Seussical Jr. | Adrian High School Gym | Adrian, MO | 6/24-6/25 |
| Something Rotten! | Covington High School | Covington, LA | 6/23-6/25 |
| Disney's The Little Mermaid Jr | Crystal Lake Central High School | Crystal Lake, IL | 6/25-6/25 |
| Disney's 101 Dalmatians Kids | Brookville High School | Lynchburg, VA | 6/25-6/25 |
| Mti's Broadway Junior Revue-raise Your Voice | Grant County High School | Dry Ridge, KY | 6/24-6/25 |
| The Drowsy Chaperone | Clay High School | South Bend, IN | 6/23-6/25 |
| Disney's Newsies Jr. | Fairfield High School | Fairfield, OH | 6/24-6/25 |
| Annie Kids | Fairfield High School | Fairfield, OH | 6/24-6/25 |
| Sweeney Todd | Lake Mary High School | Lake Mary, FL | 6/17-6/26 |
| Disney's Newsies Jr. | St Francis High School | Wheaton, IL | 6/24-6/26 |
| Disney's Newsies Jr. | Wayne High School | Wayne, NE | 6/24-6/26 |
| Into The Woods | Sanger High School | Sanger, CA | 6/17-6/26 |
| West Side Story | Lutheran High School | Indianapolis, IN | 6/17-6/26 |
| Disney's The Lion King Jr | Pauda High School | Parma, OH | 6/25-6/26 |
| Disney's Frozen Jr | Mendota High School | Mendota, IL | 6/24-6/26 |
Feel your school is deserving of a little (or a lot) more attention? We do too! How about a 'BWW School in the Spotlight' promoting your program and productions? To be considered, all you need to do is upload photos, videos, cast lists or other content to your show listings. Each Friday, BroadwayWorld handpicks a school to showcase and runs a story on our main Broadway page and on the respective regional page. For questions/concerns/suggestions, reach out to us at studentcenter@broadwayworld.com