Now Playing Onstage in Vermont - Week of 6/22/2014
View All Show Listings for Vermont
Click Here to View BroadwayWorld.com Vermont Calendar
YOUNG FRANKENSTEIN
Saint Michael's Playhouse
6/17-6/28/2014
An ingeniously theatrical version of the Academy Award-winning comic film. The story follows young Dr. Frankenstein (that's Fronkensteen) and his assistant Igor (that's Eye-gore) as they attempt to bring a corpse back to life, with hilarious complications and show-stopping musical numbers including the classic "Puttin' On The Ritz."You'll have a monstrously good time. IT'S ALIVE!
Click Here for More Information
MAGIC TREE HOUSE: DINOSAURS BEFORE DARK KIDS
Vermont Children's Theatre
6/26-6/28/2014
While exploring one afternoon, siblings Jack and Annie discover a tree house full of books. Jack looks through a book about dinosaurs and wishes he could see a real one. Suddenly the wind begins to blow and the tree house starts to spin wildly. When it finally stops, Jack and Annie open their eyes to find they have been transported back to the time of the dinosaurs. Join Jack and Annie on their adventure back in time to experience an amazing group of dinosaurs face to face.
Click Here for More Information
MAGIC TREE HOUSE: DINOSAURS BEFORE DARK KIDS
VERMONT CHILDRENS THEATER
6/26-6/28/2014
Click Here for More Information
DURANG BANG
Lost Nation Theater
6/12-6/29/2014
Comedy Gold recipe: showcase several Durang short plays, take people & plots from Chekhov, Williams, et al, add dash of Greek Tragedy, put in blender with a shot of Here & Now and mix! From the 2013 Tony Winner for Best Play. Durang's off-beat, outrageous & hilarious work is simply:
Click Here for More Information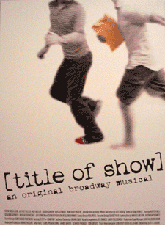 [TITLE OF SHOW]
Stowe
Theatre Guild
6/18-7/5/2014
Jeff and Hunter, two struggling writers, hear about a new musical theatre festival. However, the deadline for submissions is a mere three weeks away. With nothing to lose, the pair decides to try to create something new with the help of their friends Susan, Heidi and Larry on the eighty-eights. With the cast in place, Jeff and Hunter begin a conversation about what to write about. Eventually, Jeff suggests they write about what to write about. They make a pact to write up until the festival?s deadline and dream about the show changing their lives. [title of show]?taken from the space on the festival?s application form which asks for the [title of show]?follows Hunter and Jeff and their friends on their journey through the gauntlet of creative self-expression. In the span of 90 minutes they write and perform their show at the festival and learn lessons about themselves as people, friends and artists. [title of show] is, above all, a love letter to the musical theatre?a uniquely American art form?and to the joy of collaboration. The musical received a Tony AwardMusic and Lyrics by
Jeff Bowen
; Book by
Hunter Bell
Click Here for More Information
ANALOG AND VINYL
Weston Playhouse Theater
6/26-7/12/2014
Set in a vintage record store, this new musical comedy by Broadway composer
Paul Gordon
follows struggling storeowner Harrison and his quirky co-worker, Rodeo Girl, when a mysterious customer makes them a devilish offer they can't refuse.
Click Here for More Information
THE THREE LITTLE PIGS
Weston Playhouse Theater
6/19-7/12/2014
"Then I'll huff and puff and blow your house in." You know the story. Now come see Weston's talented Young Company of Broadway hopefuls in a delightful new musical version by the composers of Mary Poppins that is sure to bring down the house.
Click Here for More Information
View All Show Listings for Vermont
Click Here to View BroadwayWorld.com Vermont Calendar
Related Articles
From This Author BWW