Now Playing Onstage in St. Louis - Week of 3/02/2014
View All Show Listings for St. Louis
Click Here to View BroadwayWorld.com St. Louis Calendar
URINETOWN
ROCKWOOD SUMMIT HIGH SCHOOL
3/6-3/8/2014
One of the most uproariously funny musicals in recent years, URINETOWN is a hilarious tale of greed, corruption, love, and revolution in a time when water is worth its weight in gold. In a Gotham-like city, a terrible water shortage, caused by a 20-year drought, has led to a government-enforced ban on private toilets. The citizens must use public amenities, regulated by a single malevolent company that profits by charging admission for one of humanity's most basic needs. Amid the people, a hero decides he's had enough, and plans a revolution to lead them all to freedom! Inspired by the works of
Bertolt Brecht
and
Kurt Weill
, URINETOWN is an irreverently humorous satire in which no one is safe from scrutiny. Praised for reinvigorating the very notion of what a musical could be, URINETOWN catapults the "comedic romp" into the new millennium with its outrageous perspective, wickedly modern wit, and sustained ability to produce gales of unbridled laughter.
Click Here for More Information
THE DROWSY CHAPERONE
MISSOURI SOUTHERN STATE UNIVERSITY
3/5-3/8/2014
A rare combination of unprecedented originality and blinding talent, THE DROWSY CHAPERONE boldly addresses a great unspoken desire in all of our hearts: to be entertained. If you've ever sat in a dark theatre and thought, "Dear Lord in heaven, please let it be good," this is the show for you!It all begins when a die-hard musical-theater fan plays his favorite cast album on his turntable, and the musical literally bursts to life in his living room, telling the rambunctious tale of a brazen Broadway starlet trying to find, and keep, her true love. Order your copy of "Showing Off with THE DROWSY CHAPERONE" - an informative DVD with advice and production tips from the show's authors and creative staff. Email licensing@mtishows.com to request your FREE copy!
Click Here for More Information
THE MUSIC MAN
NORTH KIRKWOOD MIDDLE SCHOOL
3/6-3/8/2014
An affectionate paean to Smalltown, U.S.A. of a bygone era,
Meredith Willson
's THE MUSIC MAN follows fast-talking traveling salesman Harold Hill as he cons the people of River City, Iowa into buying instruments and uniforms for a boys' band he vows to organize - this despite the fact he doesn't know a trombone from a treble clef. His plans to skip town with the cash are foiled when he falls for Marian the librarian, who transforms him into a respectable citizen by curtain's fall. Perfect for professional theatres, community groups, summer stock and schools alike, this award-winning, critically acclaimed Broadway classic is an all-American institution, thanks to is quirky characters, charmingly predictable dramatic situations, and one-of-a-kind, nostalgic score of rousing marches, barbershop quartets and sentimental ballads which have become popular standards. The cast features a soaring soprano ingenue, parts for young performers and children, and one of the musical theatre's treasures, a tour de force leading role for a charismatic actor who doesn't need to be a trained singer. By turns wicked, funny, warm, romantic and touching, THE MUSIC MAN is family entertainment at its best.
Click Here for More Information
OTHER DESERT CITIES
The Repertory Theatre of St Louis
2/12-3/9/2014
Virginia Jackson Browning Mainstage:
Jon Robin Baitz
; dir: Steven Woolf.
Click Here for More Information
PETER AND THE STARCATCHER
Peabody Opera House
3/7-3/9/2014
In this innovative and imaginative new play, based on The New York Times best selling Disney-Hyperion novel by
Dave Barry
and
Ridley Pearson
, a company of twelve actors plays more than a hundred unforgettable characters, all on a journey to answer the century-old question: How did Peter Pan become The Boy Who Never Grew Up? This epic origin story of one of popular culture's most enduring and beloved characters proves that an audience's imagination can be the most captivating place in the world. The Broadway premiere of Peter and the Starcatcher opened to rave reviews at the
Brooks Atkinson
Theatre (256 West 47 Street) on April 15, 2012. The production has garnered nine Tony Award® nominations, including Best New Play, Best Original Score, Best Director of a Play and many more. Peter and the Starcatcher, will embark on a national tour, opening in August 2013 at the Ellie Caulkins Opera House in Denver, CO.
Click Here for More Information
WHEN I COME TO DIE
Kansas City Repertory Theatre
2/14-3/16/2014
Copaken Stage:
Nathan Louis Jackson
; dir: Kyle Hatley.
Click Here for More Information
RED LIGHT WINTER
HotCity Theatre
3/6-3/22/2014
Black Box Theatre:
Adam Rapp
; dir: Eric Little.
Click Here for More Information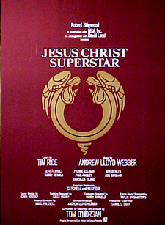 JESUS CHRIST SUPERSTAR
Music Theatre for Young People Of Kansas City
1/3-3/23/2014
Jesus Christ SuperstarIt seems especially fitting that the first rock opera, created as a concept album at the end of the turbulent '60s, should have at its center a social and political rebel. Jesus' meteor-like rise in renown provides, as the title suggests, a parallel to contemporary celebrity worship. As his radical teachings are evermore embraced, Judas increasingly questions the enlightened motives of this new prophet, resulting in betrayal. Christ's final days are dramatized with emotional intensity, thought-provoking edge and explosive theatricality. Propelled by a stirring score, by turns driving and majestic, satirical and tender, JESUS CHRIST SUPERSTAR illuminates the transcendent power of the human spirit with a passion that goes straight to the heart.
Click Here for More Information
RENT
NEW LINE THEATRE
3/6-3/29/2014
Set in the East Village of New York City, RENT is about falling in love, finding your voice and living for today. Winner of the Tony Award for Best Musical and the Pulitzer Prize for Drama, RENT has become a pop cultural phenomenon with songs that rock and a story that resonates with audiences of all ages.Based loosely on Puccini's La Boheme,
Jonathan Larson
's RENT follows a year in the life of a group of impoverished young artists and musicians struggling to survive and create in New York's Lower East Side, under the shadow of HIV/AIDS. The physical and emotional complications of the disease pervade the lives of Roger, Mimi, Tom, and Angel. Maureen deals with her chronic infidelity through performance art; her partner, Joanne, wonders if their relationship is worth the trouble. Benny has sold out his Bohemian ideals in exchange for a hefty income and is on the outs with his former friends. Mark, an aspiring filmmaker, feels like an outsider to life in general. How these young bohemians negotiate their dreams, loves, and conflicts provides the narrative thread to this groundbreaking musical.This is theatre at its best -- exuberant, passionate, and joyous. Regional theatres will love the freedom and flexibility that RENT offers; minimal costuming and sets are required. RENT RETURNSVisit the official "Site for Rent" for NYC ticketing and more information on this new production.
Click Here for More Information
RENT
New Line Theatre
3/6-3/29/2014
New Line continues its 23rd season with
Jonathan Larson
's Pulitzer Prize winning, long-running rock opera Rent. This cheerfully transgressive, 1990s rock/pop riff on the classic story, set in New York City's East Village, is best described in its creator's own words: "In these dangerous times, where it seems the world is ripping apart at the seams, we can all learn how to survive from those who stare death squarely in the face every day and we should reach out to each other and bond as a community, rather than hide from the terrors of life at the end of the millennium." New Line is very proud to finally produce this contemporary masterpiece of our art form. The cast of New Line's RENT includes
Jeremy Hyatt
(Mark),
Evan Fornachon
(Roger),
Anna Skidis
(Mimi),
Luke Steingruby
(Angel),
Marshall Jennings
(Collins),
Sarah Porter
(Maureen),
Cody LaShea
(Joanne), Shawn Bowers (Benny), Kevin Corpuz,
Robert Lee
Davis III,
Zachary Allen Farmer
,
Ryan Foizey
, Wendy Greenwood, Melissa Harris, Nellie Mitchell, and
Marcy Wiegert
. The show will be directed by
Scott Miller
and
Mike Dowdy
, with scenic and lighting design by Rob Lippert, costume design by
Sarah Porter
and
Marcy Wiegert
, and sound design by Kerrie Mondy.
Click Here for More Information
THE LION, THE WITCH AND THE WARDROBE
The Repertory Theatre of St Louis
1/14-4/6/2014
Imaginary Theatre Company:le Clanche du Rand; dir: Bruce Longworth.
Click Here for More Information
UNSORTED
Metro Theater Company
1/27-5/2/2014
Metro Theater Company:Wesley Middleton; dir: Carol North.
Click Here for More Information
View All Show Listings for St. Louis
Click Here to View BroadwayWorld.com St. Louis Calendar
Related Articles
From This Author BWW