Click Here for More Articles on STUDENT CENTER - HIGH SCHOOL EDITION
BWW Review: Desert Stages Theatre's NUNCRACKERS is a Hilarious Holiday Musical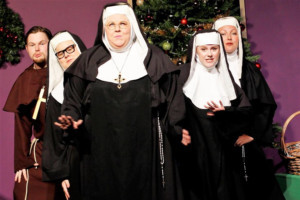 Although Desert Stages describes their Actor's Cafe venue as an "intimate experience", it is much more than that. It is a slightly scaled down version of their very own Cullity Hall, a previous Harkins Theatre with 219 seats. The Actor's Cafe has 56 seats, a "general seating" policy, and provides a fantastic opportunity for actors to interact with and get up close and personal with those in the audience.
NUNCRACKERS features a fantastically innovative, combined cast of adults and children who are vividly energetic and jump on each comedic opportunity given to them. The show is a spinoff of NUNSENSE, but showcases the convent during Christmas-Time, since they have decided to host their own Christmas special. Sarah Golden (Sister Mary Robert Anne) packs a punch with her sarcastic and delightfully funny mannerisms throughout the show, often making jokes about the other sisters. Emma Nowicki plays an admirable Sister Mary Paul/Amnesia, sweetly taking her own moment to hand out "Secret Santa Gifts" to several audience members. Amie Bjorklund (Sister Mary Hubert) dazzles with her stunning rendition of "It's Better to Give", closing out the show spectacularly. Of course, the group wouldn't be complete without Sister Mary Regina/Reverend Mother (Lynn Golden), and Father Virgil Manly Trott (Eric Bond), who ironically finds himself often having to fit into the roles of the other sisters in the Christmas show when they go missing or get injured.
The five children in the musical showcase promising talent, performing several short but cute numbers throughout the show, often accompanied by Sister Paul (Emma Nowicki) as they sing slightly incorrect Christmas carols, such as "The Wassail Song" which they mistake "wassailing" as "waffling", and "The Holly and the Ivy", which they mistake as "The Holly and the Ivory". Several other comedic numbers such as "All I Want for Christmas" and "Santa Ain't Comin' to Our House" keep the audience on the edge of their seat and roaring with laughter throughout the entire production.
The show also comes with some tender moments, including those with Father Virgil and one of the children in "The Christmas Box", when he reassures her that a box filled with love can help her feel better in times of need.
The show is definitely aimed towards older audiences, as some jokes might soar over younger audience's heads, but it is nonetheless a show to attend this holiday season. Desert Stages features yet another amazing cast in a hilarious and unmissable musical. NUNCRACKERS: THE NUNSENSE CHRISTMAS MUSICAL runs through December 24th. Tickets can be purchased online at desertstages.org.
PC: Renee Ashlock
Related Articles
Emma Suttell is a sophomore in Phoenix, Arizona who is actively involved in the theatre community and journalism industry. She has been performing since 2009 (read more...)