Now Playing Onstage in Maine - Week of 1/19/2014
View All Show Listings for Maine
Click Here to View BroadwayWorld.com Maine Calendar
John Brown
's Body in Broadway" border="0" bheight="100" width="100" align="right">
John Brown'S BODY
State Theatre
1/23-1/23/2014
If you've been paying attention, you'll know that Kings And Queens is a synthesis of every aspect of
John Brown
's Body's storied career. It's as if, after close to two decades of existence, this pioneering band has finally crafted their ultimate statement, tying together styles they've dabbled in, paid respect to, created, or pushed forward into one tightly woven mosaic. JBB's Future Roots is now present tense.
John Brown
's Body formed (in Boston in the mid 1990s) at a time when there wasn't what you'd call a U.S. reggae scene. The American bands that played reggae were regional at best, touring little, and many were primarily cover bands of the best known Jamaican reggae. JBB was one of a handful of groups that began touring nationally and created distinctly American reggae, steeped in traditional vibes but incorporating elements from other genres. Whereas most groups tackled typical reggae themes -religion and marijuana - JBB acted more like an indie band, writing songs that used the vocabulary of reggae to express their own experiences. Over time, this style has become the norm. The U.S. scene has grown tremendously - to the point of having two bands debut records in the Billboard Top 20 in 2012 - and many in the genre point to
John Brown
's Body as a key influence.
Click Here for More Information
Nathan Edward
s in Broadway" border="0" bheight="100" width="100" align="right">
JONathan EdwardS
One Longfellow Square
1/24-1/24/2014
Warm as summer sunshine, real as the truth, intimate as a long overdue visit between old friends … such is a Jo
Nathan Edward
s concert. Four decades into a stellar career of uncompromising musical integrity, the man simply delivers, night after night - songs of passion, songs of insight, songs of humor, all rendered in that pure and powerful tenor which, like fine wine, has only grown sweeter with age. The FM radio audience knows him well for his ever-present hits, "Sunshine," and "Shanty," but his is one veteran performer who is neither grizzled nor nostalgic. These days Jo
Nathan Edward
s, a vital and relevant artist in today's folk and Americana scenes, is much more likely to be found looking forward rather than back. Still, the journey that has brought him to towns and theaters all over the globe is well worth revisiting.
Click Here for More Information
TWELFTH NIGHT
The Portland Players
1/24-1/24/2014
Twelfth Night; or, What You Will is a comedy by
William Shakespeare
, believed to have been written around 1601-02 as a Twelfth Night's entertainment for the close of the Christmas season.
Click Here for More Information
TAP, TAP, JAZZ!
Maine State Ballet Theater
1/24-1/25/2014
Come inside for post holiday treat. Maine State Ballet presents the annual crowd pleaser Tap, Tap, Jazz! Coming this January to Maine State Ballet Theater.
Click Here for More Information
RONNIE EARL AND THE BROADCASTERS
One Longfellow Square
1/25-1/25/2014
A two-time W.C. H
Andy Blue
s Award winner as "Guitar Player of the Year," Ronnie Earl has been hailed by musicians and critics alike as one of the premier blues guitarists of his generation and played alongside side such greats as
Carlos Santana
, Muddy Waters, Big Joe Turner, Otis Rush, Earl King and Duke Robillard (who he replaced as guitarist in the legendary Roomful of Blues after Robillard left that band).
Click Here for More Information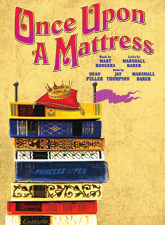 ONCE UPON A MATTRESS
Casco Bay High School
1/24-1/25/2014
If you thought you knew the story of 'The Princess and The Pea,' you may be in for a walloping surprise! Did you know, for instance, that Princess Winnifred actually swam the moat to reach Prince Dauntless the Drab? Or that Lady Larken's love for Sir Harry provided a rather compelling reason that she reach the bridal altar post haste? Or that, in fact, it wasn't the pea at all that caused the princess a sleepless night? Carried on a wave of wonderful songs, by turns hilarious and raucous, romantic and melodic, this rollicking spin on the familiar classic of royal courtship and comeuppance provides for some side-splitting shenanigans. Chances are you'll never look at fairy tales quite the same way again.Music by
Mary Rodgers
; Book by
Jay Thompson
&
Dean Fuller
&
Marshall Barer
; Lyrics by
Marshall Barer
Click Here for More Information
TERESA WALTERS
Gracie Theatre
1/26-1/26/2014
Hailed as "The International First Lady of Piano", Ms. Walters is described by Austrian National Television as "that rare musical phenomenon" and "one of the world's most significant pianists." Her prestigious invitations to perform in honor of the 2011 Liszt Bicentennial included Copenhagen's Hungarian Embassy and Beijing's Forbidden City Concert Hall.
Click Here for More Information
THE SUGAR BEAN SISTERS
Waterville Opera House
1/23-1/26/2014
In this Southern Gothic comedy of romance, murder, and alien abduction, the Nettle sisters are determined to escape spinsterhood -- Willie Mae by going to Salt Lake and finding a good Mormon husband and Faye by hopping on the spaceship when the "space people" return for another visit. A strange bird-like woman suddenly appears out of the darkness of Buster Swamp, setting in motion a chain of extraordinary events. Lies begin to unravel and the truth is revealed as the Sugar Bean Sisters hatch a diabolical plot to ensure the space people's return. "Authentic Southern Gothic comedy...you will enjoy recalling its deliciously lunatic lines!
Click Here for More Information
KARL DENSON'S TINY UNIVERSE
State Theatre
1/28-1/28/2014
For nearly three decades, legendary saxophonist Karl Denson has been getting crowds around the world out on the dance floor. Approaching iconic status, Denson has moved bodies and minds dating back to his earliest years with
Lenny Kravitz
's band through his ongoing tenure as a founding member of seminal boogaloo revivalists The Greyboy Allstars and his current roll as a member of San Diego dub rockers Slightly Stoopid. Nowhere, however, is this more apparent than with his own band, Karl Denson's Tiny Universe. Touring relentlessly for the past 15 years and leaving a massive audience in his wake, fans know that when KDTU is in town a dance party will ensue. Karl Denson and the Tiny Universe's album New Ammo will be released on Stoopid Records in early 2014.
Click Here for More Information
WALK OFF THE EARTH
State Theatre
1/28-1/28/2014
Walk Off The Earth is an unconventional, multi-talented five-piece musical phenomena that is currently taking the world by storm. Based in Burlington, Ontario (just outside of Toronto), their brilliant 5-people-playing-one-guitar interpretation of Gotye's "Somebody That I Used To Know" recently exploded on Youtube garnering well over 35 million views in under 2 weeks. The massive fan response quickly drew attention to their collection of innovative songs and videos spanning their last 5 years and generated an unprecedented flood of media interest. New fans from around the world immediately fell in love with the band's organic, independent, sincere and honest original songwriting, cover interpretations and beautifully filmed videos. For the past 5 years, the band has built a massive following of dedicated fans from around the world through their unique and heartwarming approach to songwriting, filming and constant, open interaction with everyone their music touches.
Click Here for More Information
LITTLE SHOP OF HORRORS
Patrick Dorow
PRODUCTIONS INC
1/24-2/2/2014
A down-and out skid row floral assistant becomes an overnight sensation when he discovers an exotic plant with a mysterious craving for fresh blood. Soon "Audrey II" grows into an ill-tempered, foul-mouthed, R&B-singing carnivore who offers him fame and fortune in exchange for feeding its growing appetite, finally revealing itself to be an alien creature poised for global domination! One of the longest-running Off-Broadway shows of all time, this affectionate spoof of 1950s sci-fi movies has become a household name, thanks to a highly successful film version and a score by the songwriting team of
Howard Ashman
and
Alan Menken
, who redefined the animated musical film with Disney's The Little Mermaid, Beauty and the Beast and Aladdin. Charming, tuneful and hilarious, with tongue firmly planted in cheek, LITTLE SHOP OF HORRORS never fails to entertain. A small cast, band and unit set make the other aspects of production a snap.
Click Here for More Information
TIGERS BE STILL
The Public Theatre
1/24-2/2/2014
The Wickman women are having a bad day. Twenty-four year old Sherry has a Masters degree in Art Therapy - which means she's unemployed and living back at home. Her recently jilted sister is already there, glued to the couch, nursing her broken heart with endless replays of "Top Gun" and a bottle of scotch. Then there is mom, too embarrassed by her recent weight gain to come downstairs, but willing to reach the livingroom via cellphone. If the idea of facing a new day has ever sent you back to bed, this quirky, endearing and uplifting Off-Broadway comedy, is a heart-felt and hilarious look at how we survive the tough moments in life and help each other get back in the game.
Click Here for More Information
DOUBT, A PARABLE
Monmouth Community Players
1/24-2/2/2014
Winner of the 2005 Pulitzer Prize and Tony Award for Best New Play,
John Patrick
Shanley's "Doubt" is a powerful drama that explores suspicion and moral uncertainty. In 1964, Sister Aloysius, a Bronx Catholic School Principal, takes matter into her own hands when she suspects that the younger... Father Flynn has taken a personal interest in one of the younger students. Will the truth be revealed, ...and in the end, who will be left with doubt?
Click Here for More Information
Ira Gershwin
and the Great American Songbook in Broadway" border="0" bheight="100" width="100" align="right">
WORDS BY: Ira Gershwin AND THE GREAT AMERICAN SONGBOOK
Portland Stage
1/21-2/16/2014
A light-hearted play with music showcasing the life and lyrics of the legendary American librettist
Ira Gershwin
. From his early days writing comic tunes to Broadway and Hollywood stardom, two singers help Ira tell his story through his own words to music by
Jerome Kern
,
Kurt Weill
, and of course, his brother and favorite collaborator, George.
Click Here for More Information
View All Show Listings for Maine
Click Here to View BroadwayWorld.com Maine Calendar
Related Articles
From This Author BWW