Now Playing Onstage in Ft. Myers/Naples - Week of 11/04/2012
View All Show Listings for Ft. Myers/Naples
Click Here to View BroadwayWorld.com Ft. Myers/Naples Calendar
9 TO 5: THE MUSICAL
Broadway Palm Dinner Theatre
10/11-11/17/2012
Based on the movie Nine to Five starring
Dolly Parton
, this hilarious musical tells the story of friendship and revenge in the Rolodex era. Three female co-workers conspire to take control of their company and learn there's nothing they can't do…even in a man's world. Hilarious consequences ensue when their plan spins wildly out of control. The jubilant score mixes Broadway and pop with
Dolly Parton
's irresistible style.
Click Here for More Information
---
9 TO 5: THE MUSICAL
Broadway Palm Dinner Theatre
10/11-11/17/2012
Based on the movie Nine to Five starring
Dolly Parton
, this hilarious musical tells the story of friendship and revenge in the Rolodex era. Three female co-workers conspire to take control of their company and learn there's nothing they can't do…even in a man's world. Hilarious consequences ensue when their plan spins wildly out of control. The jubilant score mixes Broadway and pop with
Dolly Parton
's irresistible style.
Click Here for More Information
---
LEND ME A TENOR
Florida Repertory Theatre
10/23-11/17/2012
It is Cleveland 1934, and the stage is set for a one-night-only command performance of Otello with the world's greatest tenor, Tito Merelli, in the title role. But when the star arrives desperately late with his ego and his jealous wife in tow, things don't go exactly according to plan. A double dose of tranquilizers, an over-sexed soprano, and a mistaken suicide note add up to complete chaos!
Click Here for More Information
---
ART
Gulfshore Playhouse
10/20-11/18/2012
Have you ever argued with a friend who had a different worldview? Was it bad enough that you considered ending the friendship over it? Probably the dispute was over something important, something about which you were so passionate that you were willing to stake your friendship on it...like religion, politics, money or possibly even...'ART'. Don't miss this hilarious and acerbic comedy that examines the meaning of art, friendship, peer pressure...and the ultimate value of those you love.
Click Here for More Information
---
GOD OF CARNAGE
Gulfshore Playhouse
10/20-11/18/2012
This Internationally-acclaimed comedy brings together two sets of Brooklyn parents after a playground altercation between their eleven-year-old boys. Though the meeting to resolve the matter begins with polite pleasantries, it quickly descends into primal madness as tempers flare, loyalties shift and the parents devolve into children. Don't miss this comedy of manners (without the manners!) that both strikes a chord and hits a funny bone all in one fell swoop!
Click Here for More Information
---
BECKY'S NEW CAR
The Herb Strauss Theatre
11/13-11/20/2012
Theatre Conspiracy's production of Becky's New Car drives over the Causeway from Fort Myers onto Sanibel for an encore run at BIG ARTS Herb Strauss Theater. Becky's New Car is the story of a frustrated, middle-aged mother and wife who a wealthy widower mistakenly assumes is a widow herself. When she repeatedly neglects to correct his mistake, Becky finds herself swept up in a double life and charade speeding dangerously off track. Laced with adult humor, playwright
Steven Dietz
spins a touching tale about the detours we make on the road to happiness.
Click Here for More Information
---
CAMPING WITH HENRY AND TOM
Florida Repertory Theatre
10/31-11/25/2012
Inspired by true events, Camping with Henry and Tom is an enormously entertaining evening with Henry Ford, Thomas Edison, and President Harding. Its the summer of 1921, and these three very important & powerful men get stranded in the Maryland Wilderness when Ford drives his Model-T off the road. This deftly comic play is an exploration of friendship, industry and politics where the President finds himself caught in a clash between two of the greatest minds of the 20th century!
Click Here for More Information
---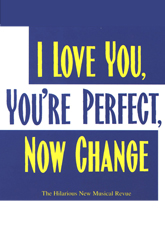 I LOVE YOU, YOU'RE PERFECT, NOW CHANGE
Broadway Palm Dinner Theatre
11/1-12/23/2012
This celebration of the mating game takes on the truths and myths behind that contemporary conundrum know as 'the relationship.' Act I explores the journey from dating and waiting to love and marriage, while Act II reveals the agonies and triumphs of in-laws and newborns, trips in the family car and pick-up techniques of the geriatric set. This hilarious revue pays tribute to those who have loved and lost, to those who have fallen on their face at the portal of romance, to those who have dared to ask, 'Say, what are you doing Saturday night?'Book and Lyrics by
Joe DiPietro
; Music by
Jimmy Roberts
For more information on Broadway Palm Dinner Theatre, click hereFor more information on I Love You, You're Perfect, Now Change, click here
Click Here for More Information
---
View All Show Listings for Ft. Myers/Naples
Click Here to View BroadwayWorld.com Ft. Myers/Naples Calendar
Related Articles
From This Author BWW