Now Playing Onstage in Mesa - Week of 8/03/2014
View All Show Listings for Mesa
Click Here to View BroadwayWorld.com Mesa Calendar
PETER PAN
Arizona Broadway Theatre
7/11-8/17/2014
"Second star to the right, and straight on till morning!" Known by many from the 1953 Disney movie, Peter Pan tells the story of the mischievous boy who can fly, who never ages, and who spends his never-ending childhood adventuring on the enchanting isles of Neverland as the undisputed leader of the Lost Boys. This summer, audiences are invited to sprinkle a little pixie dust and join Peter, Wendy, Michael, John and Tinker Bell on a magical adventure as they battle alligators and the notorious Captain Hook in Arizona Broadway Theatre's high-flying and fanciful spectacle!
Click Here for More Information
FOOTLOOSE
Hale Theatre Arizona
7/10-8/23/2014
A tune-filled Broadway hit that takes summer to a whole new level. City-boy, Ren, and his mother have just moved to a small town where dancing is a crime thanks to the efforts of an ultra conservative pastor. Sparks fly when the pastor's daughter befriends Ran while her former boyfriend plays on the fears of the many locals who are eager to believe the worst of the new kid in town. From the moment this dance-filled musical opens you won't be able to stop moving your feet! It's a joyous production filled with music and dancing that will lighten your heart and take you to an "Almost Paradise" state of mind. Ready to cheer? Yeah!"Let's Hear It For The Boy."
Click Here for More Information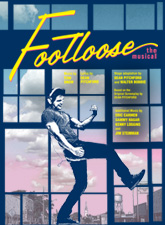 FOOTLOOSE
Hale Centre Theatre - Arizona
7/10-8/23/2014
One of the most explosive movie musicals in recent memory bursts onto the live stage with exhilarating results. When Ren and his mother move from Chicago to a small farming town, Ren is prepared for the inevitable adjustment period at his new high school. What he isn't prepared for are the rigorous local edicts, including a ban on dancing instituted by the local preacher, determined to exercise the control over the town's youth that he cannot command in his own home. When the reverend's rebellious daughter sets her sights on Ren, her roughneck boyfriend tries to sabotage Ren's reputation, with many of the locals eager to believe the worst about the new kid. The heartfelt story that emerges is of a father longing for the son he lost and of a young man aching for the father who walked out on him. To the rockin' rhythm of its Oscar and Tony-nominated top 40 score (the soundtrack album reached number one on the Billboard charts and has sold over 15 million copies!) and augmented with dynamic new songs for the stage musical, FOOTLOOSE celebrates the wisdom of listening to young people, guiding them with a warm heart and an open mind.Music by
Tom Snow
; Lyrics by
Dean Pitchford
; Stage Adaptation by
Dean Pitchford
and
Walter Bobbie
; Based on the original screenplay by
Dean Pitchford
; Additional Music by
Eric Carmen
,
Sammy Hagar
,
Kenny Loggins
and
Jim Steinman
Click Here for More Information
View All Show Listings for Mesa
Click Here to View BroadwayWorld.com Mesa Calendar
Related Articles
From This Author BWW