Click Here for More Articles on STUDENT CENTER - HIGH SCHOOL EDITION
BWW Review: PIPPIN at Spotlight Youth Theatre Cannot Be Missed This Fall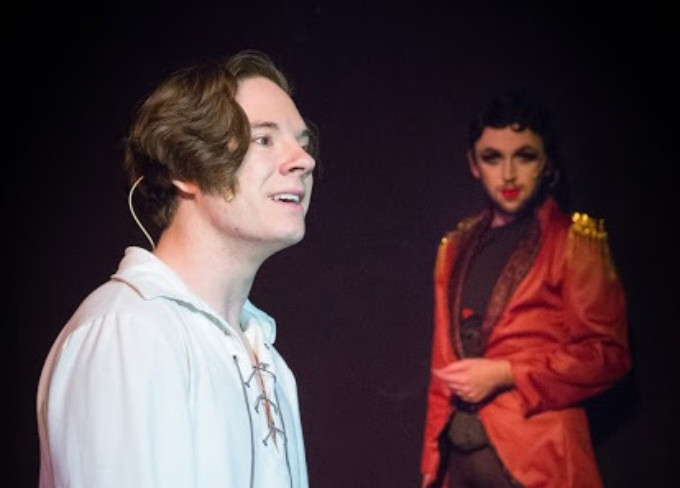 Spotlight Youth Theatre's PIPPIN easily exceeds all expectations for a youth production. A cast constructed of 24 award winners, nominees, and experienced youth, the talent could not be more amusing and breathtaking. The set, designed by director Bobby Sample, provides a simple yet innovative and unique way for the actors to make great use of a small space, including several set pieces that slide into place under multiple platforms, such as a bed, which transforms the stage into Catherine's room, to a large staircase that lowers from the ceiling to allow an empty battlefield to transform into Charles' throne room.
Trey DeGroot, as the Leading Player, introduces us to the show, igniting a stellar rendition of "Magic To Do", a strong opener that I could have easily watched on repeat. Trey consistently enthralls and captivates the audience with his seductive pull and dynamics, presenting himself as the mysterious and intriguing Leading Player. Trey evidently carries a strong lead with spectacular stage presence that cannot be ignored throughout the run of the show, especially in his execution of the choreography (by Lynzee 4man). His execution of the choreography obviously displays his extensive experience, as well as his stellar vocal ability.
The title character, Pippin, played by Devon Policci, plays an innocent, somewhat clumsy, and unknowing Pippin who has a seemingly natural sense of innocence about him which greatly contributes to his portrayal of "Corner of the Sky", a song beautifully executed by Devon that did not disappoint in the slightest after such a strong opening. His subtle sense of humor easily becomes the focal point of several scenes, especially during "War is a Science", led by King Charles (Isaiah Salazar), who also possesses incredible comedic timing.
The ensemble shines explicitly throughout Act 1, slipping in and out of several numbers, each adding their own twist of personality to their "player". The vocals of the ensemble, led by Mark 4man, sound mature, perfectly balanced, and display a level of maturity that is extraordinarily impressive, heightening the caliber of the show to another level. One stand-out vocalist is Sarah Pansing (Fastrada), who had a strong, beautiful rendition of "Spread a Little Sunshine" accompanied by incredible dance breaks throughout the entirety of the song.
During Act 2, Alyssa Armstrong, playing Catherine, shows off her beautiful voice, and like Devon, a very natural portrayal of her character. She displays maternal instincts while still embodying the smitten manner of a girl in love.
The entire show is pulled together through a sensational array of dance breaks, choreographed by Lynzee 4man. It is definitely the highlight of the show; sharp and different, some pieces resemble something straight out of CABARET. Every cast member looks amazing executing the choreography, which is accompanied by vocals which pack an intense punch, directed by Mark 4man.
This stand-out adaptation of PIPPIN cannot be missed. Spotlight Youth Theatre's PIPPIN opened October 20th and runs through November 5th. You can visit spotlightyouththeatre.org to purchase tickets.
Photo Courtesy of Joanne Wastchak.
Related Articles
Emma Suttell is a sophomore in Phoenix, Arizona who is actively involved in the theatre community and journalism industry. She has been performing since 2009 (read more...)