Now Playing Onstage in Memphis - Week of 1/13/2013
View All Show Listings for Memphis
Click Here to View BroadwayWorld.com Memphis Calendar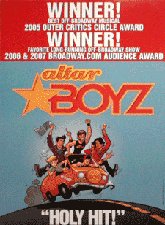 ALTAR BOYZ
Theatre Memphis
11/2-1/20/2013
ALTAR BOYZ is a foot-stomping, rafter-raising, musical comedy about a fictitious Christian boy-band on the last night of their national 'Raise the Praise' tour. The Boyz are five all-singing, all-dancing heartthrobs from Ohio: Matthew, Mark, Luke, Juan and Abraham. With their tight harmonies and spectacular choreography, the ALTAR BOYZ will delight your audiences. As they perform their signature hits such as 'Rhythm In Me,' 'The Calling,' and 'I Believe,' the Boyz question their loyalty to each other and ask whether or not faith is really holding them together. They finally deliver a message of unity, that 'there is no star as bright as its constellation, no harmony in a single voice.'Book by
Kevin Del Aguila
; Music and Lyrics by
Gary Adler
&
Michael Patrick Walker
; Conceived By
Marc Kessler
&
Ken Davenport
For more information on Theatre Memphis, click hereFor more information on Altar Boyz, click here
Click Here for More Information
THE LEFT HAND SINGING
Playhouse on the Square
1/4-1/27/2013
Three college students travel to Mississippi to work as civil rights activists during Freedom Summer in 1964. When the students vanish, seemingly without a trace, their families are drawn together as they cope with the loss. Over the next three decades, the connections between these families with very different backgrounds are tested against the nation's changing social and political climate.
Click Here for More Information
THE MOUNTAINTOP
Playhouse on the Square
1/18-2/10/2013
Written by Memphis native
Katori Hall
, The Mountaintop is a reimagining of the events of April 3rd, 1968. D
R. Martin
Luther King, Jr. has just returned to his room at The Lorraine Motel after giving one of his most memorable speeches. When a mysterious young woman visits his room with some surprising news, Dr. King must come to terms with his destiny in the play The Associated Press called a, "thrilling, wonderful, provocative flight of magical realism." Winner of the 2010 Olivier Award for Best New Play.
Click Here for More Information
View All Show Listings for Memphis
Click Here to View BroadwayWorld.com Memphis Calendar
Related Articles
From This Author BWW