Now Playing Onstage in Detroit - Week of 6/01/2014
View All Show Listings for Detroit
Click Here to View BroadwayWorld.com Detroit Calendar
INTO THE WOODS
WHO WANTS CAKE - RINGWALD THEATRE
5/2-6/2/2014
The Brothers Grimm
hit Broadway with an epic fairytale where worlds collide.
James Lapine
and
Stephen Sondheim
take everyone's favorite storybook characters and brings them together for a timeless yet relevant piece and rare modern classic.The story follows a Baker and his wife who wish to have a child, Cinderella who wishes to attend the King's Festival, and Jack who wishes his cow would give milk. When the Baker and his wife learn that they cannot have a child because of a Witch's curse, the two set off on a journey to break the curse. Everyone's wish is granted, but the consequences of their actions return to haunt them later with disastrous results.One of Sondheim's most popular works, INTO THE WOODS is a musically sophisticated show with the opportunity to feature actors adept at dark comedy. Designers will especially enjoy highlighting the fantastical elements of this magical word.
Click Here for More Information
NEXT TO NORMAL
AVON PLAYERS
5/23-6/7/2014
Pulitzer-Prize winning rock musical NEXT TO NORMAL, with book and lyrics by
Brian Yorkey
and music by
Tom Kitt
, explores how one suburban household copes with crisis and mental illness.NEXT TO NORMAL tells the story of a mother, Diane Goodman, who struggles with bipolar disorder and the effect that her illness has on her family. This contemporary musical is an emotional powerhouse that addresses such issues as grieving a loss, ethics in modern psychiatry, and suburban life. With provocative lyrics and a thrilling score, this musical shows how far two parents will go to keep themselves sane and their family's world intact.NEXT TO NORMAL is a deeply moving piece of theatre that provides a wonderful opportunity for performers to explore dramatic material and showcase vocal talents with an energetic pop/rock score. This show is ideal for community theaters, as well as colleges and regional theatre companies.
Click Here for More Information
DISNEY'S BEAUTY AND THE BEAST JR
PERFORMING ARTS DRAMA COMPANY - PA DRAMA COMPANY
6/6-6/7/2014
Step into the enchanted world of Disney's BEAUTY AND THE BEAST JR. Featuring songs from the Academy-Award winning animated feature, this stage version includes music by
Alan Menken
and the late
Howard Ashman
, along with new songs by Mr. Menken and
Tim Rice
. Your audiences will be transported to the heart of provincial life in a lovely French town. When Maurice becomes lost in the woods on the way to the fair, he seeks shelter in an old castle, but the master of the castle is a horrible beast that takes him captive. Maurice's daughter, Belle, must then give up her freedom to save his life. Belle's taming of the unfortunate Beast and his ultimate transformation back into a handsome prince is a beloved fairy tale about very different people finding strength in one another and learning how to love. This "tale as old as time" is filled with spectacular costume and set opportunities. Even more simply staged, Disney's BEAUTY AND THE BEAST JR. offers students a great introduction to musical theatre, using familiar songs and characters to guide them through their production.
Click Here for More Information
GODSPELL-2012 REVISED VERSION
RIVERWALK THEATRE COMMUNITY CIRCLE PLAYERS
5/29-6/8/2014
Click Here for More Information
LITTLE SHOP OF HORRORS
ANN ARBOR CIVIC THEATRE
6/5-6/8/2014
A down-and out skid row floral assistant becomes an overnight sensation when he discovers an exotic plant with a mysterious craving for fresh blood. Soon "Audrey II" grows into an ill-tempered, foul-mouthed, R&B-singing carnivore who offers him fame and fortune in exchange for feeding its growing appetite, finally revealing itself to be an alien creature poised for global domination! One of the longest-running Off-Broadway shows of all time, this affectionate spoof of 1950s sci-fi movies has become a household name, thanks to a highly successful film version and a score by the songwriting team of
Howard Ashman
and
Alan Menken
, who redefined the animated musical film with Disney's The Little Mermaid, Beauty and the Beast and Aladdin. Charming, tuneful and hilarious, with tongue firmly planted in cheek, LITTLE SHOP OF HORRORS never fails to entertain. A small cast, band and unit set make the other aspects of production a snap.
Click Here for More Information
GUYS & DOLLS
ST DUNSTANS THEATRE GUILD OF CRANBROOK
5/30-6/14/2014
Set in
Damon Runyon
's mythical New York City, this oddball romantic comedy - considered by many to be the perfect musical comedy - soars with the spirit of Broadway as it introduces us to a cast of vivid characters who have become legends in the canon:
Sarah Brown
, the upright but uptight "mission doll," out to reform the evildoers of Time Square; Sky Masterson, the slick, high-rolling gambler who woos her on a bet and ends up falling in love; Adelaide, the chronically ill nightclub performer whose condition is brought on by the fact she's been engaged to the same man for 14 years; and Nathan Detroit, her devoted fiance, desperate as always to find a spot for his infamous floating crap game.Everything works out in the end, thanks to the machinations of
Abe Burrows
and
Jo Swerling
's hilarious, fast-paced book and
Frank Loesser
's bright, brassy, immortal score, which takes us from the heart of Times Square to the cafes of Havana, Cuba, and even into the sewers of New York City. Funny and romantic, GUYS AND DOLLS is ideal for audiences and performers of any age.
Click Here for More Information
GUYS & DOLLS
St. Dunstan's Theatre
5/30-6/14/2014
One of the greatest musicals from the golden age of Broadway, Guys and Dolls transports you to
Damon Runyon
's mythical New York City. You meet gangsters, saints, sinners, and hot box dancers. Come see this beloved classic in the outdoor Greek Theatre featuring some of Broadway's classic showstoppers like "Sit Down You're Rockin' the Boat", "Luck Be a Lady", and the title song "Guys and Dolls." Showtimes: Friday, May 30 @ 8:00 PM Saturday, May 31 @ 8:00 PM Friday, Jun 6 @ 8:00 PM Saturday, Jun 7 @ 8:00 PM Thursday, Jun 12 @ 8:00 PM Friday, Jun 13 @ 8:00 PM Saturday, Jun 14 @ 8:00 PM
Click Here for More Information
THE BOOK OF MORMON
Wharton Center [Cobb Great Hall]
6/10-6/15/2014
THE BOOK OF MORMON features book, music and lyrics by
Trey Parker
,
Robert Lopez
and
Matt Stone
. Parker and Stone are the four-time Emmy Award-winning creators of Comedy Central's landmark animated series, "South Park." Tony Award-winner Lopez is co-creator of the long-running hit musical comedy, Avenue Q. The world premiere musical is choreographed by five-time Tony Award-nominee
Casey Nicholaw
(Monty Python's Spamalot, The Drowsy Chaperone) and is directed by Nicholaw and Parker. THE BOOK OF MORMON, which follows a pair of mismatched Mormon boys sent on a mission to a place that's about as far from Salt Lake City as you can get, has been nominated for 14 Tony Awards, including Best Musical; 12 Drama Desk Awards, including Best Musical; 6 Outer Critics Circle Awards, including Best Musical and the Drama League Award for Best Musical. THE BOOK OF MORMON is also the recipient of the New York Drama Critics' Circle Award for Best Musical.
Click Here for More Information
9 TO 5, THE MUSICAL
GRAND RAPIDS CIVIC THEATRE
5/30-6/15/2014
9 TO 5: THE MUSICAL, with music and lyrics by
Dolly Parton
and book by
Patricia Resnick
, is based on the 1980 hit movie Nine to Five.Pushed to the boiling point by their boss, three female co-workers concoct a plan to get even with the sexist, egotistical, lying, hypocritical bigot they call their boss. They conspire to take control of their company and learn there's nothing they can't do -- even in a man's world. Set in the late 1970s, 9 TO 5: THE MUSICAL is a hilarious story of friendship and revenge in the Rolodex era. Outrageous, thought-provoking, and even a little romantic, 9 TO 5: THE MUSICAL is about teaming up and taking care of business.This high-energy show is ideal for a large, mostly female cast. With its jubilant score and easily relatable characters, 9 TO 5: THE MUSICAL is the perfect show for community theaters or high schools.
Click Here for More Information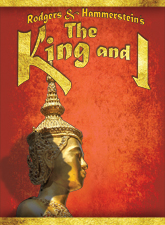 THE KING AND I
Twin City Players
6/6-6/29/2014
East versus West makes for a dramatic, richly textured and ultimately uplifting tale of enormous fascination. It is 1862 in Siam when an English widow,
Anna Leon
owens, and her young son arrive at the Royal Palace in Bangkok, having been summoned by the King to serve as tutor to his many children and wives. The King is largely considered to be a barbarian by those in the West, and he seeks Anna's assistance in changing his image, if not his ways. With both keeping a firm grip on their respective traditions and values, Anna and the King grow to understand and, eventually, respect one another, in a truly unique love story. Along with the dazzling score, the incomparable
Jerome Robbins
ballet, 'The Small House of Uncle Thomas,' is one of the all-time marvels of the musical stage.Music by Rodgers, Richard; Book by
Oscar Hammerstein
II; Lyrics by
Oscar Hammerstein
II; Based on Anna and the King by
Margaret Landon
; Original Choreography by
Jerome Robbins
Click Here for More Information
View All Show Listings for Detroit
Click Here to View BroadwayWorld.com Detroit Calendar
Related Articles
From This Author BWW