Eden Expands On-Demand Office Services to Oakland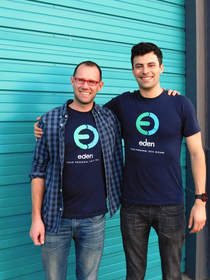 SAN FRANCISCO, CA - Eden, which offers the best platform for on-demand and scheduled office services, announced today that it has expanded its coverage area to Oakland. Eden now covers the Bay Area from Oakland to San Francisco to the Peninsula, including Palo Alto and Mountain View. Services include office cleaning, IT support, and handyman needs, provided by Eden's expert W2 workers (known as Wizards).
Eden launched its office support platform in September 2016, and has grown at a rapid clip of more than 50 percent each month since. In November, Eden decided to focus on the business market exclusively, and in December, the company expanded its coverage down the Peninsula to satisfy a wait list of customers. Eden has doubled its headcount in the past two months to keep up with customer demand, and now, with demand from companies in the East Bay, Eden has decided to expand its services to Oakland as well.
Eden's expansion was in part driven by a large influx of companies leaving San Francisco for less expensive and larger digs in Oakland. But it was also driven by a desire to be a resource for the diverse businesses in the East Bay, where many Eden Wizards live. Eden plans to hire 15 new Wizards in Oakland initially, with more to come.
Economic opportunity is core to Eden's mission. Despite ties to the on-demand economy, Eden's jobs aren't gigs all Eden employees are W2 and receive benefits such as healthcare and the opportunity for stock options and advancement. Combine that with a technological edge, and Eden is able to keep prices low, while delivering excellent service.
"We're seeing not only more companies using Eden, but existing customers coming to us more frequently and for a wider range of services," said Joe Du Bey, Eden's co-founder and CEO. "We know we're filling a big gap for busy companies, and we're thrilled that our customers are getting so much value out of Eden."<


One of those companies is Fundbox, a leading financial services business that is headquartered in the Bay Area. "Eden is my go-to company for almost every project or problem I encounter. It's incredibly helpful to know we have someone to depend on to get things done quickly and efficiently," said Tom Gold, Fundbox's Office Manager.
Eden offers several types of services for businesses, both on demand and scheduled, including:
Office Cleaning - Regularly scheduled office cleanings.
IT Support - Network and security solutions, computer and mobile device troubleshooting, A/V installation, and technology setup for new employees Handyman Services - For office maintenance needs, Eden has the best handymen, electricians, painters, and other skilled team members.
Supply Stocking - Eden ensures that clients have all of the kitchen, cleaning and office products they need, without any stockouts.
To learn more about Eden or to book service, visit https://www.eden.io/.
About Eden
Eden offers the best platform for connecting busy office and facilities managers with the services they need most, including office cleaning, IT support, and handyman services. Staffed by W2 employees who are experienced in their fields, Eden delivers reliable, convenient, high-quality service making office managers look like super heroes. Based in San Francisco, Eden is venture backed and growing rapidly. Learn more at www.eden.io.