Now Playing Onstage in Boise - Week of 8/31/2014
View All Show Listings for Boise
Click Here to View BroadwayWorld.com Boise Calendar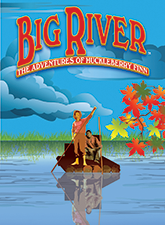 BIG RIVER
Starlight Mountain Theatre
8/16-9/13/2014
Twain's timeless classic sweeps us down the mighty Mississippi as the irrepressible Huck Finn helps his friend Jim, a slave, escape to freedom at the mouth of the Ohio River. Their adventures along the way are hilarious, suspenseful and heartwarming, bringing to life your favorite characters from the novel-the Widow Douglas and her stern sister,
Miss Watson
; the uproarious King and Duke, who may or may not be as harmless as they seem; Huck's partner in crime,
Tom Sawyer
, and their rowdy gang of pals; Huck's drunken father, the sinister Pap Finn; the lovely Mary Jane Wilkes and her trusting family. Propelled by an award winning score from
Roger Miller
, the king of country music, this jaunty journey provides a brilliantly theatrical celebration of pure Americana.Music by
Roger Miller
; Lyrics by
Roger Miller
; Book by
William Hauptman
; Adapted from the novel by
Mark Twain
Click Here for More Information
LES MISERABLES
LAKE CITY PLAYHOUSE
9/5-10/5/2014
This international smash-hit may be the most popular musical in the world. In 19th century France, Jean Valjean is released from 19 years of unjust imprisonment, but finds nothing in store for him but mistrust and mistreatment. He breaks his parole in hopes of starting a new life, initiating a life-long struggle for redemption as he is relentlessly pursued by police inspector Javert, who refuses to believe Valjean can change his ways. Finally, during the Paris student uprising of 1832, Javert must confront his ideals after Valjean spares his life and saves that of the student revolutionary who has captured the heart of Valjean's adopted daughter. His world-view shattered, Javert commits suicide, and Valjean at last attains the peace he has sought for so long.Epic, grand and uplifting, LES MISÉRABLES packs an emotional wallop that has thrilled audiences all over the world. The sung-through pop opera is ideal for a cast of exceptional singers and overflows with melodies that are already standards. A spectacle on Broadway and in London, LES MISÉRABLES is equally effective with a minimal set; it is its powerful affirmation of the human spirit that has made LES MISÉRABLES a popular masterpiece.
Click Here for More Information
View All Show Listings for Boise
Click Here to View BroadwayWorld.com Boise Calendar
Related Articles
From This Author BWW