Now Playing Onstage in Appleton, WI - Week of 6/08/2014
View All Show Listings for Appleton, WI
Click Here to View BroadwayWorld.com Appleton, WI Calendar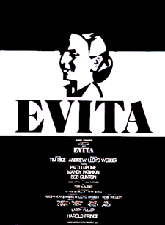 EVITA
Kimberly High School
6/12-6/14/2014
Argentina's controversial First Lady is the subject of this dynamic musical masterpiece. As an illegitimate fifteen year old, Eva escaped her dirt-poor existence for the bright lights of Buenos Aires. Driven by ambition and blessed with charisma, she was a starlet at twenty-two, the president's mistress at twenty-four, First Lady at twenty-seven, and dead at thirty-three. Eva Peron 'saint to the working-class, reviled by the aristocracy and mistrusted by the military' was destined to leave a fascinating political legacy unique in the 20th century. Told through a compelling score that fuses haunting chorales with exuberant Latin, pop and jazz influences, EVITA creates an arresting theatrical portrait as complex as the woman herself.Lyrics by
Tim Rice
; Music by
Andrew Lloyd Webber
Click Here for More Information
1776
EAU CLAIRE CHILDRENS THEATRE
6/12-6/15/2014
The seminal event in American history blazes to vivid life in this most unconventional of Broadway hits. 1776 puts a human face on the pages of history as we see the men behind the national icons: proud, frightened, uncertain, irritable, charming, often petty and ultimately noble figures determined to do the right thing for a fledgling nation.It's the summer of 1776, and the nation is ready to declare independence...if only our founding fathers can agree to do it! 1776 follows
John Adams
of Massachusetts,
Benjamin Franklin
of Pennsylvania, and
Richard Henry
Lee and
Thomas Jefferson
of Virginia as they attempt to convince the members of the second Continental Congress to vote for independence from the shackles of the British monarchy by signing the Declaration of Independence.1776 is a funny, insightful, and compelling drama with a striking score and legendary book. It is an extremely flexible show that can be performed with characters as written or as a concert version 1776 STAGED CONCERT VERSIONThe MTI Marquee provides a number of articles on unique staging and casting ideas for 1776 in order to make the show more produce-able in your theatre while remaining engaging to audience members. Of particular note is a Staged Concert Version of the show which allows for blind casting and minimal costumes.
Click Here for More Information
THE PHANTOM OF THE OPERA
Fox Cities Performing Arts Center
6/11-6/22/2014
Following an acclaimed sold-out tour of the United Kingdom,
Cameron Mackintosh
's spectacular new production of
Andrew Lloyd Webber
's phenomenal musical success, THE PHANTOM OF THE OPERA, sets out on a brand new North American Tour. Critics are raving that this breathtaking production is "bigger and better than ever before." This PHANTOM features a brilliant new scenic design by
Paul Brown
, Tony Award-winning original costume design by Maria Bjornson, lighting design by Tony Award winner
Paule Constable
, new choreography by
Scott Ambler
, and a new staging by director Laurence Connor. The production, overseen by
Matthew Bourne
and
Cameron Mackintosh
, boasts many exciting special effects including the show's legendary chandelier. The beloved story and thrilling score - with songs like "Music of the Night," "All I Ask Of You," and "Masquerade" - will be performed by a cast and orchestra of 52, making this PHANTOM one of the largest productions now on tour.
Click Here for More Information
INTO THE WOODS JR
DARE TO DREAM THEATRE
6/1-6/30/2014
The Brothers Grimm
"go Broadway" as Sondheim and Lapine offer up a cockeyed fairy tale where all of your favorite characters""Cinderella, Little Red Riding Hood, Jack (and his beanstalk) and The Witch""meet and interact on their journeys. With unforgettable roles, little dancing and no chorus, INTO THE WOODS JR. showcases a medium-sized ensemble of talented singers and actors. The sophisticated score has been adapted to make it easier--though still challenging--for young performers. INTO THE WOODS JR. is a funny and engaging way to get young people to think about the stories with which they've grown up and the ethical issues raised therein.
Click Here for More Information
View All Show Listings for Appleton, WI
Click Here to View BroadwayWorld.com Appleton, WI Calendar
Related Articles
From This Author BWW