Now Playing Onstage in Washington, DC - Week of 11/20/2018
View All Show Listings for Washington, DC
Click Here to View BroadwayWorld.com Washington, DC Calendar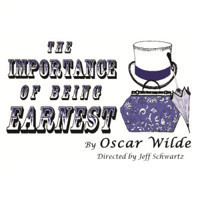 THE IMPORTANCE OF BEING EARNEST
Winchester Little Theatre
11/9-11/24/2018
This famous comedy features Oscar Wilde's clever wordplay and thinly veiled social commentary. The characters follow his theme that, "We should treat all trivial things in life very seriously, and all serious things of life with a sincere and studied triviality."
Click Here for More Information
ANASTASIA
Kennedy Center [Opera House]
10/30-11/25/2018
Inspired by the beloved films, Anastasia transports audiences from the twilight of the Russian Empire to the euphoria of Paris in the 1920s, as a brave young woman sets out to discover the mystery of her past. Pursued by a ruthless Soviet officer determined to silence her, Anya enlists the aid of a dashing conman and a lovable ex-aristocrat. Together, they embark on an epic adventure to help her find home, love, and family.
Click Here for More Information
THE AGITATORS
Mosaic Theater Company of DC
10/24-11/25/2018
Mat Smart; dir: KenYatta Rogers.
Click Here for More Information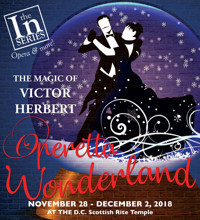 OPERETTA WONDERLAND: THE MAGIC OF VICTOR HERBERT
The In Series
11/28-12/2/2018
Escape your troubles and step into the waltz inspired revolutions of one of America's greatest popular composers, Victor Herbert. ?A century ago, audiences delighted in operetta's topsy-turvy plots, rousing anthems, and soaring melodies. Brian J. Shaw along with Maestro Carlos C. Rodriguez direct a cavalcade of hits from Sweethearts, Naughty Marietta, The Red Mill, The Fortune Teller, Babes in Toyland and more! Fall in love again with fanciful visions of prima donnas, toy soldiers, and star crossed lovers in DC's historic Scottish Rite Temple. FEATURING: Andrew Adelsberger Kelly Curtin Cara Gonzalez Joe Haughton Bryan Jackson Elise Jenkins with pianist Carlos Cesar Rodriguez
Click Here for More Information
KING JOHN
Folger Theatre
10/23-12/2/2018
William Shakespeare; music: Lindsay Jones; dir: Aaron Posner.
Click Here for More Information
BE MORE CHILL
George C. Marshall High School
11/29-12/8/2018
Click Here for More Information
A CHRISTMAS CAROL, THE MUSICAL (BROADWAY VERSION
Rooftop Productions
11/24-12/9/2018
Directed by Ted Ballard, musically directed by Sarah Jane Scott, and choreography by Amy Treat. Performances are Fridays and Saturdays at 8pm and Sundays at 2pm from November 24-December 9, 2018 at the Kellar Theater in the Center for the Arts, 9419 Battle Street, Manassas, VA Get in the holiday spirit with the Broadway version of A Christmas Carol, the Musical. With music by Alan Menken, lyrics by Lynn Ahrens and book by Mike Ockrent and Lynn Ahrens, A Christmas Carol, the Musical is a spectacular holiday tradition for the entire family. After Scrooge declares the Christmas season a "humbug", he is visited by the ghosts of Christmas past, present, and future. Reliving moments from his misspent youth and faced with his greed and future fate, Scrooge has a change of heart and makes amends. From "Hear the Bells" and "Link by Link" to "A Place Called Home", music and dance fill this timeless celebration of the holiday season. Leland Shook is featured as Ebenezer Scrooge with Paul Rubinstein as Bob Cratchit, Abby Dahl, Andrew Eberly, and Danica Shook as the Ghosts of Christmas' Past, Present and Future, and Amelia Robertson as Tiny Tim. Join in the merriment at "Fezziwig's Annual Christmas Ball" and get tickets for the entire family at www.center-for-the-arts.org/tickets.
Click Here for More Information
THE WIZARD OF OZ (MUNY)
Compass Rose Studio Theatre
11/16-12/16/2018
Click Here for More Information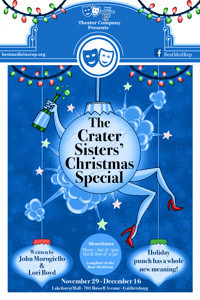 THE CRATER SISTERS' CHRISTMAS SPECIAL
Best Medicine Rep
11/29-12/16/2018
Holiday punch has a whole new meaning in this musical farce. How does a demanding star salvage her TV comeback when the cast and crew resign? Become even more demanding! Watch her life fall apart, to the delight of millions. ?? Written & directed by John Morogiello and Lori Boyd. Starring Lori Boyd, Claire Derriennic, Rebecca A. Herron, and James Morogiello.
Click Here for More Information
A CIVIL WAR CHRISTMAS
1st Stage
11/29-12/23/2018
Paula Vogel; dir: Deidra LaWan Starnes.
Click Here for More Information
ANYTHING GOES
Arena Stage
11/2-12/23/2018
The SS American has set sail from NY to London. Aboard, the lovelorn Billy has stowed away on a mission to stop the marriage of his mystery muse, countess Hope Harcourt, to the millionaire Lord Evelyn Oakleigh. Now, it is up to Billy with the help of showgirls, sailors, and public enemy #13, to find, woo and win back his true love. Unlikely alliances arise as mischief and mayhem ensue in this madcap musical by beloved composer and Tony Award winner Cole Porter. It's the perfect night out at the theater?—?contagiously fun and pure "musical comedy joy!" (New York Times)
Click Here for More Information
AN INSPECTOR CALLS
The Shakespeare Theatre Company
11/20-12/23/2018
J.B. Priestley; dir: Stephen Daldry.
Click Here for More Information
BEAUTIFUL: THE CAROLE KING MUSICAL
National Theatre
11/27-12/30/2018
Long before she was Carole King, chart-topping music legend, she was Carol Klein, BROOKLYN girl with Passion and Chutzpah. She fought her way into the record business as a teenager and, by the time she reached her twenties, had the husband of her dreams and a flourishing career writing hits for the biggest acts in rock 'n' roll. But it wasn't until her personal life began to crack that she finally managed to find her true voice. BEAUTIFUL tells the inspiring true story of King's remarkable rise to stardom, from being part of a hit songwriting team with her husband Gerry Goffin, to her relationship with fellow writers and best friends Cynthia Weil and Barry Mann, to becoming one of the most successful solo acts in popular music history. Along the way, she made more than BEAUTIFUL music, she wrote the soundtrack to a generation.
Click Here for More Information
INDECENT
Arena Stage
11/23-12/30/2018
In 1923, the Broadway debut of Sholem Asch's Yiddish drama God of Vengeance set the stage for an explosive moment in its theatrical history. The evocative work of Jewish culture was praised and criticized for taboo themes of censorship, immigration and anti-Semitism. Inspired by these true events and the controversy, Pulitzer Prize winner Paula Vogel tells the behind-the-scenes story of the courageous artists who risked their careers and lives to perform a work deemed "indecent." "Brimming with good faith" (New York Times), this Tony Award-winning intimate and enchanting play filled with music and dance is a testament to the transformative power of art that is timelier than ever before.
Click Here for More Information
CINDERELLA
Imagination Stage
11/3-1/6/2019
Alyn Cardarelli; music: Steve Goers; dir: Kathyrn Chase Bryer.
Click Here for More Information
View All Show Listings for Washington, DC
Click Here to View BroadwayWorld.com Washington, DC Calendar
Related Articles View More Washington, DC

Stories

Shows
More Hot Stories For You