Now Playing Onstage in St. Louis - Week of 6/08/2014
View All Show Listings for St. Louis
Click Here to View BroadwayWorld.com St. Louis Calendar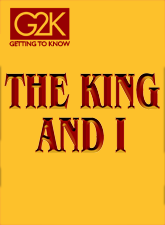 THE KING AND I
Arrow Rock Lyceum Theatre
6/4-6/14/2014
The 'G2K' Getting To Know Series: Uniquely adapted musicals specifically for youth performers. East versus West makes for a dramatic, richly textured and ultimately uplifting tale of enormous fascination. It is 1862 in Siam when an English widow,
Anna Leon
owens, and her young son arrive at the Royal Palace in Bangkok, having been summoned by the King to serve as tutor to his many children and wives. The King is largely considered to be a barbarian by those in the West and he seeks Anna's assistance in changing his image, if not his ways. With both keeping a firm grip on their respective traditions and values, Anna and the King grow to understand and, eventually, respect one another, in a truly unique love story. In this adaptation for pre-high school students, the content has been edited to better suit younger attention spans, but all the magic and beauty of the original are still in place. You and your students will be enchanted by the timeless story and the dazzling score, while at the same time learning about theater and its production. PLEASE NOTE: All schools wishing to peruse or perform a G2K musical should apply through theMusic by Rodgers, Richard; Book and Lyrics by
Oscar Hammerstein
II
Click Here for More Information
DISNEY'S THE LITTLE MERMAID JR
WENTZVILLE CHRISTIAN CHURCH
6/13-6/14/2014
In a magical kingdom fathoms below, the beautiful young mermaid Ariel longs to leave her ocean home to live in the world above. But first, she'll have to defy her father King Triton, make a deal with the evil sea witch Ursula, and convince Prince Eric that she's the girl with the enchanting voice. Adapted from Disney's 2008 Broadway production, Disney's THE LITTLE MERMAID JR. features the hit songs "Part of Your World," "She's in Love," and the Oscar-winning "Under the Sea."
Click Here for More Information
HANDS ON A HARDBODY
New Line Theatre
5/29-6/21/2014
New Line closes its 23rd season with the regional premiere, straight from Broadway, of HANDS ON A HARDBODY, the thrilling, powerfully emotional new musical featuring a country-rock-pop score by
Trey Anastasio
(frontman for the rock band Phish) and
Amanda Green
(High Fidelity, Bring It On), and a script by Pulitzer Prize winning playwright
Doug Wright
. After the opening night performance on Friday, May 30, we invite the entire audience to join us for an after-party, to meet the actors and musicians. The New Line cast includes
Todd Schaefer
(
JD Drew
),
Jeffrey M. Wright
(Benny Perkins), Rey Arceno (Jesus Peña),
Mike Dowdy
(Mike Ferris),
Cindy Duggan
(Janis Curtis),
Zachary Allen Farmer
(Frank Nugent),
Ryan Foizey
(Greg Wilhote), Alison Helmer (
Virginia Drew
),
Marshall Jennings
(Ronald McCowan),
Taylor Pietz
(Heather Stovall),
Anna Skidis
(
Norma Valverde
),
Margeau Baue Steinau
(Cindy Barnes),
Luke Steingruby
(Chris Alvaro),
Keith Thompson
(Don Curtis), and
Marcy Wiegert
(Kelli Mangrum). The show will be directed by
Scott Miller
, with scenic design by
Rob Lippert
, lighting design by
Kenneth Zinkl
, and costume design by
Sarah Porter
and
Marcy Wiegert
. This unique new musical is based on the acclaimed 1997 documentary of the same name, about an annual contest at a Texas truck dealership, where ten hard-luck Texans compete for a new hardbody truck. A new lease on life is so close each of them can touch it, and now for once, their fate is in their hands. Under a scorching sun, over the next 144 hours they will laugh, cry and push their bodies and minds to the limits, as they fight to keep at least one hand on a brand new truck. The contestant with the most nerve and endurance will drive away with the American Dream. Featuring a catchy combination of blues, rhythm and blues, rock and roll, and country songs, Hands on a Hardbody is a peek into the lives of everyday, ordinary Americans, struggling to survive against the backdrop of a broken and beaten American middle class and working class. The New York Times said, "The score ranges from gospel to blues to country to slightly rougher-edged rock. None of it sounds like traditional show music: think Mumford and Sons, not Rodgers and Hammerstein." The New York Times also said, "You can hear the sound of America singing in Hands on a Hardbody, the daring new musical. . . With a bravado to match the gumption of its characters, this new show drives onto the Broadway lot without the high-gloss blandishments that adorn most big musicals. Instead it concentrates its energies on giving voice to a story of average people fighting to hold onto hope in the face of fierce economic headwinds and bad breaks, not to mention buckling knees." The Times went on, "This scrappy, sincere new musical brings a fresh, handmade feeling to Broadway, which mostly traffics in the machine tooled. Burrowing into the troubled hearts of its characters, it draws a clear-eyed portrait of an America that's a far cry from the fantasyland of most commercial musicals." The Wall Street Journal called the show "completely, satisfyingly right!"
New York Magazine
said, "Hands down, it's musical theatre heaven!"
Click Here for More Information
HANDS ON A HARDBODY
New Line Theatre
5/29-6/21/2014
A new lease on life is so close for ten hard-luck Texans, and now their fate is in their own hands. Under a scorching sun, over the next 144 hours they will laugh, cry and push their bodies and minds to the limits, as they fight to keep at least one hand on a brand new truck. The contestant with the most nerve and endurance will drive away with the American Dream. Fresh from Broadway, this unique new country-rock musical is based on a true story.
Click Here for More Information
FOREVER PLAID
MISSOURI STATE UNIVERSITY
6/11-6/21/2014
FOREVER PLAID is one of the most popular and successful musicals in recent memory. This deliciously goofy revue centers on four young, eager male singers killed in a car crash in the 1950's on the way to their first big concert, and now miraculously revived for the posthumous chance to fulfill their dreams and perform the show that never was. Singing in the closest of harmony, squabbling boyishly over the smallest intonations and executing their charmingly outlandish choreography with over-zealous precision, the "Plaids" are a guaranteed smash, with a program of beloved songs and delightful patter that keeps audiences rolling in the aisles when they're not humming along to some of the great nostalgic pop hits of the 1950's.
Click Here for More Information
LES MISERABLES
CAPITAL CITY PLAYERS
6/12-6/22/2014
This international smash-hit may be the most popular musical in the world. In 19th century France, Jean Valjean is released from 19 years of unjust imprisonment, but finds nothing in store for him but mistrust and mistreatment. He breaks his parole in hopes of starting a new life, initiating a life-long struggle for redemption as he is relentlessly pursued by police inspector Javert, who refuses to believe Valjean can change his ways. Finally, during the Paris student uprising of 1832, Javert must confront his ideals after Valjean spares his life and saves that of the student revolutionary who has captured the heart of Valjean's adopted daughter. His world-view shattered, Javert commits suicide, and Valjean at last attains the peace he has sought for so long.Epic, grand and uplifting, LES MISÉRABLES packs an emotional wallop that has thrilled audiences all over the world. The sung-through pop opera is ideal for a cast of exceptional singers and overflows with melodies that are already standards. A spectacle on Broadway and in London, LES MISÉRABLES is equally effective with a minimal set; it is its powerful affirmation of the human spirit that has made LES MISÉRABLES a popular masterpiece.
Click Here for More Information
DISNEY'S SLEEPING BEAUTY KIDS
STAGES ST LOUIS
6/17-6/29/2014
It's princess Aurora's sixteenth birthday, and Flora, Fauna and Merryweather must use their fairy magic to save her from the spell of evil sorceress Maleficent! This classic fairytale told Disney-style has many roles for a large chorus, from King Stefan and Queen Stefanie's Loyal Subjects to Maleficent's slimy goons. Songs from the beloved film, including "Once Upon a Dream," accompany fun new songs like "Maleficent!" and "A Little Magic Now" to bring a fresh telling of the story to a new generation of kids and families.
Click Here for More Information
CHITTY CHITTY BANG BANG
COTERIE THEATRE
6/17-8/3/2014
Originally written for his son, Ian Fleming's book became the much loved 1968 film Chitty Chitty Bang Bang. Asensational score by the renowned Sherman Brothers (Richard and Robert) includes suchunforgettable songs as "Truly Scrumptious", "Toot Sweets", "HushabyeMountain", and, of course, its Oscar-nominated title song "Chitty ChittyBang Bang".Reaching a newgeneration through an enthralling and enchanting stage musical, CHITTY CHITTY BANG BANG details the fantastic adventures of the out-of-the-ordinary carthat flies through the air and sails the seas.
Click Here for More Information
View All Show Listings for St. Louis
Click Here to View BroadwayWorld.com St. Louis Calendar
Related Articles
From This Author BWW