Now Playing Onstage in Phoenix - Week of 7/20/2014
View All Show Listings for Phoenix
Click Here to View BroadwayWorld.com Phoenix Calendar
JESUS CHRIST SUPERSTAR
US Airways Center
7/23-7/23/2014
A global phenomenon that has wowed audiences for over 40 years, Jesus Christ Superstar is reimagined for the 21st century as an arena rock spectacular.
Tim Rice
and
Andrew Lloyd Webber
a€™s groundbreaking rock musical now features an extraordinary cast of rock, pop and R&B superstars. Jesus Christ Superstar is a timeless work set against the backdrop of an extraordinary and universally-known series of events but seen, unusually, through the eyes of Judas Iscariot.
Tim Rice
, who wrote the lyrics, was inspired by the
Bob Dylan
anthem a€˜With God On Our Sidea€™ which features Judas in its penultimate verse and is from Dylana€™s seminal 1964 album The Times They Are A-Changina€™. As Tim says in his autobiography: a€oeFrom a very young age I had wondered what I might have done in the situations in which Pontius Pilate and Judas Iscariot found themselves. How were they to know Jesus would be accorded divine status by millions and that they would as a result be condemned down the ages?a€
Click Here for More Information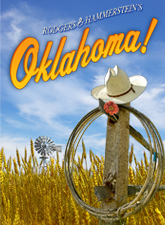 OKLAHOMA!
MoezArt Productions
7/18-8/2/2014
Rodgers & Hammerstein's first collaboration remains, in many ways, their most innovative, having set the standards and established the rules of musical theatre still being followed today. Set in a Western Indian territory just after the turn of the century, the high-spirited rivalry between the local farmers and cowboys provides the colorful background against which Curly, a handsome cowboy, and Laurey, a winsome farm girl, play out their love story. Although the road to true love never runs smooth, with these two headstrong romantics holding the reins, love's journey is as bumpy as a surrey ride down a country road. That they will succeed in making a new life together we have no doubt, and that this new life will begin in a brand-new state provides the ultimate climax to the triumphant OKLAHOMA!Music by Rodgers, Richard; Book by
Oscar Hammerstein
II; Lyrics by
Oscar Hammerstein
II; Original Dances by
Agnes de Mille
; Based on the play `Green Grow the Lilacs` by
Lynn Riggs
Click Here for More Information
View All Show Listings for Phoenix
Click Here to View BroadwayWorld.com Phoenix Calendar
Related Articles
From This Author BWW