Now Playing Onstage in Maine - Week of 7/06/2014
View All Show Listings for Maine
Click Here to View BroadwayWorld.com Maine Calendar
CHAMBERLAIN: A CIVIL WAR ROMANCE
Maine State Music Theatre
6/25-7/12/2014
CHAMBERLAIN: A CIVIL WAR ROMANCE celebrates a great Civil War hero from Maine - Joshua Lawrence Chamberlain - while examining a universal theme: How a person's sense of duty and destiny affect his personal life. Discover how Brunswick and Bowdoin College figure prominently in the amazing tale of Joshua Chamberlain.
Click Here for More Information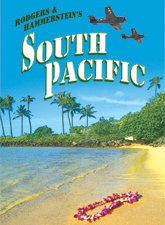 SOUTH PACIFIC
The Boothbay Playhouse
6/26-7/12/2014
Set in an island paradise during World War II, two parallel love stories are threatened by the dangers of prejudice and war. Nellie, a spunky nurse from Arkansas, falls in love with a mature French planter, Emile. Nellie learns that the mother of his children was an island native and, unable to turn her back on the prejudices with which she was raised, refuses Emile's proposal of marriage. Meanwhile, the strapping Lt. Joe Cable denies himself the fulfillment of a future with an innocent Tonkinese girl with whom he's fallen in love out of the same fears that haunt Nellie. When Emile is recruited to accompany Joe on a dangerous mission that claims Joe's life, Nellie realizes that life is too short not to seize her own chance for happiness, thus confronting and conquering her prejudices.Music by Rodgers, Richard; Lyrics by
Oscar Hammerstein
II; Book by
Oscar Hammerstein
II &
Joshua Logan
; Adapted from the Pulitzer Prize winning novel
Click Here for More Information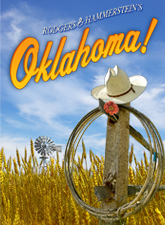 OKLAHOMA!
STAGES: The Performing Arts Academy for Kids
7/11-7/13/2014
Rodgers & Hammerstein's first collaboration remains, in many ways, their most innovative, having set the standards and established the rules of musical theatre still being followed today. Set in a Western Indian territory just after the turn of the century, the high-spirited rivalry between the local farmers and cowboys provides the colorful background against which Curly, a handsome cowboy, and Laurey, a winsome farm girl, play out their love story. Although the road to true love never runs smooth, with these two headstrong romantics holding the reins, love's journey is as bumpy as a surrey ride down a country road. That they will succeed in making a new life together we have no doubt, and that this new life will begin in a brand-new state provides the ultimate climax to the triumphant OKLAHOMA!Music by Rodgers, Richard; Book by
Oscar Hammerstein
II; Lyrics by
Oscar Hammerstein
II; Original Dances by
Agnes de Mille
; Based on the play `Green Grow the Lilacs` by
Lynn Riggs
Click Here for More Information
DISNEY'S PETER PAN JR
OGUNQUIT PLAYHOUSE CHILDRENS THEATRE
7/12-7/13/2014
Click Here for More Information
MARY POPPINS
OGUNQUIT PLAYHOUSE
6/25-7/19/2014
Click Here for More Information
THE MUSIC MAN
Hackmatack Playhouse
7/9-7/26/2014
An affectionate look at Smalltown USA. The Music Man is the story of a fast talking salesman as he cons the good people of River City Iowa. Meredith Wilson's score includes timeless American Music classics including "Til There was You", "Trouble in River City", "Wells Fargo Wagon" and of course "76 Trombones". Funny, warm, romantic and touching, The Music Man is family entertainment at its best.
Click Here for More Information
THE FULL MONTY
CITY THEATRE ASSOCIATION INC
7/11-7/27/2014
Seeing how much their wives enjoy watching male strippers during their "Girls' Night Out," unemployed steelworkers in Buffalo, New York come up with a bold way to make some quick cash. In the process they find renewed self-esteem, the importance of friendship and the ability to have fun.As the guys work through their fears, self-consciousness, feelings of worthlessness and anxieties (over everything from being overweight to child custody, bigotry to being gay), they come to discover that not only are they stronger as a group, but that the strength they find in each other gives them the individual courage to face their demons and overcome them.There is great heart to THE FULL MONTY, and the ultimate themes expressed in the show, about taking charge of one's life and following one's dreams are great lessons for all of us. And truth be told, through creative directing and staging, the final impact of THE FULL MONTY can be achieved without ever losing your jockey shorts!
Click Here for More Information
THE MUSIC MAN
HACKMATACK PLAYHOUSE
7/1-7/31/2014
An affectionate paean to Smalltown, U.S.A. of a bygone era,
Meredith Willson
's THE MUSIC MAN follows fast-talking traveling salesman Harold Hill as he cons the people of River City, Iowa into buying instruments and uniforms for a boys' band he vows to organize - this despite the fact he doesn't know a trombone from a treble clef. His plans to skip town with the cash are foiled when he falls for Marian the librarian, who transforms him into a respectable citizen by curtain's fall. Perfect for professional theatres, community groups, summer stock and schools alike, this award-winning, critically acclaimed Broadway classic is an all-American institution, thanks to is quirky characters, charmingly predictable dramatic situations, and one-of-a-kind, nostalgic score of rousing marches, barbershop quartets and sentimental ballads which have become popular standards. The cast features a soaring soprano ingenue, parts for young performers and children, and one of the musical theatre's treasures, a tour de force leading role for a charismatic actor who doesn't need to be a trained singer. By turns wicked, funny, warm, romantic and touching, THE MUSIC MAN is family entertainment at its best.
Click Here for More Information
MARY POPPINS
OGUNQUIT PLAYHOUSE
7/9-8/2/2014
Click Here for More Information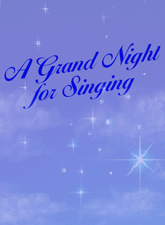 A GRAND NIGHT FOR SINGING
Quisisana
6/19-8/21/2014
Taste and imagination, the two key ingredients for a first-rate revue, abound in this fresh take on the Rodgers & Hammerstein canon conceived by Tony Award winner
Walter Bobbie
. Over three decades after the duo's final collaboration, THE SOUND OF MUSIC, took the Great White Way by storm, it was in fact this new R&H musical that opened the 1994 Broadway season with flair and distinction, garnering wildly enthusiastic notices as well as earning two Tony nominations, including Best Musical. Here at R&H, our founding fathers probably never imagined 'Shall We Dance?' as a comic pas de deux for a towering beauty and her diminutive admirer, nor did they suspect that one day a lovelorn young lad might pose the musical question, 'How do you solve a problem like Maria?' But that's precisely the kind of invention lavished upon this new revue, with innovative musical arrangements including a sultry Andrews Sisters-esque 'I'm Gonna Wash That Man Right Out-a My Hair,' a swingin' 'Honeybun' worthy of the Modernaires, and a jazzy 'Kansas City' which leaves no question about how terrifically up to date the remarkable songs of R&H remain.Music by Rodgers, Richard; Lyrics by
Oscar Hammerstein
II; Music Arrangements by
Fred Wells
; Conceived By
Walter Bobbie
Click Here for More Information
DISNEY'S THE LITTLE MERMAID JR
KIDS CURTAIN CALL
7/1-8/26/2014
In a magical kingdom fathoms below, the beautiful young mermaid Ariel longs to leave her ocean home to live in the world above. But first, she'll have to defy her father King Triton, make a deal with the evil sea witch Ursula, and convince Prince Eric that she's the girl with the enchanting voice. Adapted from Disney's 2008 Broadway production, Disney's THE LITTLE MERMAID JR. features the hit songs "Part of Your World," "She's in Love," and the Oscar-winning "Under the Sea."
Click Here for More Information
View All Show Listings for Maine
Click Here to View BroadwayWorld.com Maine Calendar
Related Articles
From This Author BWW