Now Playing Onstage in Anchorage - Week of 2/09/2014
View All Show Listings for Anchorage
Click Here to View BroadwayWorld.com Anchorage Calendar
CARMEN
Alaska Center for the Performing Arts, Discovery Theatre
2/14-2/15/2014
A passionate free-spirited woman becomes entangled in a triangle of honor, misfortune and desire. With choreography by Gillmer Duran, the ADT company brings the perfect gift for your valentine!
Click Here for More Information
CHARLEY'S AUNT
Anchorage Community Theatre
1/24-2/16/2014
This play, first produced in 1892, is perhas the classical farce. Jack Chesney loves Kitty Verdun and Charley loves Miss Amy Spettigue. They invite the ladies to meet Charley's wealthy aunt from Brazil, "where the nuts come from". Cancelling her visit at the last minute, the millionaire aunt sends the boys into cataclysmic confusion. What do they do now? The problem is solved by drafting their feckless Oxford undergrad pal into a black satin skirt, bloomers and wig. As "Charley's Aunt", this charming frump is introduced to the ladies, to Jack's father and to Stephen Spettigue, Amy's guardian. When the real aunt turns up, classic comic confusion ensues.
Click Here for More Information
SITKA SUMMER MUSIC FESTIVAL: WINTER CLASSICS
Grant Hall - APU
2/14-2/16/2014
The Sitka Summer Music Festival welcomes founding Artistic Director Paul Rosenthal back to Anchorage for the Alaska Airlines Winter Classics. He will be joined in concert by current Artistic Director Zuill Bailey and Australian pianist Piers Lane. Mr. Lane is one of the world's most widely-traveled and extensively recorded pianists, with a concerto repertoire that exceeds 75 works. All performances will be held in the intimate setting of Grant Hall on the campus of Alaska Pacific University.
Click Here for More Information
ANI DIFRANCO
Williamson Auditorium - UAA
2/17-2/17/2014
The DIY pioneer and musical legend returns to Anchorage with her fiery energy, witty lyrics, rich gumbo of musical genre sand powerful, groove oriented guitar work.
Click Here for More Information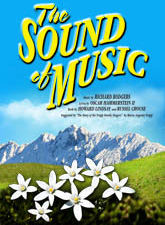 THE SOUND OF MUSIC
South Anchorage High School
2/14-2/22/2014
The final collaboration between Rodgers & Hammerstein was destined to become the world's most beloved musical. When a postulant proves too high-spirited for the religious life, she is dispatched to serve as governess for the seven children of a widowed naval Captain. Her growing rapport with the youngsters, coupled with her generosity of spirit, gradually captures the heart of the stern Captain, and they marry. Upon returning from their honeymoon they discover that Austria has been invaded by the Nazis, who demand the Captain's immediate service in their navy. The family's narrow escape over the mountains to Switzerland on the eve of World War II provides one of the most thrilling and inspirational finales ever presented in the theatre. The motion picture version remains the most popular movie musical of all time.Music by Rodgers, Richard; Lyrics by
Oscar Hammerstein
II; Book by
Howard Lindsay
&
Russel Crouse
; Suggested by `The
Trapp Family Singers
` by
Maria Augusta Trapp
Click Here for More Information
SOLDIER SONGS
Wilda Marston Theater at the Loussac Public Library
2/14-2/23/2014
Anchorage Opera presents a one-act tour-de-force that will leave you asking the question,"How do we truly bring our soliders back home to a normal that works for them?" David Adam Moore delivers a performance that will have you glued to your seat!
Click Here for More Information
RUSH AT EVERLASTING
Alaska Center for the Performing Arts, Sydney Laurence Theatre
2/14-2/23/2014
This world premiere is also the Perseverance Debut by Anchorage Playwright Arlitia Jones. Against the backdrop of the 1930s, two women fallen on hard times make plans to rob a bank. While newsreels of the time tell of economic disaster and larger than life outlaws, the women dream about what money will buy and what stories they will tell. Real names and real lives are left behind as each character makes a run at immortality and becoming a legend.
Click Here for More Information
NIGHT OF THE IGUANA
University of Alaska Anchorage - UAA Mainstage Theatre
2/14-3/2/2014
Poignant moments of enormous compassion shine in the midst of a cheap Mexican resort hotel during an Equinoxial storm. The desolation and emptiness are in the characters: the tough, sex-starved widow who runs the hotel; the neurotic, defrocked minister, and the gentle maiden lady from New England. Thrown together in this squalid setting their human needs become explicit, and from their conflicts comes the realization that life must be endured, and that the spirit will somehow survive even beyond the limits of anguish.
Click Here for More Information
JIHAD JONES AND THE KALASHNIKOV BABES
Cyrano's Theatre Company
2/14-3/4/2014
Cyrano's Off Center Playhouse:Yussef El Guindi.
Click Here for More Information
View All Show Listings for Anchorage
Click Here to View BroadwayWorld.com Anchorage Calendar
Related Articles
From This Author BWW