Now Playing Onstage in Wichita - Week of 7/20/2014
View All Show Listings for Wichita
Click Here to View BroadwayWorld.com Wichita Calendar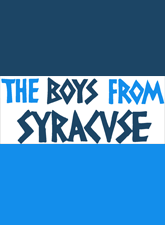 THE BOYS FROM SYRACUSE
University Theatre-University of Kansas
7/11-7/26/2014
Twins! More twins! Women-chased and chaste! The first musical ever adapted from Shakespeare remains the most madcap musical farce ever to animate the stage. Antipholus and his wily servant, Dromio, travel to Ephesus in search of their respective twins, from whom they were separated in a shipwreck. Naturally, they are immediately taken for their brothers and we're off and running on a riotous chase from marketplace to marital bed. Perplexed wives, disgruntled courtesans, outraged constables and an audience roaring with laughter are left in its wake before this show's tangled web is unraveled, and Rodgers & Hart & Abbott have triumphed once again!Music by Rodgers, Richard; Lyrics by
Lorenz Hart
; Book by
George Abbott
; Based on
Click Here for More Information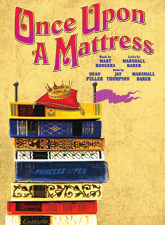 ONCE UPON A MATTRESS
Manhattan Parks & Recreation
7/24-7/26/2014
If you thought you knew the story of 'The Princess and The Pea,' you may be in for a walloping surprise! Did you know, for instance, that Princess Winnifred actually swam the moat to reach Prince Dauntless the Drab? Or that Lady Larken's love for Sir Harry provided a rather compelling reason that she reach the bridal altar post haste? Or that, in fact, it wasn't the pea at all that caused the princess a sleepless night? Carried on a wave of wonderful songs, by turns hilarious and raucous, romantic and melodic, this rollicking spin on the familiar classic of royal courtship and comeuppance provides for some side-splitting shenanigans. Chances are you'll never look at fairy tales quite the same way again.Music by
Mary Rodgers
; Book by
Jay Thompson
&
Dean Fuller
&
Marshall Barer
; Lyrics by
Marshall Barer
Click Here for More Information
MONTY PYTHON'S SPAMALOT
Lawrence Arts Center
7/24-7/27/2014
Click Here for More Information
MONTY PYTHON'S SPAMALOT
JCC of Greaseter Kansas City
7/12-7/27/2014
Click Here for More Information
CATCH ME IF YOU CAN
Music Theatre of Wichita
7/23-7/27/2014
Frank Abagnale Jr.
, con man extraordinaire, successfully passed himself off as a Pan Am pilot, masqueraded as the supervising resident of a hospital, practiced law without a license, and cashed more than $2.5 million in bad checks, all before he turned 21. After crossing over to the right side of the law, he wrote a best-selling autobiography, which became a smash hit motion picture, starring
Leonardo DiCaprio
and
Tom Hanks
, directed by
Steven Spielberg
. And now, in this brand new Broadway musical, Frank Abagnale's story becomes a thrilling theatrical event, filled with terrifically tuneful songs by
Marc Shaiman
and
Scott Wittman
who gave us Hairspray and Smash. We're very proud to host this Regional Premiere.
Click Here for More Information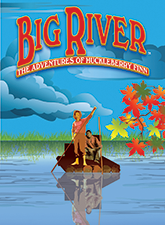 BIG RIVER
The Culture House
7/25-7/27/2014
Twain's timeless classic sweeps us down the mighty Mississippi as the irrepressible Huck Finn helps his friend Jim, a slave, escape to freedom at the mouth of the Ohio River. Their adventures along the way are hilarious, suspenseful and heartwarming, bringing to life your favorite characters from the novel-the Widow Douglas and her stern sister,
Miss Watson
; the uproarious King and Duke, who may or may not be as harmless as they seem; Huck's partner in crime,
Tom Sawyer
, and their rowdy gang of pals; Huck's drunken father, the sinister Pap Finn; the lovely Mary Jane Wilkes and her trusting family. Propelled by an award winning score from
Roger Miller
, the king of country music, this jaunty journey provides a brilliantly theatrical celebration of pure Americana.Music by
Roger Miller
; Lyrics by
Roger Miller
; Book by
William Hauptman
; Adapted from the novel by
Mark Twain
Click Here for More Information
NOISES OFF
The Barn Players
7/18-8/3/2014
Called the funniest farce ever written, this play presents a manic menagerie of characters as a cast of itinerant actors rehearsing a flop play called Nothing's On. Doors slamming, on and backstage intrigue, and an errant herring all figure in the plot of this hilarious and classically comic play.
Click Here for More Information
FOX ON THE FAIRWAY
Wichita Community Theatre
7/24-8/10/2014
Click Here for More Information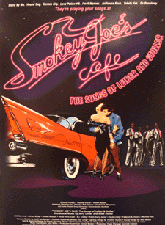 SMOKEY JOE'S CAFE - THE SONGS OF LEIBER AND STOLLER
New Theatre Company
6/19-8/24/2014
Leiber and Stoller, as much as anyone, virtually invented rock 'n' roll, and now their songs provide the basis for an electrifying entertainment that illuminates a golden age of American culture. In an idealized '50's setting, the classic themes of love won, lost and imagined blend with hilarious set-pieces and slice-of-life emotions. Featuring nearly 40 of the greatest songs ever recorded, SMOKEY JOE'S CAFE isn't just great pop music - it's compelling musical theatre.Words and Music by Leiber & Stoller
Click Here for More Information
View All Show Listings for Wichita
Click Here to View BroadwayWorld.com Wichita Calendar
Related Articles
From This Author BWW