Now Playing Onstage in Wichita - Week of 6/22/2014
View All Show Listings for Wichita
Click Here to View BroadwayWorld.com Wichita Calendar
DISNEY'S CINDERELLA, KIDS
The Barn Players
6/17-6/24/2014
The timeless fairy tale meets the magic of Disney in this adaptation of the treasured animated film. Poor Cinderella is endlessly mistreated by her wicked stepmother and stepsisters, and denied a chance to go to the Royal Ball. With a little help from her mice friends, and a lot of help from her Fairy Godmother, Cinderella goes to the ball, meets the Prince, and falls in love!
Click Here for More Information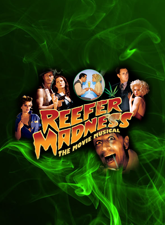 REEFER MADNESS
Topeka Civic Theatre and Academy
6/13-6/28/2014
Inspired by the original 1936 film of the same name, this raucous musical comedy takes a tongue-in-cheek look at the hysteria caused when clean-cut kids fall prey to marijuana, leading them on a hysterical downward spiral filled with evil jazz music, sex and violence. You won't be able to resist the spoofy fun of REEFER MADNESS. The addictive and clever musical numbers range from big Broadway-style showstoppers to swing tunes like 'Down at the Ol' Five and Dime' and the Vegas-style 'Listen to Jesus, Jimmy,' featuring J.C. Himself leading a chorus of showgirl angels. This dynamic show will go straight to your head! REEFER MADNESS is a highly stylized and satirical political commentary. It contains adult humor, religious parody, and drug use, as well as suggested violence and sexual explicitness. It therefore may be inappropriate for younger performers and audiences. Book by
Kevin Murphy
&
Dan Studney
; Music by
Dan Studney
; Lyrics by
Kevin Murphy
Click Here for More Information
WEST SIDE STORY
Music Theatre of Wichita
6/25-6/29/2014
Jerome Robbins
' breathtaking dances are only one thrilling component of this electrifying show. This contemporary re-telling of "Romeo and Juliet" also features the pulsing, Latin-flavored score of
Leonard Bernstein
, the incisive lyrics of
Stephen Sondheim
, and the brilliant script by
Arthur Laurents
, combining forces in one of the most dynamic shows ever created. The great songs include "Tonight," "Maria," America," "One Hand, One Heart," "Cool," "I Feel Pretty," Gee, Officer Krupke!," and "Somewhere."
Click Here for More Information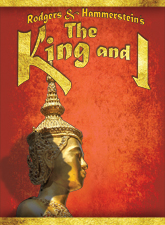 THE KING AND I
Theatre Lawrence
6/13-6/29/2014
East versus West makes for a dramatic, richly textured and ultimately uplifting tale of enormous fascination. It is 1862 in Siam when an English widow,
Anna Leon
owens, and her young son arrive at the Royal Palace in Bangkok, having been summoned by the King to serve as tutor to his many children and wives. The King is largely considered to be a barbarian by those in the West, and he seeks Anna's assistance in changing his image, if not his ways. With both keeping a firm grip on their respective traditions and values, Anna and the King grow to understand and, eventually, respect one another, in a truly unique love story. Along with the dazzling score, the incomparable
Jerome Robbins
ballet, 'The Small House of Uncle Thomas,' is one of the all-time marvels of the musical stage.Music by Rodgers, Richard; Book by
Oscar Hammerstein
II; Lyrics by
Oscar Hammerstein
II; Based on Anna and the King by
Margaret Landon
; Original Choreography by
Jerome Robbins
Click Here for More Information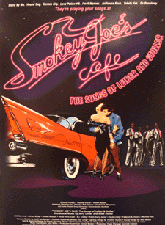 SMOKEY JOE'S CAFE - THE SONGS OF LEIBER AND STOLLER
New Theatre Company
6/19-8/24/2014
Leiber and Stoller, as much as anyone, virtually invented rock 'n' roll, and now their songs provide the basis for an electrifying entertainment that illuminates a golden age of American culture. In an idealized '50's setting, the classic themes of love won, lost and imagined blend with hilarious set-pieces and slice-of-life emotions. Featuring nearly 40 of the greatest songs ever recorded, SMOKEY JOE'S CAFE isn't just great pop music - it's compelling musical theatre.Words and Music by Leiber & Stoller
Click Here for More Information
View All Show Listings for Wichita
Click Here to View BroadwayWorld.com Wichita Calendar
Related Articles
From This Author BWW