Now Playing Onstage in Washington, DC - Week of 6/22/2014
View All Show Listings for Washington, DC
Click Here to View BroadwayWorld.com Washington, DC Calendar
THE WONDERFUL WORLD OF DISSOCIA
Theater Alliance of Washington DC
6/4-6/28/2014
Lisa Jones
has been feeling a bit off. One hour off, in fact; the hour she lost when her flight to London crossed the Greenwich meridian at the exact moment daylight savings time ended. To retrieve her wandering hour, Lisa must take a journey…to Dissocia, where cars fly, bears sing, and the Black Dog King reigns. This wildly inventive, fearlessly smart, and relentlessly surprising play will take you places you never expected and will never forget.
Click Here for More Information
HEALING WARS
Arena Stage
at the Mead Center for American Theater
6/6-6/29/2014
World premiere. June 6-29, 2014 in the Arlene and Robert Kogod Cradle A pioneer in the world of contemporary dance,
Liz Lerman
's newest theatrical dance piece explores the experiences of the healers tasked with treating the physical and psychic wounds of battle. Joined by
Bill Pullman
(Independence Day, 1600 Penn), an ensemble of dancers represent medics and soldiers from the Civil War to today. Called "the source of an epochal revolution in the scope and purposes of dance art" (Washington Post), Lerman's work has been performed throughout the U.S. and abroad. After 34 years as founding artistic director of
Liz Lerman
Dance Exchange, Lerman presents her singular aesthetic to audiences in this exciting world premiere about how we experience and recover from war.
Click Here for More Information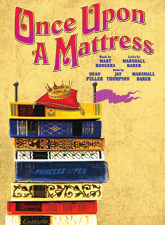 ONCE UPON A MATTRESS
Hanover Arts and Activities Center
6/27-6/29/2014
If you thought you knew the story of 'The Princess and The Pea,' you may be in for a walloping surprise! Did you know, for instance, that Princess Winnifred actually swam the moat to reach Prince Dauntless the Drab? Or that Lady Larken's love for Sir Harry provided a rather compelling reason that she reach the bridal altar post haste? Or that, in fact, it wasn't the pea at all that caused the princess a sleepless night? Carried on a wave of wonderful songs, by turns hilarious and raucous, romantic and melodic, this rollicking spin on the familiar classic of royal courtship and comeuppance provides for some side-splitting shenanigans. Chances are you'll never look at fairy tales quite the same way again.Music by
Mary Rodgers
; Book by
Jay Thompson
&
Dean Fuller
&
Marshall Barer
; Lyrics by
Marshall Barer
Click Here for More Information
BUYER & CELLAR
Sidney Harman Hall
6/20-6/29/2014
Alex More has a story to tell. A struggling actor in L.A., Alex takes a job working in the Malibu basement of a beloved megastar. One day, the Lady Herself comes downstairs to play. It feels like real bonding in the basement, but will their relationship ever make it upstairs? Buyer & Cellar is an outrageous comedy about the price of fame, the cost of things, and the oddest of odd jobs.
Click Here for More Information
THE TOTALITARIANS
WOOLLY MAMMOTH THEATRE COMPANY
6/2-6/29/2014
Francine, the ambitious speechwriter for a rich housewife's vanity campaign for public office, has stumbled upon pure gold: a perfectly patriotic slogan. So what if it's totally meaningless? And so what if her doctor husband disapproves? With it Francine can turn the campaign around and make her unpredictable, gaffe-prone candidate electrifyingly powerful-and finally, just maybe, get herself out of Nebraska.
Click Here for More Information
CLOAK & DAGGER
Signature Theatre
6/12-7/6/2014
world premiere
Click Here for More Information
MONTY PYTHON'S SPAMALOT
Shenandoah Summer Music Theatre
6/25-7/6/2014
Click Here for More Information
THE COLOR PURPLE
Virginia Repertory Theatre - Barksdale Theatre
6/20-8/3/2014
Click Here for More Information
THE LION KING
Kennedy Center [Opera House]
6/17-8/17/2014
Giraffes strut, birds swoop, gazelles leap - the entire Serengeti comes to life. And as the music soars, Pride Rock slowly rises from the stage. This is THE LION KING. A spectacular visual feast, this adaptation of Disney's much-loved film transports you to a dazzling world that explodes with glorious colors, stunning effects and enchanting music. At its heart is the powerful and moving story of Simba, and his epic journey from wide-eyed cub to his destined role as King of the Pridelands.
Click Here for More Information
PINKALICIOUS THE MUSICAL
Adventure Theatre
6/20-8/31/2014
Click Here for More Information
View All Show Listings for Washington, DC
Click Here to View BroadwayWorld.com Washington, DC Calendar
Related Articles
From This Author BWW