Now Playing Onstage in Nashville - Week of 5/25/2014
View All Show Listings for Nashville
Click Here to View BroadwayWorld.com Nashville Calendar
DISNEY'S HIGH SCHOOL MUSICAL JR
MEIGS ACADEMIC MAGNET MIDDLE SCHOOL
5/1-5/30/2014
This page is for the Broadway Junior Version of Disney's HIGH SCHOOL MUSICAL JR..
Click Here for More Information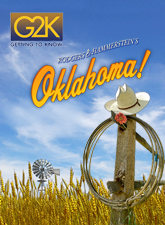 OKLAHOMA!
The
Larry Keeton
Theatre
5/14-5/31/2014
The 'G2K' Getting To Know Series: Uniquely adapted musicals specifically for youth performers.
Rodgers & Hammerstein
's first collaboration remains, in many ways, their most innovative, having set the standards and established the rules of musical theatre still being followed today. Set in a Western Indian territory just after the turn of the century, the high-spirited rivalry between the local farmers and cowboys provides the colorful background against which Curly, a handsome cowboy, and Laurey, a winsome farm girl, play out their love story. Although the road to true love never runs smooth, with these two headstrong romantics holding the reins, love's journey is as bumpy as a surrey ride down a country road. That they will succeed in making a new life together we have no doubt, and that this new life will begin in a brand-new state provides the ultimate climax to the triumphant OKLAHOMA! In this adaptation for pre-high school students, the content has been edited to better suit younger attention spans, but all the elements that make this show a classic are still in place. You and your students will be enchanted by the timeless story and the dazzling score, while at the same time learning about theater and its production. PLEASE NOTE: All schools wishing to peruse or perform a G2K musical should apply through theMusic by Rodgers, Richard; Book and Lyrics by
Oscar Hammerstein
II; Based on the play GREEN GROW THE LILACS by
Lynn Riggs
; Original Dances by
Agnes de Mille
Click Here for More Information
TARZAN
ROXY REGIONAL THEATRE
5/16-5/31/2014
Based on Edgar Rice Burrough's Tarzan of the Apes and the smash-hit 1999 Disney animated film, TARZAN tells the story of an infant boy orphaned on the shores of West Africa. Taken in and raised by a tribe of gorillas, the young boy strives for acceptance by his ape father while grappling with his uniqueness. When a human expedition enters their territory, Tarzan - now a man - encounters strangers like himself for the first time. TARZAN features music and lyrics by pop icon
Phil Collins
, including the Grammy and Oscar winning song, "You'll Be in My Heart", and book by Tony Award-winning playwright,
David Henry Hwang
.
Click Here for More Information
ANNA IN THE TROPICS
ACT 1
5/16-5/31/2014
A traditional cigar factory in 1920s Florida is shaken to its very foundation when a new lector is hired to read aloud while workers hand-roll tobacco. His choice to begin with Tolstoy's classic, "
Anna Karen
ina," affects all who listen; some think the story is romantic and ethereal, while others find plot lines hit too close to home. With the release of a new line of cigars, the factory, as well as the lives of those who call it home, will never be the same. "Anna in the Tropics" is directed by Paige Hall, and features Christopher Rogers, Jimi Brooks, Tammy Sutherland, Daniel DeVault,
Betty Williams
, Hallie Dyer, and Marcus Lackey.
Click Here for More Information
A FUNNY THING...FORUM
GERMANTOWN COMMUNITY THEATRE
5/16-6/1/2014
Broadway's greatest farce is light, fast-paced, witty, irreverent and one of the funniest musicals ever written. A FUNNY THING HAPPENED ON THE WAY TO THE FORUM takes comedy back to its roots, combining situations from time-tested, 2000 year old comedies of Roman playwright Plautus with the infectious energy of classic vaudeville.A FUNNY THING HAPPENED ON THE WAY TO THE FORUM is a non-stop laugh-fest in which Pseudolus, a crafty slave, struggles to win the hand of a beautiful but slow-witted courtesan named Philia, for his young master, Hero, in exchange for freedom. The plot twists and turns with cases of mistaken identity, slamming doors, and a showgirl or two.This unforgettable, hysterical musical allows a terrific ensemble of comedic actors to shine--"something for everyone, a comedy tonight!"
Click Here for More Information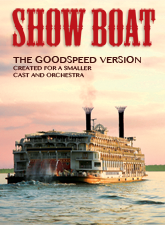 SHOW BOAT (GOODSPEED VERSION)
Lakewood Theatre Company
5/2-6/8/2014
Created for a Reduced Cast and Orchestra. Spanning the years from 1880 to 1927, this lyrical masterpiece concerns the lives, loves and heartbreaks of three generations of show folk on the Mississippi, in Chicago and on Broadway (and their life-long friends). The primary plot follows Magnolia, the naive daughter of the show boat captain, as she marries a gambler and moves with him to Chicago. His gambling continues as his debts compound, and soon he deserts her and their young daughter. A subplot concerns the potential arrest of Magnolia's selfless best friend on charges of miscegenation when it's discovered that she is mulatto, and her subsequent downward spiral into despair. The passing of time reunites Magnolia and her now-grown daughter with her family on the show boat as well as with her husband, who eventually returns offering a hopeful second chance at familial fulfillment. This Production Originally produced by
Goodspeed Musicals
,
Michael P. Price
, Executive Director, Directed by
Rob Ruggiero
. Music by
Jerome Kern
; Book and Lyrics by
Oscar Hammerstein
II; Based on the novel `Show Boat` by
Edna Ferber
Click Here for More Information
War Horse
in Broadway" border="0" bheight="100" width="100" align="right">
WAR HORSE
Tennessee Performing Arts Center
6/3-6/8/2014
The winner of five 2011 Tony Awards including Best Play, WAR HORSE will embark on a national tour in June 2012, bringing the hit play to 30 U.S. cities during the 2012-2013 season. WAR HORSE has been seen by almost 2 million people worldwide and is currently playing at New Yorki¿½s
Lincoln Center Theater
, in Londoni¿½s West End, and at Torontoi¿½s Princess of Wales Theatre. Future productions of WAR HORSE are planned for Australia, Berlin and South Africa, as well as a UK Tour. The tour of WAR HORSE, based on the beloved novel by
Michael Morpurgo
and adapted by
Nick Stafford
, will be directed by
Bijan Sheibani
based on the original Tonyi¿½ Award-winning direction by
Marianne Elliott
and
Tom Morris
, and presented in association with Handspring Puppet Company. At the heart of the show are life-sized puppets which bring breathing, galloping, charging horses to thrilling life on stage.
Michael Morpurgo
i¿½s novel,
War Horse
, is also the inspiration for
Steven Spielberg
i¿½s feature film of the same name, which was nominated for six Academy Awards including Best Picture.
Click Here for More Information
A BAD YEAR OF TOMATOES
Chaffin's Barn Dinner Theatre
5/1-6/8/2014
Fed up with the pressures and demands of her acting career, the famous Myra Marlowe leases a house in the tiny town of Beaver Haven and settles to write her autobiography. In an attempt to gain some privacy, Myra invents a mad, homicidal sister who is kept locked in an upstairs room, but who occasionally escapes long enough to scare off uninvited visitors. Join us for one of Chaffin's Barn's most requested "repeats".
Click Here for More Information
THE DROWSY CHAPERONE
PULL TIGHT PLAYERS,INC
5/23-6/14/2014
A rare combination of unprecedented originality and blinding talent, THE DROWSY CHAPERONE boldly addresses a great unspoken desire in all of our hearts: to be entertained. If you've ever sat in a dark theatre and thought, "Dear Lord in heaven, please let it be good," this is the show for you!It all begins when a die-hard musical-theater fan plays his favorite cast album on his turntable, and the musical literally bursts to life in his living room, telling the rambunctious tale of a brazen Broadway starlet trying to find, and keep, her true love. Order your copy of "Showing Off with THE DROWSY CHAPERONE" - an informative DVD with advice and production tips from the show's authors and creative staff. Email licensing@mtishows.com to request your FREE copy!
Click Here for More Information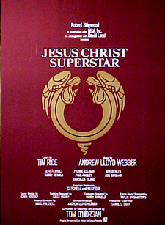 JESUS CHRIST SUPERSTAR
Hendersonville Performing Arts Company
5/29-6/15/2014
It seems especially fitting that the first rock opera, created as a concept album at the end of the turbulent '60s, should have at its center a social and political rebel. Jesus' meteor-like rise in renown provides, as the title suggests, a parallel to contemporary celebrity worship. As his radical teachings are evermore embraced, Judas increasingly questions the enlightened motives of this new prophet, resulting in betrayal. Christ's final days are dramatized with emotional intensity, thought-provoking edge and explosive theatricality. Propelled by a stirring score, by turns driving and majestic, satirical and tender, JESUS CHRIST SUPERSTAR illuminates the transcendent power of the human spirit with a passion that goes straight to the heart.Lyrics by
Tim Rice
; Music by
Andrew Lloyd Webber
Click Here for More Information
View All Show Listings for Nashville
Click Here to View BroadwayWorld.com Nashville Calendar
Related Articles
From This Author BWW