Now Playing Onstage in Miami - Week of 6/22/2014
View All Show Listings for Miami
Click Here to View BroadwayWorld.com Miami Calendar
HOW TO SUCCEED IN BUSINESS...TRYING
MALTZ JUPITER THEATRE INSTITUTE
6/27-6/28/2014
Power, sex, ambition, greed... it's just another day at the office. From the authors of GUYS AND DOLLS comes one of the most delightfully irreverent musicals of all time. A satire of big business and all it holds sacred, HOW TO SUCCEED IN BUSINESS WITHOUT REALLY TRYING follows the rise of J. Pierrepont Finch, who uses a little handbook called "How To Succeed In Business Without Really Trying" to climb the corporate ladder from lowly window washer to high-powered executive, tackling such familiar but potent dangers as the aggressively compliant "company man," the office party, backstabbing co-workers, caffeine addiction and, of course, true love.Winner of the 1962 Pulitzer Prize for Drama, HOW TO SUCCEED melds wit, comedy, and romance together to perfection. This show requires a large cast, featuring many roles for all types of performers.
Click Here for More Information
DISNEY'S PETER PAN JR
MANATEE PLAYERS RIVERFRONT THEATRE
6/27-6/28/2014
Click Here for More Information
DISNEY'S THE LITTLE MERMAID JR
LAKELAND COMMUNITY THEATRE- PIED PIPER PLAYERS
6/20-6/29/2014
In a magical kingdom fathoms below, the beautiful young mermaid Ariel longs to leave her ocean home to live in the world above. But first, she'll have to defy her father King Triton, make a deal with the evil sea witch Ursula, and convince Prince Eric that she's the girl with the enchanting voice. Adapted from Disney's 2008 Broadway production, Disney's THE LITTLE MERMAID JR. features the hit songs "Part of Your World," "She's in Love," and the Oscar-winning "Under the Sea."
Click Here for More Information
ANNIE
SOL CHILDRENS THEATRE
6/13-6/29/2014
Leapin' Lizards! The popular comic strip heroine takes center stage in one of the world's best-loved musicals. With equal measures of pluck and positivity, little orphan ANNIE charms everyone's hearts, despite a next-to-nothing start in 1930s New York City. She is determined to find her parents, who abandoned her years ago on the doorstep of a New York City Orphanage run by the cruel, embittered Miss Hannigan.With the help of the other girls in the Orphanage, ANNIE escapes to the wondrous and magical world of NYC. In adventure after fun-filled adventure, ANNIE foils Miss Hannigan's evil machinations and befriends President Franklin Delano Roosevelt. She finds a new home and family in billionaire Oliver Warbucks, his personal secretary
Grace Farrell
, and a lovable mutt named Sandy. ANNIE is the perfect family-friendly musical, and an ideal show for a largely female cast. Middle Schools and elementary schools should also take notice of ANNIE JR - a special version of this title expressly designed for younger performers.
Click Here for More Information
SHOUT!! THE MOD MUSICAL
WINTER PARK PLAYHOUSE
6/12-7/12/2014
SHOUT! is the mod musical magazine that brings back the beautiful birds and smashing sounds that made England swing in the 60's. Created by
Phillip George
and
David Lowe
nstein, SHOUT! features terrific new arrangements of such classic tunes as "To Sir With Love," "Downtown," "Son of a Preacher Man," and "Goldfinger."SHOUT! travels in time from 1960 to 1970 chronicling the dawning liberation of women. Just as Dusty Springfield,
Petula Clark
, and
Cilla Black
, were independent women with major careers, English and American women were redefining themselves in the face of changing attitudes about gender. SHOUT! (and its all-female cast) reflects that through the unforgettable music of the time. With a shimmy and shake, the songs are tied together by hilarious sound bites from the period -- from 60's advertisements to letters answered by an advice columnist who thinks every problem can be solved with a "fetching new hair style and a new shade of lipstick."The songs in this delightful musical resonate with a timeless quality which appeals to every generation. A wonderful choice to showcase strong, female talent at any community theatre, high school, or college.Please note that original NY and touring sets, costumes and more for this title are available on MTI ShowSpace here. A presenters pack, with all original artwork, newspaper, magazine ads, programs, posters, merchandise and more is available to all presenters of SHOUT!
Click Here for More Information

LEGALLY BLONDE
BAY STREET PLAYERS
6/27-7/20/2014
Harvard's beloved blonde takes the stage by pink storm in this fun, upbeat musical about self-discovery. Based on the adored movie, LEGALLY BLONDE: THE MUSICAL stays true to form with a peppy score and playful book. This musical is ridiculously enjoyable from start to finish.Elle Woods appears to have it all. Her life is turned upside-down, however, when her boyfriend dumps her so he can start getting serious about his life and attend Harvard Law. Determined to get him back, Elle uses her charm to get into Harvard Law. At school, she struggles with peers, professors, and Warner Huntington. With the help of Paulette and Emmett, though, Elle quickly realizes her potential and sets out to prove herself to the world.This musical is relatively new to the theatre world, catering to the present-day's generation and culture. LEGALLY BLONDE: THE MUSICAL is perfect for high school and community theatre, featuring a large ensemble and several big song-and-dance numbers.
Click Here for More Information

SHOUT!! THE MOD MUSICAL
WINTER PARK PLAYHOUSE
6/19-7/20/2014
SHOUT! is the mod musical magazine that brings back the beautiful birds and smashing sounds that made England swing in the 60's. Created by Phillip George and David Lowenstein, SHOUT! features terrific new arrangements of such classic tunes as "To Sir With Love," "Downtown," "Son of a Preacher Man," and "Goldfinger."SHOUT! travels in time from 1960 to 1970 chronicling the dawning liberation of women. Just as Dusty Springfield, Petula Clark, and Cilla Black, were independent women with major careers, English and American women were redefining themselves in the face of changing attitudes about gender. SHOUT! (and its all-female cast) reflects that through the unforgettable music of the time. With a shimmy and shake, the songs are tied together by hilarious sound bites from the period -- from 60's advertisements to letters answered by an advice columnist who thinks every problem can be solved with a "fetching new hair style and a new shade of lipstick."The songs in this delightful musical resonate with a timeless quality which appeals to every generation. A wonderful choice to showcase strong, female talent at any community theatre, high school, or college.Please note that original NY and touring sets, costumes and more for this title are available on MTI ShowSpace here. A presenters pack, with all original artwork, newspaper, magazine ads, programs, posters, merchandise and more is available to all presenters of SHOUT!Click Here for More Information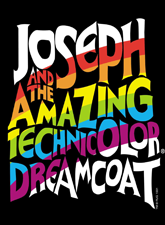 JOSEPH AND THE AMAZING TECHNICOLOR DREAMCOAT (MEGAMIX)
Broadway Palm Dinner Theatre
6/26-8/9/2014
The Biblical saga of Joseph and his coat of many colors comes to vibrant life in this delightful musical parable. Joseph, his father's favorite son, is a boy blessed with prophetic dreams. When he is sold into slavery by his jealous brothers and taken to Egypt, Joseph endures a series of adventures in which his spirit and humanity are continually challenged. He is purchased by Potiphar where thwarting advances from Potiphar's wife lands him in jail. When news of Joseph's gift to interpret dreams reaches the Pharaoh (wryly and riotously depicted as Elvis), Joseph is well on his way to becoming second in command. Eventually his brothers, having suffered greatly, unknowingly find themselves groveling at the feet of the brother they betrayed but no longer recognize. After testing their integrity, Joseph reveals himself leading to a heartfelt reconciliation of the sons of Israel. Set to an engaging cornucopia of musical styles, from country-western and calypso to bubble-gum pop and rock 'n' roll, this Old Testament tale emerges both timely and timeless. This version of JOSEPH?DREAMCOAT features extended songs and dances. The Megamix is available as a separate rental with this version. Lyrics by Tim Rice; Music by Andrew Lloyd Webber
Click Here for More Information

DISNEY'S BEAUTY AND THE BEAST JR
IMAGINE SCHOOLS CHANCELLOR CAMPUS
5/9-8/16/2014
Step into the enchanted world of Disney's BEAUTY AND THE BEAST JR. Featuring songs from the Academy-Award winning animated feature, this stage version includes music by Alan Menken and the late Howard Ashman, along with new songs by Mr. Menken and Tim Rice. Your audiences will be transported to the heart of provincial life in a lovely French town. When Maurice becomes lost in the woods on the way to the fair, he seeks shelter in an old castle, but the master of the castle is a horrible beast that takes him captive. Maurice's daughter, Belle, must then give up her freedom to save his life. Belle's taming of the unfortunate Beast and his ultimate transformation back into a handsome prince is a beloved fairy tale about very different people finding strength in one another and learning how to love. This "tale as old as time" is filled with spectacular costume and set opportunities. Even more simply staged, Disney's BEAUTY AND THE BEAST JR. offers students a great introduction to musical theatre, using familiar songs and characters to guide them through their production.
Click Here for More Information

View All Show Listings for Miami
Click Here to View BroadwayWorld.com Miami Calendar

Related Articles
From This Author BWW