Now Playing Onstage in Memphis - Week of 11/11/2012
View All Show Listings for Memphis
Click Here to View BroadwayWorld.com Memphis Calendar
BLUE MAN GROUP
Orpheum Theatre
11/13-11/18/2012
Experience the Phenomenon. BLUE MAN GROUP is best known for their wildly popular theatrical shows and concerts which combine comedy, music, and technology to produce a totally unique form of entertainment. The New York Times heralds the show as "One of the most delightful performance pieces ever staged." E! Entertainment News exclaims, "BLUE MAN GROUP is what every live performance aspires to be." The Baltimore Sun raves, "Blue Man Group packs a wallop. It's a big, loud, funny, silly, visually arresting production!" Although it is impossible to describe, people of all ages agree that BLUE MAN GROUP is an intensely exciting and wildly outrageous show that leaves the entire audience in a blissful, euphoric state. With no spoken language, BLUE MAN GROUP is perfect for people of all ages, languages, and cultures. BLUE MAN GROUP is now on the road for its first U.S. theatrical tour. This unique experience is a form of entertainment like nothing else; guaranteed to be an outing you will never forget.
Click Here for More Information
---
ANNIE
Playhouse in the Square
11/16-12/30/2012
Everyone's favorite redhead returns for the holidays! "Annie" is a spunky Depression-era orphan determined to find the parents who abandoned her years ago on the doorstep of a New York City Orphanage run by the cruel, embittered Miss Hannigan. In adventure after fun-filled adventure, Annie foils Miss Hannigan's evil machinations, befriends President Franklin Delano Roosevelt, and finds a new family and home in billionaire Oliver Warbucks.
Click Here for More Information
---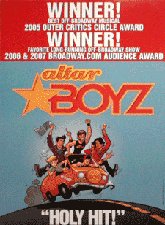 ALTAR BOYZ
Theatre Memphis
11/2-1/20/2013
ALTAR BOYZ is a foot-stomping, rafter-raising, musical comedy about a fictitious Christian boy-band on the last night of their national 'Raise the Praise' tour. The Boyz are five all-singing, all-dancing heartthrobs from Ohio: Matthew, Mark, Luke, Juan and Abraham. With their tight harmonies and spectacular choreography, the ALTAR BOYZ will delight your audiences. As they perform their signature hits such as 'Rhythm In Me,' 'The Calling,' and 'I Believe,' the Boyz question their loyalty to each other and ask whether or not faith is really holding them together. They finally deliver a message of unity, that 'there is no star as bright as its constellation, no harmony in a single voice.'Book by
Kevin Del Aguila
; Music and Lyrics by
Gary Adler
&
Michael Patrick Walker
; Conceived By
Marc Kessler
&
Ken Davenport
For more information on Theatre Memphis, click hereFor more information on Altar Boyz, click here
Click Here for More Information
---
View All Show Listings for Memphis
Click Here to View BroadwayWorld.com Memphis Calendar
Related Articles
From This Author BWW