Now Playing Onstage in Hawaii - Week of 6/29/2014
View All Show Listings for Hawaii
Click Here to View BroadwayWorld.com Hawaii Calendar
DRILL TEAM HAWAII 40TH ANNIVERSARY SHOWCASE
Hawaii Theatre Center
7/5-7/5/2014
Drill Team Hawaii is an all girl, Performance /Competition Dance Team. It is known for its entertaining, well choreographed, precisely executed routines which combine the elegance of ballet, the excitement of jazz, the energy of Hip Hop and the thrill of gymnastics.
Click Here for More Information
LES MISERABLES
NEW HOPE CHRISTIAN FELLOWSHIP
6/20-7/6/2014
This international smash-hit may be the most popular musical in the world. In 19th century France, Jean Valjean is released from 19 years of unjust imprisonment, but finds nothing in store for him but mistrust and mistreatment. He breaks his parole in hopes of starting a new life, initiating a life-long struggle for redemption as he is relentlessly pursued by police inspector Javert, who refuses to believe Valjean can change his ways. Finally, during the Paris student uprising of 1832, Javert must confront his ideals after Valjean spares his life and saves that of the student revolutionary who has captured the heart of Valjean's adopted daughter. His world-view shattered, Javert commits suicide, and Valjean at last attains the peace he has sought for so long.Epic, grand and uplifting, LES MISÉRABLES packs an emotional wallop that has thrilled audiences all over the world. The sung-through pop opera is ideal for a cast of exceptional singers and overflows with melodies that are already standards. A spectacle on Broadway and in London, LES MISÉRABLES is equally effective with a minimal set; it is its powerful affirmation of the human spirit that has made LES MISÉRABLES a popular masterpiece.
Click Here for More Information
HE LALA WAU NO KU?U KUMU
Hawaii Theatre Center
7/6-7/6/2014
A traditional hula concert featuring Kumu Hula Mapuana de Silva and the keiki (children) of H?lau M?hala ?Ilima.
Click Here for More Information
SMOKEY JOE'S CAFÉ
Manoa Valley Theatre
7/3-7/20/2014
Songwriters
Jerry Leiber
and
Mike Stoller
, as much as anyone, virtually invented rock 'n' roll with a list of chart-busting hits that ignited a generation. 39 of their biggest pop standards provide the basis for an electrifying entertainment that illuminates a golden age of American culture. In an idealized '50's setting, the classic themes of love won, lost and imagined blend with slice-of-life emotions in a dazzling cavalcade of great pop music and compelling musical theatre. You'll be swooning in your seats like you're back at the drive-in with your sweetie!
Click Here for More Information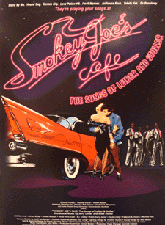 SMOKEY JOE'S CAFE - THE SONGS OF LEIBER AND STOLLER
Manoa Valley Theatre
7/3-7/20/2014
Leiber and Stoller, as much as anyone, virtually invented rock 'n' roll, and now their songs provide the basis for an electrifying entertainment that illuminates a golden age of American culture. In an idealized '50's setting, the classic themes of love won, lost and imagined blend with hilarious set-pieces and slice-of-life emotions. Featuring nearly 40 of the greatest songs ever recorded, SMOKEY JOE'S CAFE isn't just great pop music - it's compelling musical theatre.Words and Music by Leiber & Stoller
Click Here for More Information
View All Show Listings for Hawaii
Click Here to View BroadwayWorld.com Hawaii Calendar
Related Articles
From This Author BWW