Now Playing Onstage in Fargo - Week of 7/20/2014
View All Show Listings for Fargo
Click Here to View BroadwayWorld.com Fargo Calendar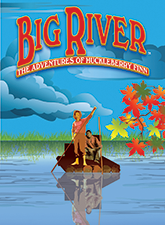 BIG RIVER
Minot State University
7/18-7/23/2014
Twain's timeless classic sweeps us down the mighty Mississippi as the irrepressible Huck Finn helps his friend Jim, a slave, escape to freedom at the mouth of the Ohio River. Their adventures along the way are hilarious, suspenseful and heartwarming, bringing to life your favorite characters from the novel-the Widow Douglas and her stern sister,
Miss Watson
; the uproarious King and Duke, who may or may not be as harmless as they seem; Huck's partner in crime,
Tom Sawyer
, and their rowdy gang of pals; Huck's drunken father, the sinister Pap Finn; the lovely Mary Jane Wilkes and her trusting family. Propelled by an award winning score from
Roger Miller
, the king of country music, this jaunty journey provides a brilliantly theatrical celebration of pure Americana.Music by
Roger Miller
; Lyrics by
Roger Miller
; Book by
William Hauptman
; Adapted from the novel by
Mark Twain
Click Here for More Information
FLAPPER
Dakota Stage Ltd
7/24-7/27/2014
The Roaring Twenties was such a colorful decade that the unbeatable team of playwright
Tim Kelly
and musician
Bill Francoeur
couldn't resist it! Come celebrate the era with them and meet Polly Pepper, a young flapper who really knows how to live in the time of Stutz Bearcat automobiles, Ziegfield girls, raccoon coats, ukuleles, beauty contests, goldfish swallowers and gangsters. Polly's about to turn 18 and will then inherit a fabulous diamond necklace called the 'Ice Garden.' She's planning a madcap birthday party and inviting all her pals. However, with a friend like Susan Stuyvesant-Fish, she doesn't need any enemies!
Click Here for More Information
SHREK THE MUSICAL
SLEEPY HOLLOW SUMMER THEATRE
7/7-7/30/2014
SHREK THE MUSICAL, based on the Oscar® winningDreamWorks film that started it all, brings the hilarious story ofeveryone's favorite ogre to dazzling new life on the stage. Ina faraway kingdom turned upside down, things get ugly when an unseemlyogre "" not a handsome prince "" shows up to rescue a feisty princess.Throw in a donkey who won't shut up, a bad guy with a SHORT temper, acookie with an attitude and over a dozen other fairy tale misfits, andyou've got the kind of mess that calls for a real hero. Luckily,there's one on hand...and his name is Shrek. Full of all-new songs, great dancing and breathtaking scenery, SHREK THE MUSICAL is part romance, part twisted fairy tale and all irreverent fun for everyone!**AVAILABLE FOR LICENSES FOR PERFORMANCES BEGINNING JUNE 2013**
Click Here for More Information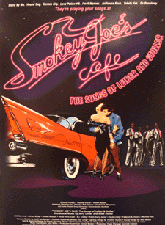 SMOKEY JOE'S CAFE - THE SONGS OF LEIBER AND STOLLER
Frostfire Theatre
7/2-8/3/2014
Leiber and Stoller, as much as anyone, virtually invented rock 'n' roll, and now their songs provide the basis for an electrifying entertainment that illuminates a golden age of American culture. In an idealized '50's setting, the classic themes of love won, lost and imagined blend with hilarious set-pieces and slice-of-life emotions. Featuring nearly 40 of the greatest songs ever recorded, SMOKEY JOE'S CAFE isn't just great pop music - it's compelling musical theatre.Words and Music by Leiber & Stoller
Click Here for More Information
TRAVELING TROUPE THE MERRY WIVES OF WINDSOR
Dakota Stage Ltd
7/29-8/9/2014
The TT is STP in its original form and has a rich history as a long standing tradition in the community. Students aged 12 to 18 are welcome to audition for the Traveling Troupe which will perform a Shakespearean play at various locations, dates and times during the summer season.
Click Here for More Information
View All Show Listings for Fargo
Click Here to View BroadwayWorld.com Fargo Calendar
Related Articles
From This Author BWW