Now Playing Onstage in Detroit - Week of 11/20/2018
View All Show Listings for Detroit
Click Here to View BroadwayWorld.com Detroit Calendar
ANNIE
ESCANABA SENIOR HIGH SCHOOL
11/23-11/27/2018
Click Here for More Information
SCHOOLHOUSE ROCK LIVE! JR
ASSUMPTION BLESSED VIRGIN MARY SCHOOL
11/29-12/1/2018
Click Here for More Information
VIOLET
INTERLOCHEN CENTER FOR THE ARTS
11/15-12/1/2018
Click Here for More Information
NEWSIES
UNITY CHRISTIAN HIGH SCHOOL
11/29-12/1/2018
Click Here for More Information
LITTLE SHOP OF HORRORS
BAY CITY PUBLIC SCHOOLS -COMBINED THEATRE PROGRAM
11/29-12/1/2018
Click Here for More Information
ANNIE
SPARTA HIGH SCHOOL
11/29-12/2/2018
Click Here for More Information
GUYS & DOLLS
PLAYERS GUILD OF DEARBORN, THE
11/9-12/2/2018
Click Here for More Information
GUYS AND DOLLS
Players Guild of Dearborn
11/9-12/2/2018
Considered by many to be the perfect musical comedy, Guys and Dolls ran for 1,200 performances when it opened on Broadway in 1950. It received nearly unanimous positive reviews from critics and won a bevy of awards, including Tony Awards, Drama Desks and Oliviers. Set in Damon Runyon's mythical New York City, Guys and Dolls is an oddball romantic comedy. Gambler, Nathan Detroit, tries to find the cash to set up the biggest crap game in town while the authorities breathe down his neck; meanwhile, his girlfriend and nightclub performer, Adelaide, laments that they've been engaged for fourteen years. Nathan turns to fellow gambler, Sky Masterson, for the dough, and Sky ends up chasing the straight-laced missionary, Sarah Brown, as a result. Guys and Dolls takes us from the heart of Times Square to the cafes of Havana, Cuba, and even into the sewers of New York City, but eventually everyone ends up right where they belong. Includes the classic songs: "Luck Be a Lady", "Sit Down You're Rocking the Boat" and "A Bushel and a Peck".
Click Here for More Information
A CHRISTMAS CAROL
FOREVER AFTER PRODUCTIONS
11/29-12/2/2018
Click Here for More Information
THE HUNCHBACK OF NOTRE DAME
AVON PLAYERS
11/23-12/8/2018
Click Here for More Information
THE WILD PARTY
PEPPERMINT CREEK THEATRE COMPANY
11/29-12/9/2018
Click Here for More Information
PETER PAN
Thunder Bay Theatre, Inc.
11/23-12/9/2018
book: James M. Barrie; lyrics: Betty Comden, Adolph Green, Carolyn Leigh; music: Mark Charlap, Trude Rittman, Jule Styne; dir: Molly Stricker.
Click Here for More Information
DISNEY'S THE LITTLE MERMAID
GRAND RAPIDS CIVIC THEATRE
11/16-12/16/2018
Click Here for More Information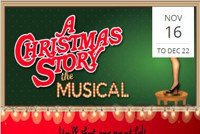 A CHRISTMAS STORY - THE MUSICAL
Riverbank Theatre
11/16-12/22/2018
YOU'LL SHOOT YOUR EYE OUT KID! Our final production in the 2018 season is based off the classic 1983 movie, and comes to hilarious life in this contemporary musical with all the flash and flair of Broadway! A Christmas Story chronicles young and bespectacled Ralphie Parker as he schemes his way toward the holiday gift of his dreams, and an official Red Ryder® BB gun. An infamous leg lamp, outrageous pink bunny pajamas, a maniacal department store Santa, and a triple-dog dare to lick a freezing flagpole are just a few of the distractions that stand between Ralphie and his Christmas wish. Book by Joseph Robinette, Music and Lyrics by Benj Pasek and Justin Paul
Click Here for More Information
EVIDENCE OF THINGS UNSEEN
Detroit Repertory Theatre
11/1-12/23/2018
Katie Forgette.
Click Here for More Information
HELLO, DOLLY!
The Encore Musical Theatre Company
11/15-12/23/2018
The Encore Musical Theatre Company proudly presents Hello, Dolly!, running November 15th through December 23rd, 2018. Hello, Dolly! is directed by Jamie Colburn, music directed by Casey Baker, and choreographed by Rachel Costantino. Hello, Dolly! is a musical with music and lyrics by Jerry Herman, and book by Michael Stewart. The script was originally directed and choreographed by Gower Champion for the Broadway Stage. This blockbuster Broadway hit bursts with humor, romance, high-energy dancing, and some of the greatest songs in musical theatre history. Based on Thornton Wilder's The Matchmaker, Hello, Dolly! follows widow Dolly Gallagher-Levi, turn-of-the-century matchmaker and "woman who arranges things," as she travels to Yonkers, New York to find a match for the miserly half-a-millionaire, Horace Vandergelder. However, it becomes apparent early on that Dolly already has a match chosen for Horace - herself. While meddling in Horace's life, Dolly can't help but put her hand in elsewhere, as well. Ambrose Kemper, a young artist, enlists Dolly's help in securing approval to marry Horace's weepy niece, Ermengarde. Meanwhile, Cornelius Hackl and Barnaby Tucker, the two shop clerks of Vandergelder's Hay and Feed, decide that while Horace is away, they will slip away to New York City to see the sights of the big city, spend all of their money, visit the stuffed whale at Barnum's museum, and, most importantly, each kiss a girl. Dolly advises that the two gentlemen call on Irene Molloy, the owner of a New York City hat shop, and Minnie Fay, her assistant. Dolly's careful and chaotic planning all comes to a head at one eventful polka competition at the esteemed Harmonia Gardens Restaurant. The Encore's production stars Marlene Inman (Dolly Levi), Keith Kalinowski (Horace Vandergelder), Sarah Brown (Irene Molloy), and Doug Atkins (Cornelius Hackl); with Katy MacCutcheon (Minnie Fay), Cole Thompson (Barnaby Tucker), Anna Dreslinski Cooke (Ermengarde), Connor Giles (Ambrose Kemper), Angela Hench (Ernestina/Ensemble), Dale Dobson (Judge/Rudolph), Gayle Martin (Mrs. Rose/Ensemble), Mitchell J. Hardy (Stanley/Ensemble), Meg McNamee (Ensemble), Josh England (Dance Captain/Ensemble), Bryana Hall (Ensemble), Isaac A. Orr (Ensemble), Matilda Seagraves (Ensemble), Trevor J. Powell (Ensemble), and Dominic Dorset (Ensemble at certain performances).
Click Here for More Information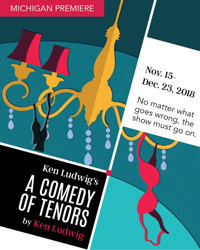 KEN LUDWIG'S A COMEDY OF TENORS
Tipping Point Theatre
11/15-12/23/2018
There are three hours until the curtain opens on the musical event of the decade and Tito Merelli is not ready to perform. His singing partners cancelled, his daughter is growing up too fast, and the food spread in his five-star hotel is all wrong. It's a race against the clock to sort out his personal issues but they just seem to be getting more complicated! A sequel to Lend Me A Tenor, this non-stop barrage of hilarity sets out to remind us all that family is really what's important.
Click Here for More Information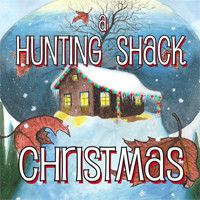 A HUNTING SHACK CHRISTMAS
Williamston Theatre
11/15-12/23/2018
The Michigan Premiere of "A Hunting Shack Christmas" by Jessica Lind Peterson. As the holidays approach, Charlie heads up to the hunting shack that's been in his family for generations, hoping for the peace he needs to sort out his life.. Instead of the solitude he was looking for, he finds himself buried in snow, unexpected family, beef jerky, a crazy internet romance, and more snow. Can he sort everything out in time for his wedding anniversary?
Click Here for More Information
View All Show Listings for Detroit
Click Here to View BroadwayWorld.com Detroit Calendar
Related Articles View More Detroit

Stories

Shows
More Hot Stories For You