Now Playing Onstage in Denver - Week of 5/18/2014
View All Show Listings for Denver
Click Here to View BroadwayWorld.com Denver Calendar
SEUSSICAL JR
DAVINCI ACADEMY
5/21-5/22/2014
A delight for children to perform, SEUSSICAL is now one of the most-performed shows in America! In this fantastical, magical, musical extravaganza, Tony winners
Lynn Ahrens
and
Stephen Flaherty
(LUCKY STIFF, MY FAVORITE YEAR, ONCE ON THIS ISLAND, and RAGTIME) have lovingly brought to life all of our favorite
Dr. Seuss
characters, including Horton the Elephant, The Cat in the Hat, Gertrude McFuzz, lazy Mayzie and a little boy with a big imagination--Jojo. The colorful characters transport us from the Jungle of Nool to the Circus McGurkus to the invisible world of the Whos.The Cat in the Hat tells the story of Horton, an elephant who discovers a speck of dust containing Whos, including Jojo, a Who child who gets in trouble for thinking too many "thinks." Horton faces a double challenge--not only must he protect the Whos from a world of naysayers and dangers, but he must guard an abandoned egg, left to his care by the irresponsible Mayzie La Bird. Although Horton faces ridicule, danger, kidnapping, and a trial, the intrepid Gertrude McFuzz never loses faith in him. Ultimately, the powers of friendship, loyalty, family, and community are challenged and emerge triumphant!SEUSSICAL JR. is fun for the whole family! Young performers will be excited to portray the characters from the familiar
Dr. Seuss
fables. This musical provides wonderful creative opportunities in terms of set design, lighting, and costuming.Note: for this version, certain
Click Here for More Information
THE GREAT GATSBY
Arvada Center for the Arts and Humanities
4/29-5/25/2014
By
F. Scott Fitzgerald
Adapted for the stage by
Simon Levy
Directed by
Gavin Mayer
In this 2006 adaptation of one of the greatest American novels, audiences get a glimpse into a defining point in our history. It's the 1920's, the age of jazz and women's independence; when wealth, glamour and decadence ignited public fascination for a fleeting moment in time. Jay Gatsby embraced the era as he set about acquiring all the trappings of a self-made millionaire. His biggest conquest was the young socialite, Daisy. For years, Gatsby is passionate in his pursuit of her love until it all ends tragically in this classic study of American society in the early 20th century.
Click Here for More Information
THE GREAT GATSBY
Arvada Center for the Arts & Humanities
4/29-5/25/2014
adapt:
Simon Levy
from
F. Scott Fitzgerald
; dir:
Gavin Mayer
.
Click Here for More Information
AMERICAN IDIOT
Buell Theatre- Denver Center for the Performing Arts
5/23-5/25/2014
A critical smash on Broadway and in London, the two-time Tony Award winning hit musical AMERICAN IDIOT tells the story of three lifelong friends, forced to choose between their dreams and the safety of suburbia. Their quest for true meaning in a post 9/11 world leads them on the most exhilarating theatrical journey of the season. Based on
Green Day
's GRAMMY Award-winning multi-platinum album, AMERICAN IDIOT boldly takes the American musical where it's never gone before. The result is an experience Charles Isherwood of The New York Times declares "thrilling, emotionally charged, and as moving as any Broadway musical I've seen this year!" Featuring the hits "Boulevard of Broken Dreams," "21 Guns," "Wake Me Up When September Ends," "Holiday" and the blockbuster title track, AMERICAN IDIOT features the music of
Green Day
and the lyrics of its lead singer
Billie
Joe Armstrong
, direction by Tony Award winner
Michael Mayer
(Spring Awakening), choreography by Olivier Award winner
Steven Hoggett
(Black Watch), music supervision, orchestrations and arrangements by Pulitzer Prize winner
Tom Kitt
(Next to Normal), Tony Award winning set design by
Christine Jon
es and Tony Award winning lighting design by
Kevin Adams
.
Click Here for More Information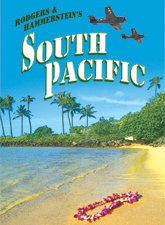 SOUTH PACIFIC
Midtown Arts Center
3/21-5/31/2014
Set in an island paradise during World War II, two parallel love stories are threatened by the dangers of prejudice and war. Nellie, a spunky nurse from Arkansas, falls in love with a mature French planter, Emile. Nellie learns that the mother of his children was an island native and, unable to turn her back on the prejudices with which she was raised, refuses Emile's proposal of marriage. Meanwhile, the strapping Lt. Joe Cable denies himself the fulfillment of a future with an innocent Tonkinese girl with whom he's fallen in love out of the same fears that haunt Nellie. When Emile is recruited to accompany Joe on a dangerous mission that claims Joe's life, Nellie realizes that life is too short not to seize her own chance for happiness, thus confronting and conquering her prejudices.Music by Rodgers, Richard; Lyrics by
Oscar Hammerstein
II; Book by
Oscar Hammerstein
II &
Joshua Logan
; Adapted from the Pulitzer Prize winning novel
Click Here for More Information
FOREVER PLAID
COLORADO SPRINGS FINE ARTS CENTER
5/8-6/1/2014
FOREVER PLAID is one of the most popular and successful musicals in recent memory. This deliciously goofy revue centers on four young, eager male singers killed in a car crash in the 1950's on the way to their first big concert, and now miraculously revived for the posthumous chance to fulfill their dreams and perform the show that never was. Singing in the closest of harmony, squabbling boyishly over the smallest intonations and executing their charmingly outlandish choreography with over-zealous precision, the "Plaids" are a guaranteed smash, with a program of beloved songs and delightful patter that keeps audiences rolling in the aisles when they're not humming along to some of the great nostalgic pop hits of the 1950's.
Click Here for More Information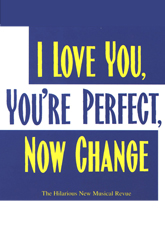 I LOVE YOU, YOU'RE PERFECT, NOW CHANGE
Magic Circle Players
5/9-6/1/2014
This celebration of the mating game takes on the truths and myths behind that contemporary conundrum know as 'the relationship.' Act I explores the journey from dating and waiting to love and marriage, while Act II reveals the agonies and triumphs of in-laws and newborns, trips in the family car and pick-up techniques of the geriatric set. This hilarious revue pays tribute to those who have loved and lost, to those who have fallen on their face at the portal of romance, to those who have dared to ask, 'Say, what are you doing Saturday night?'Book and Lyrics by
Joe DiPietro
; Music by
Jimmy Roberts
Click Here for More Information
DAMN YANKEES
CANDLELIGHT DINNER PLAYHOUSE
4/3-6/8/2014
Faust meets professional baseball in the Broadway classic DAMN YANKEES. Middle-aged baseball fanatic Joe Boyd trades his soul to the Devil, also known as Mr. Applegate, for a chance to lead his favorite team to victory in the pennant race against the New York Yankees. As young baseball sensation Joe Hardy, he transforms the hapless Washington Senators into a winning team, only to realize the true worth of the life he's left behind. Joe ultimately outsmarts Applegate, returns to his former self, and shepherds the Senators to the World Series.Light, fast-paced and devilishly clever, DAMN YANKEES is a home-run hit featuring all-American subject matter and an irreverent sense of humor. The perfect choice for a high school's spring musical or community theatre production, DAMN YANKEES is sure to please.
Click Here for More Information
THE MUSIC MAN
TOWN HALL ARTS CENTER
5/16-6/15/2014
An affectionate paean to Smalltown, U.S.A. of a bygone era,
Meredith Willson
's THE MUSIC MAN follows fast-talking traveling salesman Harold Hill as he cons the people of River City, Iowa into buying instruments and uniforms for a boys' band he vows to organize - this despite the fact he doesn't know a trombone from a treble clef. His plans to skip town with the cash are foiled when he falls for Marian the librarian, who transforms him into a respectable citizen by curtain's fall. Perfect for professional theatres, community groups, summer stock and schools alike, this award-winning, critically acclaimed Broadway classic is an all-American institution, thanks to is quirky characters, charmingly predictable dramatic situations, and one-of-a-kind, nostalgic score of rousing marches, barbershop quartets and sentimental ballads which have become popular standards. The cast features a soaring soprano ingenue, parts for young performers and children, and one of the musical theatre's treasures, a tour de force leading role for a charismatic actor who doesn't need to be a trained singer. By turns wicked, funny, warm, romantic and touching, THE MUSIC MAN is family entertainment at its best.
Click Here for More Information
THE FANTASTICKS
MINERS ALLEY PLAYHOUSE
5/23-6/29/2014
Talk about a time-provenaudience-pleaser! "Try To Remember" a time when this romantic charmerwasn't enchanting audiences around the world. THE FANTASTICKS is thelongest-running production of any kind in the world, and with good reason: atthe heart of its breathtaking poetry and subtle theatrical sophistication is apurity and simplicity that transcends cultural barriers. The result is atimeless fable of love that manages to be nostalgic and universal at the sametime.With its minimal costumes, small band and virtually non-existent set, THE FANTASTICKS is an intimate show which may be performed in virtually any space,engaging the audience's imagination and showcasing a strong ensemble cast. Itsmoving tale of young lovers who become disillusioned, only to discover a moremature, meaningful love is punctuated by a bountiful series of catchy,memorable songs, many of which have become standards.
Click Here for More Information
View All Show Listings for Denver
Click Here to View BroadwayWorld.com Denver Calendar
Related Articles
From This Author BWW