Now Playing Onstage in Cleveland - Week of 6/15/2014
View All Show Listings for Cleveland
Click Here to View BroadwayWorld.com Cleveland Calendar
SHREK
PLAYERS GUILD THEATRE - CANTON PLAYERS GUILD
5/23-6/18/2014
SHREK THE MUSICAL, based on the Oscar® winningDreamWorks film that started it all, brings the hilarious story ofeveryone's favorite ogre to dazzling new life on the stage. Ina faraway kingdom turned upside down, things get ugly when an unseemlyogre "" not a handsome prince "" shows up to rescue a feisty princess.Throw in a donkey who won't shut up, a bad guy with a SHORT temper, acookie with an attitude and over a dozen other fairy tale misfits, andyou've got the kind of mess that calls for a real hero. Luckily,there's one on hand...and his name is Shrek. Full of all-new songs, great dancing and breathtaking scenery, SHREK THE MUSICAL is part romance, part twisted fairy tale and all irreverent fun for everyone!**AVAILABLE FOR LICENSES FOR PERFORMANCES BEGINNING JUNE 2013**
Click Here for More Information
THE 25TH ANNUAL PUTNAM COUNTY SPELLING BEE
FINE ARTS ASSOCIATION
6/6-6/22/2014
Six young people in the throes of puberty, overseen by grown-ups who barely managed to escape childhood themselves, learn that winning isn't everything and that losing doesn't necessarily make you a loser.THE 25TH ANNUAL PUTNAM COUNTY SPELLING BEE is a hilarious tale of overachievers' angst chronicling the experience of six adolescent outsiders vying for the spelling championship of a lifetime. The show's Tony Award winning creative team has created the unlikeliest of hit musicals about the unlikeliest of heroes: a quirky yet charming cast of outsiders for whom a spelling bee is the one place where they can stand out and fit in at the same time.
Click Here for More Information
YOUNG FRANKENSTEIN
TOLEDO REPERTOIRE THEATRE
6/6-6/22/2014
IT'S ALIVE! From the creators of the record-breaking Broadway sensation THE PRODUCERS comes this monster new musical comedy.With such memorable tunes as "The Transylvania Mania," "He Vas My Boyfriend" and "Puttin' On The Ritz," YOUNG FRANKENSTEIN is scientifically-proven, monstrously good entertainment"¦and the only place you'll witness a singing and dancing laboratory experiment in the largest tuxedo ever made.
Click Here for More Information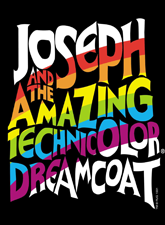 JOSEPH AND THE AMAZING TECHNICOLOR DREAMCOAT
St. Bartholomew Church
6/19-6/22/2014
The Biblical saga of Joseph and his coat of many colors comes to vibrant life in this delightful musical parable. Joseph, his father's favorite son, is a boy blessed with prophetic dreams. When he is sold into slavery by his jealous brothers and taken to Egypt, Joseph endures a series of adventures in which his spirit and humanity are continually challenged. He is purchased by Potiphar where thwarting advances from Potiphar's wife lands him in jail. When news of Joseph's gift to interpret dreams reaches the Pharaoh (wryly and riotously depicted as Elvis), Joseph is well on his way to becoming second in command. Eventually his brothers, having suffered greatly, unknowingly find themselves groveling at the feet of the brother they betrayed but no longer recognize. After testing their integrity, Joseph reveals himself leading to a heartfelt reconciliation of the sons of Israel. Set to an engaging cornucopia of musical styles, from country-western and calypso to bubble-gum pop and rock 'n' roll, this Old Testament tale emerges both timely and timeless.Lyrics by
Tim Rice
; Music by
Andrew Lloyd Webber
Click Here for More Information
THE MUSIC MAN
CROWN THEATER PRODUCTION
6/13-6/22/2014
An affectionate paean to Smalltown, U.S.A. of a bygone era,
Meredith Willson
's THE MUSIC MAN follows fast-talking traveling salesman Harold Hill as he cons the people of River City, Iowa into buying instruments and uniforms for a boys' band he vows to organize - this despite the fact he doesn't know a trombone from a treble clef. His plans to skip town with the cash are foiled when he falls for Marian the librarian, who transforms him into a respectable citizen by curtain's fall. Perfect for professional theatres, community groups, summer stock and schools alike, this award-winning, critically acclaimed Broadway classic is an all-American institution, thanks to is quirky characters, charmingly predictable dramatic situations, and one-of-a-kind, nostalgic score of rousing marches, barbershop quartets and sentimental ballads which have become popular standards. The cast features a soaring soprano ingenue, parts for young performers and children, and one of the musical theatre's treasures, a tour de force leading role for a charismatic actor who doesn't need to be a trained singer. By turns wicked, funny, warm, romantic and touching, THE MUSIC MAN is family entertainment at its best.
Click Here for More Information
THE PRODUCERS
HURON PLAYHOUSE INC.
6/24-6/28/2014
Bialystock and Bloom! Those names should strike terror and hysteria in anyone familiar with
Mel B
rooks' classic cult comedy film. Now as a big Broadway musical, THE PRODUCERS once again sets the standard for modern, outrageous, in-your-face humor. It is a truly "boffo" hit, winning a record twelve Tony Awards and wowing capacity crowds night after night.The plot is simple: a down-on-his-luck Broadway producer and his mild-mannered accountant come up with a scheme to produce the most notorious flop in history thereby bilking their backers (all "little old ladies") out of millions of dollars. Only one thing goes awry: the show is a smash hit! The antics of Max Bialystock and
Leo Bloom
as they maneuver their way fecklessly through finding a show (the gloriously offensive "Springtime For Hitler"), hiring a director, raising the money and finally going to prison for their misdeeds is a lesson in broad comic construction. At the core of the insanely funny adventure is a poignant emotional journey of two very different men who become friends.With a truly hysterical book co-written by
Mel B
rooks and
Thomas Meehan
(ANNIE) and music and lyrics by Mr. Brooks , THE PRODUCERS skewers Broadway traditions and takes no prisoners as it proudly proclaims itself an "equal opportunity offender!"
Click Here for More Information
DAMN YANKEES
CASSIDY THEATRE
6/13-6/29/2014
Faust meets professional baseball in the Broadway classic DAMN YANKEES. Middle-aged baseball fanatic Joe Boyd trades his soul to the Devil, also known as Mr. Applegate, for a chance to lead his favorite team to victory in the pennant race against the New York Yankees. As young baseball sensation Joe Hardy, he transforms the hapless Washington Senators into a winning team, only to realize the true worth of the life he's left behind. Joe ultimately outsmarts Applegate, returns to his former self, and shepherds the Senators to the World Series.Light, fast-paced and devilishly clever, DAMN YANKEES is a home-run hit featuring all-American subject matter and an irreverent sense of humor. The perfect choice for a high school's spring musical or community theatre production, DAMN YANKEES is sure to please.
Click Here for More Information
MONTY PYTHON'S SPAMALOT
Beavercreek Community Theatre
6/20-6/29/2014
Click Here for More Information
GUYS & DOLLS
GALION COMMUNITY THEATRE
6/20-6/29/2014
Set in
Damon Runyon
's mythical New York City, this oddball romantic comedy - considered by many to be the perfect musical comedy - soars with the spirit of Broadway as it introduces us to a cast of vivid characters who have become legends in the canon:
Sarah Brown
, the upright but uptight "mission doll," out to reform the evildoers of Time Square; Sky Masterson, the slick, high-rolling gambler who woos her on a bet and ends up falling in love; Adelaide, the chronically ill nightclub performer whose condition is brought on by the fact she's been engaged to the same man for 14 years; and Nathan Detroit, her devoted fiance, desperate as always to find a spot for his infamous floating crap game.Everything works out in the end, thanks to the machinations of
Abe Burrows
and
Jo Swerling
's hilarious, fast-paced book and
Frank Loesser
's bright, brassy, immortal score, which takes us from the heart of Times Square to the cafes of Havana, Cuba, and even into the sewers of New York City. Funny and romantic, GUYS AND DOLLS is ideal for audiences and performers of any age.
Click Here for More Information
NEXT TO NORMAL
NORTH CANTON PLAYHOUSE
6/13-6/29/2014
Pulitzer-Prize winning rock musical NEXT TO NORMAL, with book and lyrics by
Brian Yorkey
and music by
Tom Kitt
, explores how one suburban household copes with crisis and mental illness.NEXT TO NORMAL tells the story of a mother, Diane Goodman, who struggles with bipolar disorder and the effect that her illness has on her family. This contemporary musical is an emotional powerhouse that addresses such issues as grieving a loss, ethics in modern psychiatry, and suburban life. With provocative lyrics and a thrilling score, this musical shows how far two parents will go to keep themselves sane and their family's world intact.NEXT TO NORMAL is a deeply moving piece of theatre that provides a wonderful opportunity for performers to explore dramatic material and showcase vocal talents with an energetic pop/rock score. This show is ideal for community theaters, as well as colleges and regional theatre companies.
Click Here for More Information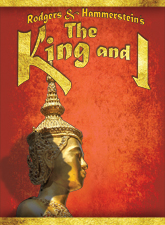 THE KING AND I
Ohio Valley Summer Theater
6/19-7/6/2014
East versus West makes for a dramatic, richly textured and ultimately uplifting tale of enormous fascination. It is 1862 in Siam when an English widow,
Anna Leon
owens, and her young son arrive at the Royal Palace in Bangkok, having been summoned by the King to serve as tutor to his many children and wives. The King is largely considered to be a barbarian by those in the West, and he seeks Anna's assistance in changing his image, if not his ways. With both keeping a firm grip on their respective traditions and values, Anna and the King grow to understand and, eventually, respect one another, in a truly unique love story. Along with the dazzling score, the incomparable
Jerome Robbins
ballet, 'The Small House of Uncle Thomas,' is one of the all-time marvels of the musical stage.Music by Rodgers, Richard; Book by
Oscar Hammerstein
II; Lyrics by
Oscar Hammerstein
II; Based on Anna and the King by
Margaret Landon
; Original Choreography by
Jerome Robbins
Click Here for More Information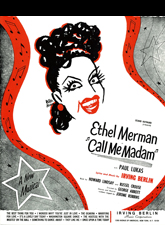 CALL ME MADAM
Ohio Light Opera
6/19-8/9/2014
Once President Harry S. Truman appointed Washington hostess Perle Mesta as Ambassador to Luxembourg, the foundation was laid for a musical comedy that would kid politics-foreign and domestic alike. Ambassador Sally Adams, with slim credentials, is sent off to administer in the tiny duchy of Lichtenburg. It's not long before her down-to-earth, typically undiplomatic manner has surprised and charmed the local gentry, especially the handsome Prime Minister. A second romance is blossoming between her young Ivy League aid and Lichtenburg's enchanting young Princess. The course of love is threatened by the stuffy opposition, who eventually succeed in wrangling Sally's recall, but not before all has resolved happily for both pairs of lovers.Music and Lyrics by
Irving Berlin
; Book by
Howard Lindsay
&
Russel Crouse
Click Here for More Information
View All Show Listings for Cleveland
Click Here to View BroadwayWorld.com Cleveland Calendar
Related Articles
From This Author BWW