Now Playing Onstage in Washington, DC - Week of 8/31/2014
View All Show Listings for Washington, DC
Click Here to View BroadwayWorld.com Washington, DC Calendar
RING OF FIRE
Barter Theatre
8/15-9/6/2014
Click Here for More Information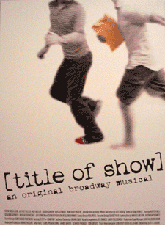 [TITLE OF SHOW]
Generic Theater
8/22-9/14/2014
Jeff and Hunter, two struggling writers, hear about a new musical theatre festival. However, the deadline for submissions is a mere three weeks away. With nothing to lose, the pair decides to try to create something new with the help of their friends Susan, Heidi and Larry on the eighty-eights. With the cast in place, Jeff and Hunter begin a conversation about what to write about. Eventually, Jeff suggests they write about what to write about. They make a pact to write up until the festival?s deadline and dream about the show changing their lives. [title of show]?taken from the space on the festival?s application form which asks for the [title of show]?follows Hunter and Jeff and their friends on their journey through the gauntlet of creative self-expression. In the span of 90 minutes they write and perform their show at the festival and learn lessons about themselves as people, friends and artists. [title of show] is, above all, a love letter to the musical theatre?a uniquely American art form?and to the joy of collaboration. The musical received a Tony AwardMusic and Lyrics by
Jeff Bowen
; Book by
Hunter Bell
Click Here for More Information
DIRTY DANCING
National Theatre
8/26-9/14/2014
Dirty Dancing - The Classic Story On Stage is an unprecedented live experience, exploding with heart-pounding music, passionate romance and sensational dancing. Seen by millions across the globe, this timeless love story features the hit songs "Hungry Eyes," "Hey Baby," "Do You Love Me?" and the heart-stopping "(I've Had) The Time Of My Life." London's Sunday Express says "This crowd-pleasing stage adaptation hits the jackpot!"
Click Here for More Information
THE SHOPLIFTERS
Arena Stage
at the Mead Center for American Theater
9/5-10/19/2014
Meet Alma, a career shoplifter who prefers the "five-finger discount" over some lousy senior citizen deal, whose elaborate life of petty crime is halted by an overzealous rookie security guard and his affable mentor who's seen it all. With an expertly drawn cast of oddball characters, The Shoplifters is full of surprises and sparks with a surprisingly high-stakes battle of wills over increasingly thought-provoking issues. Don't miss
Morris Panych
's biting, world premiere comedy about society's haves and have-nots and how much they might actually have in common.
Click Here for More Information
MEMPHIS
Toby's Dinner Theatre
9/5-11/9/2014
Click Here for More Information
View All Show Listings for Washington, DC
Click Here to View BroadwayWorld.com Washington, DC Calendar
Related Articles
From This Author BWW