Now Playing Onstage in Vermont - Week of 6/29/2014
View All Show Listings for Vermont
Click Here to View BroadwayWorld.com Vermont Calendar
NEKO CASE
The Flynn Center for the Performing Arts
7/2-7/2/2014
Dramatic, gutsy, mysterious, powerful-you name it, that's Neko Case. With fearless songwriting and musical curiosity, Case is "a music legend for our generation' (Bust) who treats Americana as a wellspring of weirdness, not a retro refuge. On her Grammy-nominated 2013 album The Worse Things Get, the Harder I Fight, the Harder I Fight, the More I Love You, the singer charts a powerfully personal course across the rocky landscape of childhood, love, and loss. Called "the most potent album of her career" by Pitchfork, Case and her band create music that's a world unto itself. In this special benefit, the Vermont resident generously performs with her band to support the Flynn and Catamount Arts. All proceeds from the performance support the arts education programs of both organizations.
Click Here for More Information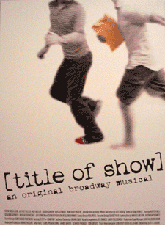 [TITLE OF SHOW]
Stowe
Theatre Guild
6/18-7/5/2014
Jeff and Hunter, two struggling writers, hear about a new musical theatre festival. However, the deadline for submissions is a mere three weeks away. With nothing to lose, the pair decides to try to create something new with the help of their friends Susan, Heidi and Larry on the eighty-eights. With the cast in place, Jeff and Hunter begin a conversation about what to write about. Eventually, Jeff suggests they write about what to write about. They make a pact to write up until the festival?s deadline and dream about the show changing their lives. [title of show]?taken from the space on the festival?s application form which asks for the [title of show]?follows Hunter and Jeff and their friends on their journey through the gauntlet of creative self-expression. In the span of 90 minutes they write and perform their show at the festival and learn lessons about themselves as people, friends and artists. [title of show] is, above all, a love letter to the musical theatre?a uniquely American art form?and to the joy of collaboration. The musical received a Tony AwardMusic and Lyrics by
Jeff Bowen
; Book by
Hunter Bell
Click Here for More Information
FIDDLER ON THE ROOF
CHANDLER CENTER FOR THE ARTS
7/3-7/6/2014
In the little village of Anatevka, Tevye, a poor dairyman, tries to instill in his five daughters the traditions of his tight-knit Jewish community in the face of changing social mores and the growing anti-Semitism of Czarist Russia. Rich in historical and ethnic detail, FIDDLER ON THE ROOF has touched audiences around the world with its humor, warmth and honesty. The universal theme of tradition cuts across barriers of race, class, nationality and religion, leaving audiences crying tears of laughter, joy and sadness.The show features a star turn in Tevye, among the most memorable roles in musical theatre. Original director/choreographer
Jerome Robbins
' staging is legendary, and available from MTI in a comprehensive choreographic guide. Its celebrated score by
Jerry Bock
and
Sheldon Harnick
, features songs loved the world over: "Sunrise, Sunset," "If I Were A Rich Man" and "Matchmaker," to name a few. FIDDLER ON THE ROOF is simply Broadway at its very best.
Click Here for More Information
THE FOX ON THE FAIRWAY
Saint Michael's Playhouse
7/2-7/12/2014
A tribute to the great farces of the 1930s and 1940s, The Fox on the Fairway takes audiences on a hilarious romp which pulls the rug out from underneath the stuffy members of a private country club. Filled with mistaken identities, slamming doors, and over-the-top romantic shenanigans, it's a furiously paced comedy that recalls the Marx Brothers' classics. Loaded with belly-laughs, this new comedy is a grand-slam, slam-dunk, hole-in-one!
Click Here for More Information
ANALOG AND VINYL
Weston Playhouse Theater
6/26-7/12/2014
Set in a vintage record store, this new musical comedy by Broadway composer
Paul Gordon
follows struggling storeowner Harrison and his quirky co-worker, Rodeo Girl, when a mysterious customer makes them a devilish offer they can't refuse.
Click Here for More Information
THE THREE LITTLE PIGS
Weston Playhouse Theater
6/19-7/12/2014
"Then I'll huff and puff and blow your house in." You know the story. Now come see Weston's talented Young Company of Broadway hopefuls in a delightful new musical version by the composers of Mary Poppins that is sure to bring down the house.
Click Here for More Information
View All Show Listings for Vermont
Click Here to View BroadwayWorld.com Vermont Calendar
Related Articles
From This Author BWW