Now Playing Onstage in Seattle - Week of 8/20/2017
View All Show Listings for Seattle
Click Here to View BroadwayWorld.com Seattle Calendar
CHARLIE BROWN (REVISED)
Aurora Theatre Company
8/1-8/26/2017
Click Here for More Information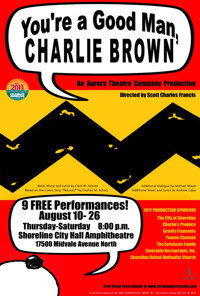 YOU'RE A GOOD MAN, CHARLIE BROWN
Aurora Theatre Company
8/10-8/26/2017
Everybody's favorite comic strip characters come to life on the outdoor amphitheatre stage at Shoreline City Hall. Aurora Theatre Company's production of You're a Good Man, Charlie Brown begins Thursday August 10 and runs through August 26, 2017. The musical premiered 50 years ago and is based on the comic strip, PEANUTS by Charles Schultz. Book music and lyrics are by Clark Gesner with additional dialogue by Michael Mayer and additional music and lyrics by Andrew Lippa. Show time is 8:00pm on Thursday, Friday and Saturday evenings. Patrons are encouraged to come early and bring picnics and wine, blankets, lawn chairs and to dress warmly, as evenings can be chilly. Seating is available on the lawns and in a limited number of chairs. Tickets are free of charge and reservations can be made at Brown Paper Tickets: http://www.brownpapertickets.com/event/2977730 Performances take place at Shoreline City Hall, 17500 Midvale Avenue North, Shoreline, WA 98133. Free parking is available. Aurora Theatre Company's You're a Good Man, Charlie Brown features Brandon Haddix as Charlie Brown, Hannah Knapp-Jenkins as Lucy Van Pelt, Noah Bruckshen as Linus Van Pelt, Kaelyn Barnes as Sally Brown, Phillip Meader Yetter as Schroeder and Karin Terry as Snoopy. Aurora Theatre Company Artistic Director Scott Charles Francis will direct the production. Michelle Choate acts as Musical Director and Conductor of the orchestra. Vocal Director Jordyn Meeker and Stage Manager Margaret West round out the creative team.
Click Here for More Information
SHAKESPEARE IN THE PARK: HENRY IV PART I
Key City Public Theatre
8/4-8/27/2017
After several seasons of Shakespeare's comedies we are thrilled to present a history play. Simultaneously action-packed and thoughtfully comedic, with massive battles and intimate family drama, in a landscape filled with warriors, barflies, royals, buffoons – HENRY IV Part One promises to be an exhilarating evening in Chetzemoka Park.
Click Here for More Information
BYE BYE BIRDIE
Leavenworth Summer Theater
8/1-9/1/2017
Click Here for More Information
MUCH BETTER, A NEW PLAY BY ELISABETH FRANKEL
12th Avenue Arts
8/18-9/2/2017
In an overconnected, information-saturated world, Ashley is struggling. Diagnosed with a condition known as "Hyperempathy", she finds it difficult to hold a job, maintain relationships, and otherwise cope with the emotional demands of her everyday life. When Ashley is introduced to a new medical procedure known as Neuroclear, she sees a chance to create a new, better version of herself--but not without putting her humanity at risk. Earlier this year, Much Better emerged as a semi-finalist for the 2017 O'Neill National Playwrights Conference, establishing itself as a strong and relevant literary work among over 1,300 plays. Prior to the O'Neill Conference, Much Better was a finalist in the 2016 Drama League Beatrice Terry Residency. Written by Elisabeth Frankel • Directed by Henry Nettleton
Click Here for More Information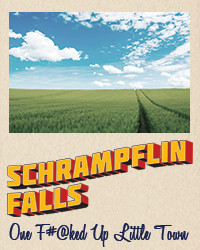 SCHRAMPFLIN FALLS: ONE F*&@KED UP LITTLE TOWN
Unexpected Productions
7/21-9/9/2017
Spend a night with the eccentric and lovable residents of Schrampflin Falls, a fictional small town in Washington. In this improvised show, you will provide suggestions that bring the scandalous secrets of the town and its residents to life. Each show will feature real crime log clippings from small town newspapers all over the US to inspire the events in Schrampflin Falls. So, spend a night with us; you may not want to move here but you'll love seeing the town's quirky residents .
Click Here for More Information
View All Show Listings for Seattle
Click Here to View BroadwayWorld.com Seattle Calendar
Related Articles View More Seattle

Stories

Shows
More Hot Stories For You