Now Playing Onstage in Seattle - Week of 6/29/2014
View All Show Listings for Seattle
Click Here to View BroadwayWorld.com Seattle Calendar
DISNEY'S HIGH SCHOOL MUSICAL
CENTRAL STAGE THEATRE OF COUNTY KITSAP
6/20-7/6/2014
This page is for the full-length edition of Disney's HIGH SCHOOL MUSICAL.Also available:Disney's HIGH SCHOOL MUSICAL - ONE ACT EDITIONDisney's HIGH SCHOOL MUSICAL JR. Disney Channel's smash hit movie musical comes to life on your stage! Troy, Gabriella, and the students of East High must deal with issues of first love, friends, and family while balancing their classes and extra curricular activities. It's the first day after winter break at East High. The Jocks, Brainiacs, Thespians and Skater Dudes find their cliques, recount their vacations, and look forward to the new year. Basketball team captain and resident jock Troy discovers that the brainy Gabriella, a girl he met singing karaoke on his ski trip, has just enrolled at East High. They cause an upheaval when they decide to audition for the high school musical, led by Ms. Darbus. Although many students resent the threat posed to the "status quo," Troy and Gabriella's alliance might just open the door for others to shine as well. HIGH SCHOOL MUSICAL is fun for the whole family. Its large cast size and upbeat numbers make it the ideal show for middle and high school productions or the highlight of any community theatre's season!
Click Here for More Information
MONTY PYTHON'S SPAMALOT
Lakewood Playhouse
6/13-7/13/2014
Click Here for More Information
WE WILL ROCK YOU
The
5th Avenue Theatre
7/8-7/15/2014
In its 11th smash year in London, with productions having occurred all over the world -Australia, Russia, Germany, Japan, Spain, South Africa, South Korea, Switzerland, Italy, Sweden, Canada, and Austria to name a few- WE WILL ROCK YOU, featuring the music of QUEEN, comes to North America for its first National Tour, beginning in the fall of 2013. Seen by more than 15 million people worldwide, WE WILL ROCK YOU is a guitar-thrashing, leather clad musical based on over two dozen QUEEN songs with a script and direction by ben Elton, music supervision by QUEEN,
Roger Taylor
and
Brian May
, and produced by Phil McIntyre Entertainment,
Tribeca Theatrical Productions
and Queen Theatrical Productions.
Click Here for More Information
LES MISERABLES
MELODY LANE ACADEMY
7/4-7/26/2014
This international smash-hit may be the most popular musical in the world. In 19th century France, Jean Valjean is released from 19 years of unjust imprisonment, but finds nothing in store for him but mistrust and mistreatment. He breaks his parole in hopes of starting a new life, initiating a life-long struggle for redemption as he is relentlessly pursued by police inspector Javert, who refuses to believe Valjean can change his ways. Finally, during the Paris student uprising of 1832, Javert must confront his ideals after Valjean spares his life and saves that of the student revolutionary who has captured the heart of Valjean's adopted daughter. His world-view shattered, Javert commits suicide, and Valjean at last attains the peace he has sought for so long.Epic, grand and uplifting, LES MISÉRABLES packs an emotional wallop that has thrilled audiences all over the world. The sung-through pop opera is ideal for a cast of exceptional singers and overflows with melodies that are already standards. A spectacle on Broadway and in London, LES MISÉRABLES is equally effective with a minimal set; it is its powerful affirmation of the human spirit that has made LES MISÉRABLES a popular masterpiece.
Click Here for More Information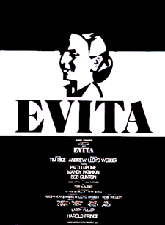 EVITA
Ovation! Musical Theatre Bainbridge
6/20-7/27/2014
Argentina's controversial First Lady is the subject of this dynamic musical masterpiece. As an illegitimate fifteen year old, Eva escaped her dirt-poor existence for the bright lights of Buenos Aires. Driven by ambition and blessed with charisma, she was a starlet at twenty-two, the president's mistress at twenty-four, First Lady at twenty-seven, and dead at thirty-three. Eva Peron 'saint to the working-class, reviled by the aristocracy and mistrusted by the military' was destined to leave a fascinating political legacy unique in the 20th century. Told through a compelling score that fuses haunting chorales with exuberant Latin, pop and jazz influences, EVITA creates an arresting theatrical portrait as complex as the woman herself.Lyrics by
Tim Rice
; Music by
Andrew Lloyd Webber
Click Here for More Information
View All Show Listings for Seattle
Click Here to View BroadwayWorld.com Seattle Calendar
Related Articles
From This Author BWW