Now Playing Onstage in Salt Lake City - Week of 6/22/2014
View All Show Listings for Salt Lake City
Click Here to View BroadwayWorld.com Salt Lake City Calendar
SEVEN BRIDES FOR SEVEN BROTHERS
HERITAGE COMMUNITY THEATRE
6/6-6/28/2014
"Goin' courting" has never been as much fun as in this rip-roaring stage version of the popular MGM movie, adapted by
Lawrence Kasha
and
David Landay
. Set in Oregon in 1850, SEVEN BRIDES FOR SEVEN BROTHERS tells the story of Millie, a young bride living in the 1850's Oregon wilderness. Her plan to civilize and marry off her six rowdy brothers-in-law to ensure the success of her own marriage backfires when the brothers, in their enthusiasm, kidnap six women from a neighboring town to be their brides. Bursting with the rambunctious energy of the original film, SEVEN BRIDES FOR SEVEN BROTHERS is all boisterous fun and romance that harkens back to the glory days of the movie musical.SEVEN BRIDES FOR SEVEN BROTHERS is a glorious romp suitable for middle school, high school, and community theatre productions. This show's large ensemble is a perfect opportunity to showcase many performers of all types.
Click Here for More Information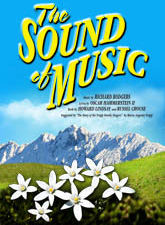 THE SOUND OF MUSIC
Clearfield City Corp.
6/27-7/2/2014
The final collaboration between Rodgers & Hammerstein was destined to become the world's most beloved musical. When a postulant proves too high-spirited for the religious life, she is dispatched to serve as governess for the seven children of a widowed naval Captain. Her growing rapport with the youngsters, coupled with her generosity of spirit, gradually captures the heart of the stern Captain, and they marry. Upon returning from their honeymoon they discover that Austria has been invaded by the Nazis, who demand the Captain's immediate service in their navy. The family's narrow escape over the mountains to Switzerland on the eve of World War II provides one of the most thrilling and inspirational finales ever presented in the theatre. The motion picture version remains the most popular movie musical of all time.Music by Rodgers, Richard; Lyrics by
Oscar Hammerstein
II; Book by
Howard Lindsay
&
Russel Crouse
; Suggested by `The
Trapp Family Singers
` by
Maria Augusta Trapp
Click Here for More Information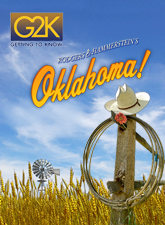 OKLAHOMA!
High Valley Arts Foundation
6/27-7/12/2014
The 'G2K' Getting To Know Series: Uniquely adapted musicals specifically for youth performers.
Rodgers & Hammerstein
's first collaboration remains, in many ways, their most innovative, having set the standards and established the rules of musical theatre still being followed today. Set in a Western Indian territory just after the turn of the century, the high-spirited rivalry between the local farmers and cowboys provides the colorful background against which Curly, a handsome cowboy, and Laurey, a winsome farm girl, play out their love story. Although the road to true love never runs smooth, with these two headstrong romantics holding the reins, love's journey is as bumpy as a surrey ride down a country road. That they will succeed in making a new life together we have no doubt, and that this new life will begin in a brand-new state provides the ultimate climax to the triumphant OKLAHOMA! In this adaptation for pre-high school students, the content has been edited to better suit younger attention spans, but all the elements that make this show a classic are still in place. You and your students will be enchanted by the timeless story and the dazzling score, while at the same time learning about theater and its production. Music by Rodgers, Richard; Book and Lyrics by
Oscar Hammerstein
II; Based on the play GREEN GROW THE LILACS by
Lynn Riggs
; Original Dances by
Agnes de Mille
Click Here for More Information
CHILDREN OF EDEN
CENTERPOINT LEGACY THEATRE
6/23-7/19/2014
From
Stephen Schwartz
and
John Caird
comes a joyous and inspirational musical about parents, children and faith... not to mention centuries of unresolved family business! Freely based on the story of Genesis, CHILDREN OF EDEN is a frank, heartfelt and often humorous examination of the age-old conflict between parents and children. Adam, Eve, Noah and the "Father" who created them deal with the headstrong, cataclysmic actions of their respective children. The show ultimately delivers a bittersweet but inspiring message: that "the hardest part of love... is letting go."A large cast is needed to take on the story of the Old Testament in this moving, foot-stomping musical. CHILDREN OF EDEN is a wonderful show to perform for children and students.
Click Here for More Information
A FUNNY THING...FORUM
OLD LYRIC REPERTORY COMPANY
6/12-8/2/2014
Broadway's greatest farce is light, fast-paced, witty, irreverent and one of the funniest musicals ever written. A FUNNY THING HAPPENED ON THE WAY TO THE FORUM takes comedy back to its roots, combining situations from time-tested, 2000 year old comedies of Roman playwright Plautus with the infectious energy of classic vaudeville.A FUNNY THING HAPPENED ON THE WAY TO THE FORUM is a non-stop laugh-fest in which Pseudolus, a crafty slave, struggles to win the hand of a beautiful but slow-witted courtesan named Philia, for his young master, Hero, in exchange for freedom. The plot twists and turns with cases of mistaken identity, slamming doors, and a showgirl or two.This unforgettable, hysterical musical allows a terrific ensemble of comedic actors to shine--"something for everyone, a comedy tonight!"
Click Here for More Information
MARY POPPINS
HALE CENTRE THEATRE
6/13-8/9/2014
Click Here for More Information
LES MISERABLES
UTAH FESTIVAL OPERA COMPANY
6/26-8/9/2014
This international smash-hit may be the most popular musical in the world. In 19th century France, Jean Valjean is released from 19 years of unjust imprisonment, but finds nothing in store for him but mistrust and mistreatment. He breaks his parole in hopes of starting a new life, initiating a life-long struggle for redemption as he is relentlessly pursued by police inspector Javert, who refuses to believe Valjean can change his ways. Finally, during the Paris student uprising of 1832, Javert must confront his ideals after Valjean spares his life and saves that of the student revolutionary who has captured the heart of Valjean's adopted daughter. His world-view shattered, Javert commits suicide, and Valjean at last attains the peace he has sought for so long.Epic, grand and uplifting, LES MISÉRABLES packs an emotional wallop that has thrilled audiences all over the world. The sung-through pop opera is ideal for a cast of exceptional singers and overflows with melodies that are already standards. A spectacle on Broadway and in London, LES MISÉRABLES is equally effective with a minimal set; it is its powerful affirmation of the human spirit that has made LES MISÉRABLES a popular masterpiece.
Click Here for More Information
INTO THE WOODS
UTAH SHAKESPEARE FESTIVAL
6/24-8/30/2014
The Brothers Grimm
hit Broadway with an epic fairytale where worlds collide.
James Lapine
and
Stephen Sondheim
take everyone's favorite storybook characters and brings them together for a timeless yet relevant piece and rare modern classic.The story follows a Baker and his wife who wish to have a child, Cinderella who wishes to attend the King's Festival, and Jack who wishes his cow would give milk. When the Baker and his wife learn that they cannot have a child because of a Witch's curse, the two set off on a journey to break the curse. Everyone's wish is granted, but the consequences of their actions return to haunt them later with disastrous results.One of Sondheim's most popular works, INTO THE WOODS is a musically sophisticated show with the opportunity to feature actors adept at dark comedy. Designers will especially enjoy highlighting the fantastical elements of this magical word.
Click Here for More Information
View All Show Listings for Salt Lake City
Click Here to View BroadwayWorld.com Salt Lake City Calendar
Related Articles
From This Author BWW