Click Here for More Articles on STUDENT CENTER - HIGH SCHOOL EDITION
BWW Review: Desert Stages Theatre Opens the Humorous MONTY PYTHON'S SPAMALOT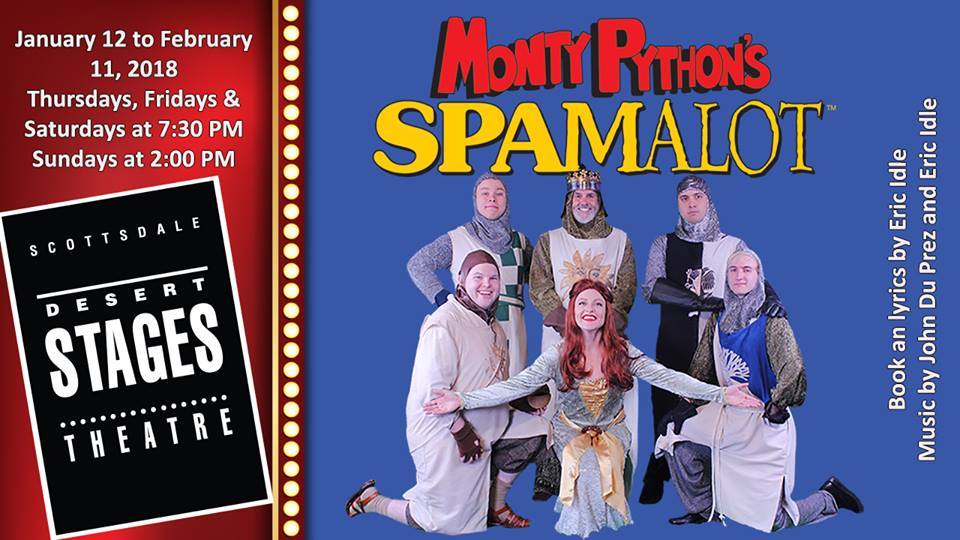 Desert Stages Theatre opened MONTY PYTHON'S SPAMALOT this Friday, January 12th, a musical cited as "lovingly ripped off" from "Monty Python and the Holy Grail". Directed by Dan Ashlock Jr., this comedy had the audience roaring with laughter, eyes brimmed with tears.
A show stock-full of characters that face a variety of their own personal struggles join King Arthur on a noble quest to find the Holy Grail. They encounter several mythical creatures, such as the Lady of the Lake, and The Knights of Ni, who assign them several odd and ridiculous challenges in exchange for their freedom and ability to make it out of their territory. As some characters fall in love and some perish, others bear witness to these various strange events.
Desert Stages' Cullity Hall, housing 219 seats, provides an adequate, large, and awe-inspiring setting to SPAMALOT. Set in the Middle Ages, the set of SPAMALOT features a large castle that unfolds and re-configures to provide a large working space for several different parts of the story. From various windows, to platforms, to doors and places for puppets, the set of SPAMALOT (designed by Dan Ashlock and Lindsey Ihrig) is resourceful, unexpected and innovative.
Leading the show is King Arthur (Ted Frumkin), accompanied by his right-hand-man, Patsy (Eric Bond). While defying odds and completing acts of valor, both men bring marvelous talent to the stage, especially during "I'm All Alone". The song features King Arthur, mourning over himself and how he has no one to conquer life with, only to recall that Patsy, who he considers family, has been by his side the entire time.
Other stand-out performances can be credited to those of Prince Herbert (Jonathan Perry), who awaits his "true love" while singing "Where Are You?". He is astonished when another man enters his chamber, who he quickly falls in love with. The ensemble crashes onto the stage wearing tight, sparkly pants. The talented cast puts on a memorable performance of "His Name is Lancelot", revolving around Sir Lancelot (Paul Hartwell). The cast throws the audience into fits of laughter and by the end of the number, have the entire house clapping along with them. Not to mention, throughout the show, the Lady of the Lake (Katherine Martin) dazzles with her spectacular and beautiful voice, leaving the audience longing for more.

MONTY PYTHON'S SPAMALOT is an outrageously amusing musical fit for an older audience. It runs at Desert Stages Theatre from January 12th to February 11th. Tickets are available at desertstages.org.
Photo Credit: Renee Ashlock
SaveSave
Related Articles
Emma Suttell is a sophomore in Phoenix, Arizona who is actively involved in the theatre community and journalism industry. She has been performing since 2009 (read more...)