Now Playing Onstage in Maine - Week of 4/14/2013
View All Show Listings for Maine
Click Here to View BroadwayWorld.com Maine Calendar
SONGS FOR A NEW WORLD
BOWDOIN COLLEGE CURTAIN CALLERS
4/19-4/20/2013
Jason
Robert Brown
says, "it's about one moment. It's about hitting the wall and having to make a choice, or take a stand, or turn around and go back." These are the stories and characters of today, the SONGS FOR A NEW WORLD.Brown transports his audience from the deck of a 1492 Spanish sailing ship to a ledge 57 stories above Fifth Avenue to meet a startling array of characters ranging from a young man who has determined that basket-ball is his ticket out of the ghetto to a woman whose dream of marrying rich nabs her the man of her dreams and a soulless marriage. With a small, powerhouse multi-ethnic cast and a driving, exquisitely crafted score running the gamut of today's popular music, SONGS FOR A NEW WORLD is a great way to bring the next generation into the theatre.
Click Here for More Information
NEW WORKS FESTIVAL
Strider Theater
4/18-4/21/2013
What does the future of live performance look like? Catch a glimpse at the 2012 New Works Festival, where emerging playwrights, choreographers, actors, dancers and designers all strut their stuff over the course of four performances on Strider. This year's showcase also features a world premiere by Theater and Dance faculty member Annie Kloppenberg.
Click Here for More Information
LOVE / SICK
Portland Stage
3/26-4/21/2013
Main Stage: -
John Cariani
.
Click Here for More Information
FIDDLER ON THE ROOF
MONMOUTH COMMUNITY THEATRE
4/12-4/21/2013
In the
Little Village
of Anatevka, Tevye, a poor dairyman, tries to instill in his five daughters the traditions of his tight-knit Jewish community in the face of changing social mores and the growing anti-Semitism of Czarist Russia. Rich in historical and ethnic detail, FIDDLER ON THE ROOF has touched audiences around the world with its humor, warmth and honesty. The universal theme of tradition cuts across barriers of race, class, nationality and religion, leaving audiences crying tears of laughter, joy and sadness.The show features a star turn in Tevye, among the most memorable roles in musical theatre. Original director/choreographer
Jerome Robbins
' staging is legendary, and available from MTI in a comprehensive choreographic guide. Its celebrated score by
Jerry Bock
and
Sheldon Harnick
, features songs loved the world over: "Sunrise, Sunset," "If I Were A Rich Man" and "Matchmaker," to name a few. FIDDLER ON THE ROOF is simply Broadway at its very best.
Click Here for More Information
LOVE / SICK
Portland Stage
3/26-4/21/2013
Main Stage: -
John Cariani
.
Click Here for More Information
THE DROWSY CHAPERONE
LYRIC MUSIC THEATER
4/11-4/27/2013
A rare combination of unprecedented originality and blinding talent, THE DROWSY CHAPERONE boldly addresses a great unspoken desire in all of our hearts: to be entertained. If you've ever sat in a dark theatre and thought, "Dear Lord in heaven, please let it be good," this is the show for you!It all begins when a die-hard musical-theater fan plays his favorite cast album on his turntable, and the musical literally bursts to life in his living room, telling the rambunctious tale of a brazen Broadway starlet trying to find, and keep, her true love. Order your copy of "Showing Off with THE DROWSY CHAPERONE" - an informative DVD with advice and production tips from the show's authors and creative staff. Email licensing@mtishows.com to request your FREE copy!
Click Here for More Information
Roald Dahl
'S WILLY WONKA JR in Broadway" border="0" bheight="100" width="100" align="right">
Roald Dahl'S WILLY WONKA JR
OUR THEATRE COMPANY
4/13-4/28/2013
Roald Dahl
's timeless story of the world-famous candy man and his quest to find an heir comes to life in this stage adaptation of Charlie and the Chocolate Factory, which features the songs from the classic family film Willy Wonka and the Chocolate Factory.
Roald Dahl
's WILLY WONKA JR., featuring a memorable score by
Leslie Bricusse
(JEKYLL & HYDE, DOCTOR DOLITTLE) and
Anthony Newley
, follows enigmatic candy manufacturer Willy Wonka as he stages a contest by hiding five golden tickets in five of his scrumptious candy bars. Whoever comes up with these tickets will win a free tour of the Wonka factory, as well as a lifetime supply of candy. Four of the five winning children are insufferable brats: the fifth is a likeable young lad named Charlie Bucket who takes the tour in the company of his equally amiable grandfather. The children must learn to follow Mr. Wonka's rules in the factory--or suffer the consequences.This scrumdidilyumptious musical is guaranteed to delight everyone's sweet tooth. With this show's flexible cast size, featuring roles for all ages, your production will take audiences on a fantasy ride into the land of pure imagination!
Click Here for More Information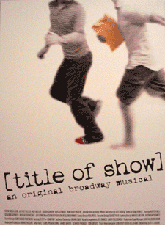 [TITLE OF SHOW]
Dramatic Repertory Company
4/11-6/9/2013
[title of show]Jeff and Hunter, two struggling writers, hear about a new musical theatre festival. However, the deadline for submissions is a mere three weeks away. With nothing to lose, the pair decides to try to create something new with the help of their friends Susan, Heidi and Larry on the eighty-eights. With the cast in place, Jeff and Hunter begin a conversation about what to write about. Eventually,
Jeff Sugg
ests they write about what to write about. They make a pact to write up until the
Click Here for More Information
View All Show Listings for Maine
Click Here to View BroadwayWorld.com Maine Calendar
Related Articles
From This Author BWW