Now Playing Onstage in Ft. Myers/Naples - Week of 12/09/2012
View All Show Listings for Ft. Myers/Naples
Click Here to View BroadwayWorld.com Ft. Myers/Naples Calendar
TALLEY'S FOLLY
Florida Repertory Theatre
11/27-12/16/2012
Winner of the Pulitzer Prize in Drama, Talleys Folly is a lyrical romance that follows the unlikely courtship of young Sally Talley and her much older Jewish suitor, Matt Friedman. Set in 1944, the play unfolds magically in a Victorian boathouse on the banks of the Missouri River. Matt arrives just at twilight to confess his love to a reluctant Sally, who believes she is no longer capable of loving, but in the play's final touching moments we see that these may be two kindred spirits.
Click Here for More Information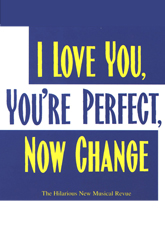 I LOVE YOU, YOU'RE PERFECT, NOW CHANGE
Broadway Palm Dinner Theatre
11/1-12/23/2012
This celebration of the mating game takes on the truths and myths behind that contemporary conundrum know as 'the relationship.' Act I explores the journey from dating and waiting to love and marriage, while Act II reveals the agonies and triumphs of in-laws and newborns, trips in the family car and pick-up techniques of the geriatric set. This hilarious revue pays tribute to those who have loved and lost, to those who have fallen on their face at the portal of romance, to those who have dared to ask, 'Say, what are you doing Saturday night?'Book and Lyrics by
Joe DiPietro
; Music by
Jimmy Roberts
For more information on Broadway Palm Dinner Theatre, click hereFor more information on I Love You, You're Perfect, Now Change, click here
Click Here for More Information
MIRACLE ON 34TH STREET
Broadway Palm Dinner Theatre
11/22-12/25/2012
The musical adaptation of a holiday classic comes to life on the Broadway Palm stage. A white-bearded man claims to be the real
Santa Claus
e and spreads a genuine wave of love throughout New York City bringing about an actual miracle on 34th Street. This dazzling musical is filled with humor, spectacle, beloved songs and is joyful entertainment for the entire family.
Click Here for More Information
FOREVER PLAID: PLAID TIDINGS
The Herb Strauss Theatre
12/17-12/31/2012
It will be a Plaid Christmas on Sanibel this holiday season. Forever Plaid: Plaid Tidings a musical revue by
Stuart Ross
, finds our favorite vocal group, The Plaids, visiting from Heaven to deliver some much-needed holiday cheer. Filled with Christmas standards that have all been "Plaid-erized," the boys' Christmas Special is packed with all your holiday favorites, including Let It Snow, I'll Be Home for Christmas, Carol of the Bells, It's Beginning to Look a Lot Like Christmas,
Santa Claus
is Coming to Town, Jingle Bells, and many more.
Click Here for More Information
View All Show Listings for Ft. Myers/Naples
Click Here to View BroadwayWorld.com Ft. Myers/Naples Calendar
Related Articles
From This Author BWW