Now Playing Onstage in Denver - Week of 10/14/2012
View All Show Listings for Denver
Click Here to View BroadwayWorld.com Denver Calendar
MEMPHIS
Denver Center for the Performing Arts - The Buell Theatre
10/10-10/21/2012
Turn up that dial...From the underground dance clubs of 1950s Memphis, Tennessee, comes a hot new Broadway musical that bursts off the stage with explosive dancing, irresistible songs and a thrilling tale of fame and forbidden love. Inspired by actual events, Memphis is about a white radio DJ who wants to change the world and a black club singer who is ready for her big break. Come along on their incredible journey to the ends of the airwaves — filled with laughter, soaring emotion and roof-raising rock 'n' roll.Winner of four 2010 Tony Awards® including Best Musical, Memphis, which played pre-Broadway at the
La Jolla Playhouse
, features a Tony®-winning book by
Joe DiPietro
(I Love You, You're Perfect, Now Change) and a Tony®-winning original score with music by Bon Jovi founding member
David Bryan
.Directing is Tony® nominee
Christopher Ash
ley (Xanadu), and choreography is by
Sergio Trujillo
(Jersey Boys).Get ready to experience Broadway's most exciting new destination — what AP calls "The very essence of what a Broadway musical should be.
Click Here for More Information
---
THE SLEEPING BEAUTY
Ellie Caulkins Opera House
10/5-10/21/2012
The Sleeping Beauty is one of the greatest classical ballets of all time, with renowned music and choreography. Sleeping Beauty is a timeless fairy tale of a princess under the spell of a wicked fairy, a prince who rescues her in the name of true love, and a happily ever after ending. The costumes and sets are rich and elegant and the story comes alive as a ballet set to the score by Pyotr Tchaikovsky and performed live by the Colorado Ballet Orchestra. This children's classic is for both young and old and the story is easy to follow through the choreography of Marius Petipa. Ballet fans as well as first time patrons will be amazed at the grandeur of this production on the Ellie Caulkins Opera House stage.
Click Here for More Information
---
MISS SAIGON
AVALON THEATRE, THE
10/19-10/21/2012
A classic love story is brought up-to-date in one of the most stunning theatrical spectacles of all time. In MISS SAIGON,
Alain Boublil
andClaude-Michel Schonberg (the creators of LES MISÉRABLES), along with
Richard Maltby
,Jr., bring Puccini's Madame Butterfly to the modern world in a moving testament to the human spirit and a scathing indictment of the tragedies of war. In the turmoil of the Vietnam War, an American soldier and a Vietnamese girl fall in love, only to be separated during the fall of Saigon. Their struggles to find each other over the ensuing years ends in tragedy for her and a fighting chance for the child he never knew he had. An international sensation, MISS SAIGON is an epic, daring pop opera that is universal in its emotional power even as it deals with controversial, contemporary issues. Its sung-through pop-inflected score gives a multi-ethnic cast of strong pop singers an opportunity to shine, in showstopping numbers like "I Still Believe," "Why God Why?" and "The American Dream." Meanwhile, its fluid cinematic structure gives directors and designers a field day. Raw and uncompromising, MISS SAIGON is an intensely personal story of the losses we suffer and the sacrifices we make in a world gone mad.
Click Here for More Information
---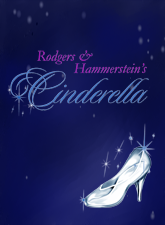 CINDERELLA
Damon Runyon
Repertory
10/12-10/21/2012
The timeless enchantment of a magical fairy tale is reborn with the Rodgers & Hammerstein hallmarks of originality, charm and elegance. Originally presented on television in 1957 starring
Julie Andrews
, Rodgers & Hammerstein's CINDERELLA was the most widely viewed program in the history of the medium. Its recreation in 1965 starring
Lesley
Ann Warren
was no less successful in transporting a new generation to the miraculous kingdom of dreams-come-true, and so was a second remake in 1997, which starred Brandy as Cinderella and
Whitney Houston
as her Fairy Godmother. As adapted for the stage, with great warmth and more than a touch of hilarity, the hearts of children and adults alike still soar when the slipper fits.Music by Rodgers, Richard; Book by
Oscar Hammerstein
II; Lyrics by
Oscar Hammerstein
IIFor more information on
Damon Runyon
Repertory, click hereFor more information on Cinderella, click here
Click Here for More Information
---
AVENUE Q
BOULDERS DINNER THEATRE
9/7-11/10/2012
AVENUE Q is the story of Princeton, a bright-eyed college grad who comes to New York City with big dreams and a tiny bank account. He soon discovers that the only neighborhood in his price range is Avenue Q; still, the neighbors seem nice. There's Brian the out-of-work comedian and his therapist fiancee Christmas Eve; Nicky the good-hearted slacker and his roommate Rod -- a Republican investment banker who seems to have some sort of secret; an Internet addict called
Trekkie Monster
; and a very cute kindergarten teaching assistant named Kate. And would you believe the building's superintendent is
Gary Cole
man?!? (Yes, that
Gary Cole
man.) Together, Princeton and his newfound friends struggle to find jobs, dates, and their ever-elusive purpose in life.
Click Here for More Information
---
View All Show Listings for Denver
Click Here to View BroadwayWorld.com Denver Calendar
Related Articles
From This Author BWW