Now Playing Onstage in Cleveland - Week of 6/01/2014
View All Show Listings for Cleveland
Click Here to View BroadwayWorld.com Cleveland Calendar
FOREVER PLAID
CARNATION CITY PLAYERS
5/30-6/8/2014
FOREVER PLAID is one of the most popular and successful musicals in recent memory. This deliciously goofy revue centers on four young, eager male singers killed in a car crash in the 1950's on the way to their first big concert, and now miraculously revived for the posthumous chance to fulfill their dreams and perform the show that never was. Singing in the closest of harmony, squabbling boyishly over the smallest intonations and executing their charmingly outlandish choreography with over-zealous precision, the "Plaids" are a guaranteed smash, with a program of beloved songs and delightful patter that keeps audiences rolling in the aisles when they're not humming along to some of the great nostalgic pop hits of the 1950's.
Click Here for More Information
MONTY PYTHON'S SPAMALOT
Showbiz Players, Inc.
5/30-6/8/2014
Click Here for More Information
FORBIDDEN BROADWAY'S GREATEST HITS, VOL. I
Brecksville Little Theatre
5/30-6/12/2014
Click Here for More Information
TARZAN
CLASS ACT DRAMA
6/5-6/14/2014
Based on Edgar Rice Burrough's Tarzan of the Apes and the smash-hit 1999 Disney animated film, TARZAN tells the story of an infant boy orphaned on the shores of West Africa. Taken in and raised by a tribe of gorillas, the young boy strives for acceptance by his ape father while grappling with his uniqueness. When a human expedition enters their territory, Tarzan - now a man - encounters strangers like himself for the first time. TARZAN features music and lyrics by pop icon
Phil Collins
, including the Grammy and Oscar winning song, "You'll Be in My Heart", and book by Tony Award-winning playwright,
David Henry Hwang
.
Click Here for More Information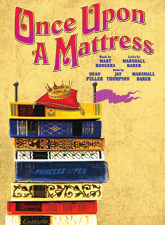 ONCE UPON A MATTRESS
Bucyrus Little Theatre
6/6-6/15/2014
If you thought you knew the story of 'The Princess and The Pea,' you may be in for a walloping surprise! Did you know, for instance, that Princess Winnifred actually swam the moat to reach Prince Dauntless the Drab? Or that Lady Larken's love for Sir Harry provided a rather compelling reason that she reach the bridal altar post haste? Or that, in fact, it wasn't the pea at all that caused the princess a sleepless night? Carried on a wave of wonderful songs, by turns hilarious and raucous, romantic and melodic, this rollicking spin on the familiar classic of royal courtship and comeuppance provides for some side-splitting shenanigans. Chances are you'll never look at fairy tales quite the same way again.Music by
Mary Rodgers
; Book by
Jay Thompson
&
Dean Fuller
&
Marshall Barer
; Lyrics by
Marshall Barer
Click Here for More Information
SHREK
PLAYERS GUILD THEATRE - CANTON PLAYERS GUILD
5/23-6/18/2014
SHREK THE MUSICAL, based on the Oscar® winningDreamWorks film that started it all, brings the hilarious story ofeveryone's favorite ogre to dazzling new life on the stage. Ina faraway kingdom turned upside down, things get ugly when an unseemlyogre "" not a handsome prince "" shows up to rescue a feisty princess.Throw in a donkey who won't shut up, a bad guy with a SHORT temper, acookie with an attitude and over a dozen other fairy tale misfits, andyou've got the kind of mess that calls for a real hero. Luckily,there's one on hand...and his name is Shrek. Full of all-new songs, great dancing and breathtaking scenery, SHREK THE MUSICAL is part romance, part twisted fairy tale and all irreverent fun for everyone!**AVAILABLE FOR LICENSES FOR PERFORMANCES BEGINNING JUNE 2013**
Click Here for More Information
THE 25TH ANNUAL PUTNAM COUNTY SPELLING BEE
FINE ARTS ASSOCIATION
6/6-6/22/2014
Six young people in the throes of puberty, overseen by grown-ups who barely managed to escape childhood themselves, learn that winning isn't everything and that losing doesn't necessarily make you a loser.THE 25TH ANNUAL PUTNAM COUNTY SPELLING BEE is a hilarious tale of overachievers' angst chronicling the experience of six adolescent outsiders vying for the spelling championship of a lifetime. The show's Tony Award winning creative team has created the unlikeliest of hit musicals about the unlikeliest of heroes: a quirky yet charming cast of outsiders for whom a spelling bee is the one place where they can stand out and fit in at the same time.
Click Here for More Information
YOUNG FRANKENSTEIN
TOLEDO REPERTOIRE THEATRE
6/6-6/22/2014
IT'S ALIVE! From the creators of the record-breaking Broadway sensation THE PRODUCERS comes this monster new musical comedy.With such memorable tunes as "The Transylvania Mania," "He Vas My Boyfriend" and "Puttin' On The Ritz," YOUNG FRANKENSTEIN is scientifically-proven, monstrously good entertainment"¦and the only place you'll witness a singing and dancing laboratory experiment in the largest tuxedo ever made.
Click Here for More Information
View All Show Listings for Cleveland
Click Here to View BroadwayWorld.com Cleveland Calendar
Related Articles
From This Author BWW