Now Playing Onstage in Central Pennsylvania - Week of 10/20/2018
View All Show Listings for Central Pennsylvania
Click Here to View BroadwayWorld.com Central Pennsylvania Calendar
CARLA COOKE'S ULTIMATE SAM COOKE EXPERIENCE
The Rrazz Room New Hope at Clarion Hotel
10/21-10/21/2018
Sunday, October 21 Showtime: 7:00PM Tickets – $30.00 Gen Adm / $35.00 Day of Show Born Of A Legend: CARLA COOKE Sings The Ultimate SAM COOKE Experience Carla Cooke is the youngest daughter of the Legendary Sam Cooke. Carla's future mirrors the image of her father. Carla crafted her sound in the church similar to her dad and never sought to use her father's name but to build her own reputation as many do. Now the younger Cooke knows her father's roots are so deep that Carla has become her own person and connects with her roots through her father's music. Carla Cooke's style is diverse in Gospel, Christian, R&B, Soul, Pop and the contemporary sound that embraces today's culture. Carla has the flavor of longevity that will maintain a fan and consumer base to make hits. With a strong vocal range and warm personality, Carla's stage presence commands the environment wherever she performs. Carla has performed in concert with the Legendary Four Tops and Freda Payne, musical performances at Festivals and various venues throughout the United States.
Click Here for More Information
JEKYLL & HYDE: THE MUSICAL
Harrisburg Christian Performing Arts Center
10/19-10/21/2018
MIDDLETOWN, PA (September 25, 2018) The epic struggle between good and evil comes to life on stage in the musical phenomenon, Jekyll & Hyde: The Musical at Harrisburg Christian Performing Arts Center(HCPAC). An evocative tale of two men – one, a doctor, passionate and romantic; the other, a terrifying madman – and two women – one, beautiful and trusting; the other, beautiful and trusting only herself– both women in love with the same man and both unaware of his dark secret. A devoted man of science, Dr. Henry Jekyll is driven to find a chemical breakthrough that can solve some of mankind's most challenging medical dilemmas. Rebuffed by the powers that be, he decides to make himself the subject of his own experimental treatments, accidentally unleashing his inner demons along with the man that the world would come to know as Mr. Hyde. Based on the classic story by Robert Louis Stevenson and featuring a thrilling score of pop rock hits from multi-Grammy- and Tony-nominated Frank Wildhorn and double-Oscar- and Grammy-winning Leslie Bricusse, Jekyll & Hyde: The Musical has mesmerized audiences the world over. Performances at HCPAC run October 19-21. Tickets are available online: www.thehcpac.org. Director Richard P. Foster leads the multi-generational cast at HCPAC that includes several recent Apollo Award nominees and winners; Jessica Mowery (2018 WINNER - Outstanding Supporting Actress in a Musical), Caleb Steindel (2018 Nominee - Outstanding Support Actor in a Musical), Julia Voyack (2018 Nominee Outstanding Supporting Actress in a Musical) and Joel Colvin (2016 Nominee Outstanding Featured Performer in a Play).
Click Here for More Information
ALL IN THE TIMING BY DAVID IVES
HACC Department of Theatre
10/19-10/21/2018
Winner of the John Gassner Playwrighting Award, this critically acclaimed, award-winning evening of comedies combines wit, intellect, satire and just plain fun. From monkeys typing "Hamlet" to the misadventures of dating, these six hilarious vignettes will aerobicize your brain and tickle your heart. Directed by Dave Olmsted
Click Here for More Information
JIM MESSINA
Rose Lehrman Arts Center
10/24-10/24/2018
Click Here for More Information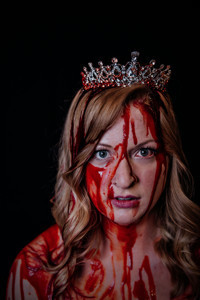 CARRIE THE MUSICAL
Open Stage of Harrisburg
9/29-10/26/2018
book by Lawrence D. Cohen lyrics by Dean Pitchford music by Michael Gore based on the novel by Stephen King September 29 - October 26, 2018 sponsored by Miles Babin directed by Stuart Landon Stephen King's tale of Carrie White, who is hounded and bullied at school and abused by her zealot mother. But Carrie's just discovered she's got a special power, and if pushed too far, she's not afraid to use it. "Welcome to the prom, Carrie. They're not going to laugh at you now …this infamous rock musical about a telekinetic teen has the strange power to move you. The new and improved Carrie is gripping." - Time Out New York PERFORMANCE SCHEDULE: Evenings at 7:30pm: September 29 and October 5, 6, 11, 12, 13, 18, 19, 25, 26 Matinees at 2:00pm: September 30, October 7 & 14 Special Event: October 20 at 7:30 "Prom Night" party with late night showing of Carrie at 9:00pm ?CONTENT ADVISORY: Carrie features strong language, violence, and graphic imagery that may be disturbing to some audiences. There is depiction of abuse and bullying that some may find emotionally triggering. Viewer discretion is advised. We recommend that guests be at least 14 years old to attend a performance of Carrie.
Click Here for More Information
BE MORE CHILL
Schumo Theater
10/19-10/27/2018
The original version produced with permission from R&H. Full musical production (yes, we even have a theremin) comes to life in the new Schumo Theater! With age appropriate casting, 4 giant cell phones and lighting by Arethusa Design. This amazing, important show is called by some, "This generation's RENT" About the show: "It's called a Squip. A tiny supercomputer inside a pill. Swallow one and a personalized voice will tell you how to dress, how to speak, how to… become cool. Jeremy Heere is your average, nothing-special teenager at Middleborough High in nothing-special New Jersey... until the day he finds out about "The Squip." Thus begins a journey that pits Jeremy's desire to be popular against his struggle to remain true to his authentic self. "Be More Chill is an honest, edgy, super-hilarious look at coming of age in the digital age, set to some of the most exciting songs in contemporary musical theater. This original musical comedy looks at modern issues like depression, bullying, and anxiety through the lens of sci-fi films of the 50s, horror flicks of the 80s, and teen movies of the 90s. Little Shop of Horrors meets The Breakfast Club in this celebration of outcasts, teenaged or otherwise. Based on the cult sensation novel by Ned Vizzini, Be More Chill is already beloved by millions of theater fans because of its best-selling Billboard Top 10 cast recording. Come see what all the fuss is about..." - From Be More Chill about the show NYC 2018
Click Here for More Information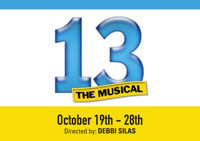 13: THE MUSICAL
1st Street Players
10/19-10/28/2018
Geek. Poser. Jock. Beauty Queen. Wannabe. These are the labels that can last a lifetime. With an unforgettable rock score from Tony Award-winning composer, Jason Robert Brown, (Parade, The Last Five Years, Bridges of Madison County) 13 is a musical about fitting in – and standing out! ? Evan Goldman is plucked from his fast-paced, preteen New York City life and plopped into a sleepy Indiana town following his parents divorce. Surrounded by an array of simpleminded middle school students, he needs to establish his place in the popularity pecking order. Can he situate himself on a comfortable link of the food chain... or will he dangle at the end with the outcasts?!?
Click Here for More Information
THE MAN WHO CAME TO DINNER
Reverie Actor's Company / Trust Center
10/25-11/3/2018
Reverie Actor's Company is a boutique theatre company in Lancaster, PA focusing on simple storytelling for the opportunity to revisit classic works. Dan Deal and Ryan B. Gibbs co-direct their premiere production of the Kaufman and Hart comedy The Man Who Came To Dinner opening October 25th and running till November 3rd at the Trust Center in Downtown Lancaster, PA. Set at Christmas Time, 1939 in Mesalia Ohio, the Reverie Actor's Company presentation of this witty madcap comedy is filled with fascinating characters winking homage to popular culture of the era with a message that still rings true today. This absolute American classic features a celebrity houseguest named Sheldon Whiteside who quickly wears out his welcome by wreaking havoc in the lives of his hosts whilst unknowingly changing the game for himself. The Man Who Came to Dinner is a comedy in three acts by George S. Kaufman and Moss Hart. It debuted on October 16, 1939, at the Music Box Theatre in New York City, where it ran until 1941. A film was made by the same name in 1942 starring Betty Davis. It was revived on Broadway in 1980 and again in 2000 (starring Nathan Lane as Whiteside.) Kaufman and Hart have many famous collaborations but are best known for their American perennial You Can't Take It With You. LEARN MORE AT WWW,REVERIEACTORSCOMPANY.COM
Click Here for More Information
HEDWIG AND THE ANGRY INCH
Ephrata Performing Arts Center
10/18-11/3/2018
Hedwig and the Angry Inch is a gender-bent musical by John Cameron Mitchell with music and lyrics by Stephen Trask. Hedwig Robinson is a transgender punk rocker from East Germany who goes on a U.S. tour with her band, The Angry Inch. During the performances, Hedwig tells the story of her life: her transition from the boy Hansel into the woman Hedwig, her botched sex-change operation, her former lover and band-mate that stole her music for fame, her marriage to Yitzhak the ex-drag performer (who is also her talented back-up singer), and everything in between. Hedwig explores her journey to fame, the origins of love, and her own identity.
Click Here for More Information
View All Show Listings for Central Pennsylvania
Click Here to View BroadwayWorld.com Central Pennsylvania Calendar
Related Articles View More Central Pennsylvania

Stories

Shows
More Hot Stories For You