Now Playing Onstage in Raleigh - Week of 10/28/2012
View All Show Listings for Raleigh
Click Here to View BroadwayWorld.com Raleigh Calendar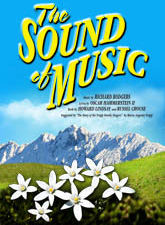 THE SOUND OF MUSIC
Encore Theatre Company
10/26-11/3/2012
The final collaboration between Rodgers & Hammerstein was destined to become the world's most beloved musical. When a postulant proves too high-spirited for the religious life, she is dispatched to serve as governess for the seven children of a widowed naval Captain. Her growing rapport with the youngsters, coupled with her generosity of spirit, gradually captures the heart of the stern Captain, and they marry. Upon returning from their honeymoon they discover that Austria has been invaded by the Nazis, who demand the Captain's immediate service in their navy. The family's narrow escape over the mountains to Switzerland on the eve of World War II provides one of the most thrilling and inspirational finales ever presented in the theatre. The motion picture version remains the most popular movie musical of all time.Music by Rodgers, Richard; Lyrics by
Oscar Hammerstein
II; Book by
Howard Lindsay
&
Russel Crouse
; Suggested by For more information on Encore Theatre Company, click hereFor more information on The Sound of Music, click here
Click Here for More Information
---
I HATE HAMLET
North Raleigh Arts & Creative Theatre
10/19-11/4/2012
A young and successful television actor relocates to New York, where he rents a marvelous, gothic apartment. With his television career in limbo, the actor is offered the opportunity to play Hamlet onstage, but there's one problem: He hates Hamlet. His dilemma deepens with the entrance of
John Barrymore
's ghost, who arrives intoxicated and in full costume to the apartment that once was his. The contrast between the two actors, the towering, dissipat
Ed Barry
more whose Hamlet was the greatest of his time, and Andrew Rally, hot young television star, leads to a wildly funny duel over women, art, success, duty, television, and yes, the apartment.
Click Here for More Information
---
THE LEADER
Bare Theatre
10/25-11/11/2012
Bare Theatre presents a mix of shorts that portray the role of leaders in society. With one of the most decisive elections in United States history approaching, Bare Theatre uses
Eugene Ionesco
's 1953 absurdist comedy The Leader as the centerpiece of a collection of pieces to capture the sometimes humorous, sometimes disturbing implications of following a leader. This bizarre story raises questions about human nature and leadership without being specific to time, place, or person. The original collection will feature, in addition to the Ionesco play and other vignettes: clowns performing TSA-style security checkpoints, a brief look at the most impactful leaders in world history, a presentation on "The Anatomy of a Leader," fun with lemmings, and a choreographed game of "king of the hill" with sinister turns.
Click Here for More Information
---
SHINING CITY
Burning Coal Theatre Company
11/1-11/18/2012
An Irish ghost story by the author of The Weir, The Seafarer and St. Nicholas. Ian has opened his new office in a hip part of Dublin and is waiting for his first client, John. But when John arrives, he brings with him a story that will challenge everything Ian believes, and alter both men's lives forever.
Click Here for More Information
---
View All Show Listings for Raleigh
Click Here to View BroadwayWorld.com Raleigh Calendar
Related Articles
From This Author BWW