Now Playing Onstage in Phoenix - Week of 11/11/2012
View All Show Listings for Phoenix
Click Here to View BroadwayWorld.com Phoenix Calendar
SEUSSICAL
CREATIVE STAGES YOUTH THEATRE
11/9-11/17/2012
Now one of the most performed shows in America, SEUSSICAL is a fantastical, magical, musical extravaganza! Tony winners
Lynn Ahrens
and
Stephen Flaherty
(LUCKY STIFF, MY FAVORITE YEAR, ONCE ON THIS ISLAND, and RAGTIME) have lovingly brought to life all of our favorite
Dr. Seuss
characters, including Horton the Elephant, The Cat in the Hat, Gertrude McFuzz, lazy Mayzie, and a little boy with a big imagination--Jojo. "Oh, the Thinks You Can Think" captures the show's spirit of imagination, as the colorful characters transport us from the Jungle of Nool to the Circus McGurkus to the invisible world of the Whos.The story centers around Horton the Elephant, who finds himself faced with a double challenge--not only must he protect his tiny friend Jojo (and all the invisible Whos) from a world of naysayers and dangers, but he must guard an abandoned egg, left to his care by the irresponsible Mayzie La Bird. Although Horton faces ridicule, danger, kidnapping and a trial, the intrepid Gertrude McFuzz never loses faith in him, the only one who recognizes "his kind and his powerful heart." Ultimately, the powers of friendship, loyalty, family and community are challenged and emerge triumphant, in a story that makes you laugh and cry. For complete information on this and other Ahrens and Flaherty shows, as well as link
Click Here for More Information
---
GODSPELL
SCOTTSDALE COMMUNITY COLLEGE
11/14-11/17/2012
Conceived and originally directed by John Michael Tebelak, with music and new lyrics by
Stephen Schwartz
, GODSPELL is one of the biggest off-Broadway and Broadway successes of all time.Based on the Gospel According to
St. Matthew
, and featuring a sparkling score by
Stephen Schwartz
, GODSPELL boasts a string of well-loved songs, led by the international hit, "Day By Day." As the cast performs "Prepare Ye The Way Of The Lord," "Learn Your Lessons Well," "All For The Best," "All Good Gifts," "Turn Back, O Man" and "By My Side," the parables of Jesus Christ come humanly and hearteningly to life.Drawing from various theatrical traditions, such as clowning, pantomime, charades, acrobatics and vaudeville, GODSPELL is a groundbreaking and unique reflection on the life of Jesus, with a message of kindness, tolerance and love.GODSPELL RETURNS Visit the official Godpell on Broadway site for tickets and more information on this new production.
Click Here for More Information
---
FOREVER PLAID
GRACE ARTS LIVE
11/2-11/18/2012
FOREVER PLAID is one of the most popular and successful musicals in recent memory. This deliciously goofy revue centers on four young, eager male singers killed in a car crash in the 1950's on the way to their first big concert, and now miraculously revived for the posthumous chance to fulfill their dreams and perform the show that never was. Singing in the closest of harmony, squabbling boyishly over the smallest intonations and executing their charmingly outlandish choreography with over-zealous precision, the "Plaids" are a guaranteed smash, with a program of beloved songs and delightful patter that keeps audiences rolling in the aisles when they're not humming along to some of the great nostalgic pop hits of the 1950's.
Click Here for More Information
---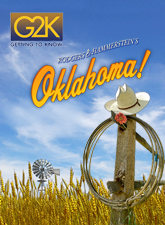 OKLAHOMA!
Arizona Broadway Theatre
10/19-11/18/2012
The 'G2K' Getting To Know Series: Uniquely adapted musicals specifically for youth performers.
Rodgers & Hammerstein
's first collaboration remains, in many ways, their most innovative, having set the standards and established the rules of musical theatre still being followed today. Set in a Western Indian territory just after the turn of the century, the high-spirited rivalry between the local farmers and cowboys provides the colorful background against which Curly, a handsome cowboy, and Laurey, a winsome farm girl, play out their love story. Although the road to true love never runs smooth, with these two headstrong romantics holding the reins, love's journey is as bumpy as a surrey ride down a country road. That they will succeed in making a new life together we have no doubt, and that this new life will begin in a brand-new state provides the ultimate climax to the triumphant OKLAHOMA! In this adaptation for pre-high school students, the content has been edited to better suit younger attention spans, but all the elements that make this show a classic are still in place. You and your students will be enchanted by the timeless story and the dazzling score, while at the same time learning about theater and its production. PLEASE NOTE: All schools wishing to peruse or perform a G2K musical should apply through theMusic by Rodgers, Richard; Book and Lyrics by
Oscar Hammerstein
II; Based on the play GREEN GROW THE LILACS by
Lynn Riggs
; Original Dances by
Agnes De Mille
For more information on Arizona Broadway Theatre, click hereFor more information on Oklahoma!, click here
Click Here for More Information
---
ANYTHING GOES
The Music Hall
11/20-11/25/2012
As the S.S. American heads out to sea, two unlikely pairs set off on the course to true love…proving that sometimes destiny needs a little help from a crew of singing sailors, an exotic disguise and some good old-fashioned blackmail. Peppering this hilariously bumpy ride are some musical theatre's most memorable standards, including "I Get A Kick out of You," "It's De-lovely" and of course, "Anything Goes."
Click Here for More Information
---
View All Show Listings for Phoenix
Click Here to View BroadwayWorld.com Phoenix Calendar
Related Articles
From This Author BWW