Now Playing Onstage in Dallas - Week of 8/31/2014
View All Show Listings for Dallas
Click Here to View BroadwayWorld.com Dallas Calendar
DISNEY'S MY SON PINOCCHIO JR
ARTS AVENUE FOR KIDS
9/3-9/3/2014
Click Here for More Information
INTO THE WOODS
DAWSON HIGH SCHOOL
8/28-9/6/2014
Click Here for More Information
TICK TICK BOOM!
EL PASO COMMUNITY COLLEGE
6/26-9/6/2014
Click Here for More Information
GODSPELL
BAY AREA THEATRE & VOICE ACADEMY
9/5-9/7/2014
Click Here for More Information
EDGES
EL PASO COMMUNITY COLLEGE
6/18-9/7/2014
Click Here for More Information
ONCE ON THIS ISLAND JR
PLANO CHILDRENS THEATRE DBA MCKINNEY YOUTH THEATRE
9/5-9/13/2014
Click Here for More Information
BREAKING UP IS HARD TO DO
Plaza Theatre Company
8/15-9/13/2014
Click Here for More Information
THE SOUND OF PLAID: THE GLEE CLUB VERSION
HIGHLAND PARK HIGH SCHOOL
9/6-9/14/2014
Click Here for More Information
FIDDLER ON THE ROOF
LYRIC STAGE
9/5-9/14/2014
In the little village of Anatevka, Tevye, a poor dairyman, tries to instill in his five daughters the traditions of his tight-knit Jewish community in the face of changing social mores and the growing anti-Semitism of Czarist Russia. Rich in historical and ethnic detail, FIDDLER ON THE ROOF has touched audiences around the world with its humor, warmth and honesty. The universal theme of tradition cuts across barriers of race, class, nationality and religion, leaving audiences crying tears of laughter, joy and sadness.The show features a star turn in Tevye, among the most memorable roles in musical theatre. Original director/choreographer
Jerome Robbins
' staging is legendary, and available from MTI in a comprehensive choreographic guide. Its celebrated score by
Jerry Bock
and
Sheldon Harnick
, features songs loved the world over: "Sunrise, Sunset," "If I Were A Rich Man" and "Matchmaker," to name a few. FIDDLER ON THE ROOF is simply Broadway at its very best.
Click Here for More Information
SWEENEY TODD
ORANGE COMMUNITY PLAYERS
9/4-9/14/2014
Click Here for More Information
GUYS & DOLLS
CRIGHTON COMMUNITY PLAYHOUSE
8/29-9/20/2014
Set in
Damon Runyon
's mythical New York City, this oddball romantic comedy - considered by many to be the perfect musical comedy - soars with the spirit of Broadway as it introduces us to a cast of vivid characters who have become legends in the canon:
Sarah Brown
, the upright but uptight "mission doll," out to reform the evildoers of Time Square; Sky Masterson, the slick, high-rolling gambler who woos her on a bet and ends up falling in love; Adelaide, the chronically ill nightclub performer whose condition is brought on by the fact she's been engaged to the same man for 14 years; and Nathan Detroit, her devoted fiance, desperate as always to find a spot for his infamous floating crap game.Everything works out in the end, thanks to the machinations of
Abe Burrows
and
Jo Swerling
's hilarious, fast-paced book and
Frank Loesser
's bright, brassy, immortal score, which takes us from the heart of Times Square to the cafes of Havana, Cuba, and even into the sewers of New York City. Funny and romantic, GUYS AND DOLLS is ideal for audiences and performers of any age.
Click Here for More Information
HAIRSPRAY
4 KIDZ SAKE OF WICHITA FALLS,INC
8/22-9/20/2014
The 1950's are out and change is in the air! HAIRSPRAY, winner of 8 Tony Awards including Best Musical, is a family-friendly musical piled bouffant high with laughter, romance, and deliriously tuneful songs.It's 1962 in Baltimore, and the lovable plus-size teen Tracy Turnblad has only one desire -- to dance on the popular Corny Collins Show. When her dream comes true, Tracy is transformed from social outcast to sudden star. She must use her newfound power to dethrone the reigning Teen Queen, win the affections of heartthrob Link Larkin, and integrate a TV network, all without denting her 'do!HAIRSPRAY is ideal for a large cast of strong singers and dancers. It provides great opportunities in terms of set design, costuming, and lighting choices.
Click Here for More Information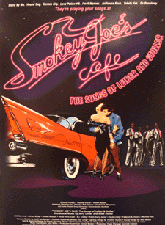 SMOKEY JOE'S CAFE - THE SONGS OF LEIBER AND STOLLER
Woodlawn Theatre
8/22-9/21/2014
Leiber and Stoller, as much as anyone, virtually invented rock 'n' roll, and now their songs provide the basis for an electrifying entertainment that illuminates a golden age of American culture. In an idealized '50's setting, the classic themes of love won, lost and imagined blend with hilarious set-pieces and slice-of-life emotions. Featuring nearly 40 of the greatest songs ever recorded, SMOKEY JOE'S CAFE isn't just great pop music - it's compelling musical theatre.Words and Music by Leiber & Stoller
Click Here for More Information
THE 25TH ANNUAL PUTNAM COUNTY SPELLING BEE
FRISCO COMMUNITY THEATRE
9/5-9/21/2014
Click Here for More Information
SHREK THE MUSICAL-TYA VERSION
MAGIK CHILDRENS THEATRE
8/15-9/27/2014
Click Here for More Information
NEXT TO NORMAL
ONSTAGE IN BEDFORD
9/4-9/28/2014
Click Here for More Information
URINETOWN
MIDLAND COMMUNITY THEATRE
9/5-9/28/2014
One of the most uproariously funny musicals in recent years, URINETOWN is a hilarious tale of greed, corruption, love, and revolution in a time when water is worth its weight in gold. In a Gotham-like city, a terrible water shortage, caused by a 20-year drought, has led to a government-enforced ban on private toilets. The citizens must use public amenities, regulated by a single malevolent company that profits by charging admission for one of humanity's most basic needs. Amid the people, a hero decides he's had enough, and plans a revolution to lead them all to freedom! Inspired by the works of
Bertolt Brecht
and
Kurt Weill
, URINETOWN is an irreverently humorous satire in which no one is safe from scrutiny. Praised for reinvigorating the very notion of what a musical could be, URINETOWN catapults the "comedic romp" into the new millennium with its outrageous perspective, wickedly modern wit, and sustained ability to produce gales of unbridled laughter.
Click Here for More Information
View All Show Listings for Dallas
Click Here to View BroadwayWorld.com Dallas Calendar
Related Articles
From This Author BWW