Now Playing Onstage in Connecticut - Week of 7/20/2014
View All Show Listings for Connecticut
Click Here to View BroadwayWorld.com Connecticut Calendar
NEXT TO NORMAL
The Brookfield Theatre for the Arts
7/4-7/26/2014
book & lyrics by
Brian Yorkey
music by
Tom Kitt
Directed by Michael Burnett Produced by Meg Jones and Janice Gabriel July 4-26 SHOWS: THURS., FRI., SAT. @ 8PM with matinees SUN. 7/13 & 7/20 @ 2PM Group Tickets (20+) and Gift Certificates are available by contacting press@brookfieldtheatre.org. Pulitzer-Prize winning rock musical NEXT TO NORMAL, with book and lyrics by
Brian Yorkey
and music by
Tom Kitt
, explores how one suburban household copes with crisis and mental illness. NEXT TO NORMAL tells the story of a mother, Diane Goodman, who struggles with bipolar disorder and the effect that her illness has on her family. This contemporary musical is an emotional powerhouse that addresses such issues as grieving a loss, ethics in modern psychiatry, and suburban life. With provocative lyrics and a thrilling score, this musical shows how far two parents will go to keep themselves sane and their family's world intact. STARRING Juliette Garrison Koch - Diana Chuck Stango - Dan Luke Garrison - Gabe Sydney Coelho - Natalie Matt Madden - Henry Keith Guinta - Dr. Madden
Click Here for More Information
GODSPELL-2012 REVISED VERSION
WETHERSFIELD TEEN THEATRE
7/24-7/26/2014
Click Here for More Information
Ivoryton Playhouse
7/2-7/27/2014
Click Here for More Information
SHREK
YOUNG PEOPLES CENTER FOR CREATIVE ARTS
7/24-7/27/2014
SHREK THE MUSICAL, based on the Oscar® winningDreamWorks film that started it all, brings the hilarious story ofeveryone's favorite ogre to dazzling new life on the stage. Ina faraway kingdom turned upside down, things get ugly when an unseemlyogre "" not a handsome prince "" shows up to rescue a feisty princess.Throw in a donkey who won't shut up, a bad guy with a SHORT temper, acookie with an attitude and over a dozen other fairy tale misfits, andyou've got the kind of mess that calls for a real hero. Luckily,there's one on hand...and his name is Shrek. Full of all-new songs, great dancing and breathtaking scenery, SHREK THE MUSICAL is part romance, part twisted fairy tale and all irreverent fun for everyone!**AVAILABLE FOR LICENSES FOR PERFORMANCES BEGINNING JUNE 2013**
Click Here for More Information
INTO THE WOODS JR
NEW BRITAIN YOUTH THEATER
7/25-7/27/2014
The Brothers Grimm
"go Broadway" as Sondheim and Lapine offer up a cockeyed fairy tale where all of your favorite characters""Cinderella, Little Red Riding Hood, Jack (and his beanstalk) and The Witch""meet and interact on their journeys. With unforgettable roles, little dancing and no chorus, INTO THE WOODS JR. showcases a medium-sized ensemble of talented singers and actors. The sophisticated score has been adapted to make it easier--though still challenging--for young performers. INTO THE WOODS JR. is a funny and engaging way to get young people to think about the stories with which they've grown up and the ethical issues raised therein.
Click Here for More Information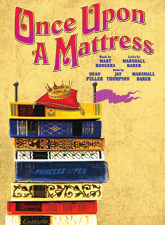 ONCE UPON A MATTRESS
Neighborhood Music School
7/29-7/31/2014
If you thought you knew the story of 'The Princess and The Pea,' you may be in for a walloping surprise! Did you know, for instance, that Princess Winnifred actually swam the moat to reach Prince Dauntless the Drab? Or that Lady Larken's love for Sir Harry provided a rather compelling reason that she reach the bridal altar post haste? Or that, in fact, it wasn't the pea at all that caused the princess a sleepless night? Carried on a wave of wonderful songs, by turns hilarious and raucous, romantic and melodic, this rollicking spin on the familiar classic of royal courtship and comeuppance provides for some side-splitting shenanigans. Chances are you'll never look at fairy tales quite the same way again.Music by
Mary Rodgers
; Book by
Jay Thompson
&
Dean Fuller
&
Marshall Barer
; Lyrics by
Marshall Barer
Click Here for More Information
JASON ROBARDS THEATER:
Westport Country Playhouse
7/15-8/2/2014
Nora
Ingmar Bergman
; dir:
David Kennedy
.
Click Here for More Information
LES MISERABLES
CENTER STAGE
7/25-8/2/2014
This international smash-hit may be the most popular musical in the world. In 19th century France, Jean Valjean is released from 19 years of unjust imprisonment, but finds nothing in store for him but mistrust and mistreatment. He breaks his parole in hopes of starting a new life, initiating a life-long struggle for redemption as he is relentlessly pursued by police inspector Javert, who refuses to believe Valjean can change his ways. Finally, during the Paris student uprising of 1832, Javert must confront his ideals after Valjean spares his life and saves that of the student revolutionary who has captured the heart of Valjean's adopted daughter. His world-view shattered, Javert commits suicide, and Valjean at last attains the peace he has sought for so long.Epic, grand and uplifting, LES MISÉRABLES packs an emotional wallop that has thrilled audiences all over the world. The sung-through pop opera is ideal for a cast of exceptional singers and overflows with melodies that are already standards. A spectacle on Broadway and in London, LES MISÉRABLES is equally effective with a minimal set; it is its powerful affirmation of the human spirit that has made LES MISÉRABLES a popular masterpiece.
Click Here for More Information
YOU'RE A GOOD MAN, CHARLIE BROWN
Castle Craig Players
7/25-8/3/2014
GOOD GRIEF! The Peanuts characters come to life on stage, as the Castle Craig Players revive their acclaimed production of the Tony Award-winning hit YOU'RE A GOOD MAN, CHARLIE BROWN. Based on the classic comic strips PEANUTS by Charles M. Schultz, this heart-warming musical is the perfect summer treat for the entire family! The show runs for two weekends only - July 25-August 3 - at the Almira F. Stephan Memorial Playhouse in Meriden! "How can anything go wrong on a day like this?" asks Charlie Brown as the curtain goes up. YOU'RE A GOOD MAN, CHARLIE BROWN answers this question and many more, as Lucy, Linus, Sally, Schroeder and Snoopy join the fun on "A day in the life of Charlie Brown." Full of music, humor, and insight, the stage musical tackles childhood's memorable moments that made the famous Peanuts gang a part of all our lives. Will this be the day that Charlie Brown actually flies his kite? Can Linus give up his blanket? Will Schroeder give in to Lucy's romantic advances? Will Snoopy ever defeat the Red Baron a top his doghouse? With book, music, and lyrics by Clark M. Gesner, Castle Craig's production features new music and lyrics by
Andrew Lippa
, and additional dialogue by
Michael Mayer
. The result is a musical family entertainment that could only have sprung from the mind of the one-and-only
Charles M. Schulz
. "This is a family show, not necessarily a children's show," says director Melanie Del Sole. "The Peanuts characters are kids, of course, and kids love them. But they deal with philosophy, psychology, sibling-rivalry, and even blanket-separation-anxiety! Trust me, there's plenty for adults to enjoy, too - there's a bit of these characters in every one of us!" The cast features
Ian Galligan
(Charlie Brown), Simone McMahon (Lucy), Art Canova (Linus), Jenny Del Sole (Sally), Jorge Melendez (Schroeder) and Wesley Tack (Snoopy). The show features music direction by Andrew Gadwah. YOU'RE A GOOD MAN, CHARLIE BROWN will be presented for six performances only - July 25-August 3 (Fridays and Saturdays at 7:30pm, Sundays at 2:00pm) at The Almira F. Stephan Memorial Playhouse, 59 West Main Street, Meriden, CT. Tickets are $20, and seating is extremely limited. Tickets may be purchased online at www.CastleCraig.org or over the phone by calling toll-free 1-800-838-3006.
Click Here for More Information
MARY POPPINS
LANDMARK COMMUNITY THEATRE
7/19-8/3/2014
Click Here for More Information
THE ADDAMS FAMILY
Connecticut Cabaret Theatre
7/25-8/30/2014
Click Here for More Information
FIDDLER ON THE ROOF
GOODSPEED OPERA HOUSE
6/27-9/13/2014
In the little village of Anatevka, Tevye, a poor dairyman, tries to instill in his five daughters the traditions of his tight-knit Jewish community in the face of changing social mores and the growing anti-Semitism of Czarist Russia. Rich in historical and ethnic detail, FIDDLER ON THE ROOF has touched audiences around the world with its humor, warmth and honesty. The universal theme of tradition cuts across barriers of race, class, nationality and religion, leaving audiences crying tears of laughter, joy and sadness.The show features a star turn in Tevye, among the most memorable roles in musical theatre. Original director/choreographer
Jerome Robbins
' staging is legendary, and available from MTI in a comprehensive choreographic guide. Its celebrated score by
Jerry Bock
and
Sheldon Harnick
, features songs loved the world over: "Sunrise, Sunset," "If I Were A Rich Man" and "Matchmaker," to name a few. FIDDLER ON THE ROOF is simply Broadway at its very best.
Click Here for More Information
View All Show Listings for Connecticut
Click Here to View BroadwayWorld.com Connecticut Calendar
Related Articles
From This Author BWW