Now Playing Onstage in Connecticut - Week of 2/16/2014
View All Show Listings for Connecticut
Click Here to View BroadwayWorld.com Connecticut Calendar
FINIAN'S RAINBOW JR
DAG HAMMARSKJOLD MIDDLE SCHOOL
2/19-2/22/2014
Click Here for More Information
SWEENEY TODD SCHOOL EDITION
ST LUKES SCHOOL
2/21-2/22/2014
This special School Edition has been masterfully adapted, working directly with Mr. Sondheim,to retain the dark wit and grand scope of the original work, with a fewlyric and key changes to facilitate high school productions.The rare instance of a musical thriller,
Stephen Sondheim
and
Hugh Wheeler
'schilling, suspenseful, heart-pounding masterpiece of murderousbarber-ism and culinary crime tells the infamous tale of the unjustlyexiled barber who returns to 19th century London seeking revengeagainst the lecherous judge who framed him and ravaged his young wife.His thirst for blood soon expands to include his unfortunate customers,and the resourceful proprietress of the pie shop downstairs soon hasthe people of London lining up in droves with her mysterious new meatpie recipe!Sophisticated, macabre, visceral and uncompromising, SWEENEY TODD SCHOOL EDITION mixes intense drama with howlingly funny moments of dark humor. Audiences find themselves laughing hysterically one moment and gasping in surprise the next. At the show's core is a challenging score of epic proportion with two tasty tour de force roles in Sweeney and his comic female accomplice Mrs. Lovett. SWEENEY TODD SCHOOL EDITION is sure to be the highlight of any high school's season.
Click Here for More Information
SEUSSICAL
CHASE COLLEGIATE SCHOOL
2/20-2/22/2014
Now one of the most performed shows in America, SEUSSICAL is a fantastical, magical, musical extravaganza! Tony winners
Lynn Ahrens
and
Stephen Flaherty
(LUCKY STIFF, MY FAVORITE YEAR, ONCE ON THIS ISLAND, and RAGTIME) have lovingly brought to life all of our favorite
Dr. Seuss
characters, including Horton the Elephant, The Cat in the Hat, Gertrude McFuzz, lazy Mayzie, and a little boy with a big imagination--Jojo. The colorful characters transport us from the Jungle of Nool to the Circus McGurkus to the invisible world of the Whos.The Cat in the Hat tells the story of Horton, an elephant who discovers a speck of dust containing Whos, including Jojo, a Who child sent off to military school for thinking too many "thinks." Horton faces a double challenge--not only must he protect the Whos from a world of naysayers and dangers, but he must guard an abandoned egg, left to his care by the irresponsible Mayzie La Bird. Although Horton faces ridicule, danger, kidnapping, and a trial, the intrepid Gertrude McFuzz never loses faith in him. Ultimately, the powers of friendship, loyalty, family, and community are challenged and emerge triumphant.SEUSSICAL is fun for the whole family! Performers of all ages will be excited to portray the characters from the familiar
Dr. Seuss
fables. This musical provides wonderful creative opportunities for set, lighting, and costume design.More Ahrens and FlahertyFor complet
Click Here for More Information
THE FAIRYTALE LIVES OF RUSSIAN GIRLS
Yale Repertory Theatre
1/31-2/22/2014
Yale Repertory Theatre
:
Meg Miroshnik
; dir:
Rachel Chavkin
.
Click Here for More Information
BRIGHTON BEACH MEMOIRS
Farmington Valley Stage Company
2/7-2/22/2014
Take two families, put them in cramped conditions under one roof during the Great Depression and what do you get? BRIGHTON BEACH MEMOIRS,
Neil Simon
's award-winning blend of comedy and conflict. Winner of the New York Drama Critic's Circle Award for Best Play 1983, it has been hailed as: "Simon's funniest, richest and, consequently, the most affecting of his plays" -New York Daily News Set in the Brighton Beach section of Brooklyn, New York in September 1937, this coming of age comedy focuses, thru the eyes of its narrator, 15-year old Eugene Morris Jerome (
Ian Galligan
of Meriden), writer-to-be and alternately perplexed and perceptive observer and guide, on life with the Jerome family. Eugene is a Polish Jewish American teenager who experiences puberty, sexual awakening and a search for identity as he tries to deal with his Depression-era family. Eugene, his parents, Kate (
Dawn Maselli
of Wethersfield) and Jack (
Roy Donnelly
of Unionville), and his brother Stanley (Ian Kaminski of Canton) have shared their home for the last three years with Kate's sister Blanche (
Virginia Wolf
of Farmington) and her two daughters Nora (
Emily Nyerick
of Southington) and Laurie (
McKari Dauch
of Wethersfield) since the death of their father. This extended family is troubled by illness, unemployment, poverty, deep resentments and foreboding signs of World War II, but as portrayed by
Neil Simon
, their lives are neither miserable or pitiful. The family meets their challenges with innocence, dignity, warmth, vigor and spirit, showing that life, at once humorous and poignant, is something to celebrate by all. "Simultaneously poignant and funny. An outstanding show!" - Variety. "A hilarious comedy... A delightful and enriching experience." -CBS-TV Under the direction of Bloomfield's Chris Bushey, BRIGHTON BEACH MEMOIRS will be performed February 7, 8, 14, 15, 21 & 22 at 8:00pm, and February 9 & 16 at 2:00pm, at the Canton Town Hall (4 Market Street, Collinsville, CT). Tickets are $25, and may be purchased online at www.FVStage.org.
Click Here for More Information
A YEAR IN THE DEATH OF EDDIE JESTER
The Suffield Players
2/6-2/22/2014
Forget your troubles and come get happy… at The Suffield Players production of A Year in the Death of Eddie Jester by T. Gregory Argall. Karen Balaska, Tim Glynn, Zach Gray, Shaun O'Keefe, Nicole Murray, Jessica Burkavage, Daniel Viets, and Amanda Marschall bring extraordinary humor, energy and timing to this fast-paced dark comedy for adults, directed by Roger A. Ochs in classic silent-screen and early 30's-film style. Inspired by the work of such folks as the Marx Brothers,
Jimmy Durante
and
Buster Keaton
, Mr. Ochs and company are creating a sure-fire hit on the stage of Mapleton Hall. Bring a handkerchief with which to dry your eyes for this one… there are plenty of laughs, and many touching moments, too. February.6, 7, 8, 14, 15, 21 and 22 at 8 pm and February 16 at 2 pm Mapleton Hall 1305 Mapleton Avenue Suffield CT 06078 Ticket Prices: $17 ($12 Opening Night) Discounts available for Groups, Seniors and Students, as well as for Season Subscribers For Reservations, call 800-289-6148 or 860-668-0837 or visit www.suffieldplayers.org **SPECIAL EVENT: ONE NIGHT ONLY!** The Suffield Players Announce "Conversation with the Author" Post-Show Discussion with T. Gregory Argall February 22, 2014 in Mapleton Hall Meet the author, T. Gregory Argall, as he joins our Cast and Director for a Conversation/ Q and A Session Saturday, February 22, After the Performance Mr. Argall will answer questions about the ideas behind the script, history of the play, and his inspiration for writing "Eddie Jester."
Click Here for More Information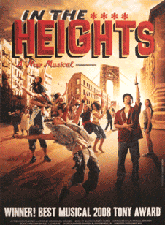 IN THE HEIGHTS
Pomfret School
2/21-2/23/2014
IN THE HEIGHTS tells the universal story of a vibrant community in New York?s Washington Heights neighborhood ? a place where the coffee from the corner bodega is light and sweet, the windows are always open and the breeze carries the rhythm of three generations of music. It?s a community on the brink of change, full of hopes, dreams and pressures, where the biggest struggles can be deciding which tradtions you take with you, and which ones you leave behind. IN THE HEIGHTS is the winner of the 2008 Tony Awards for Best Musical, Best Score, Best Choreography and Best Orchestrations. Music and Lyrics by
Lin-Manuel Miranda
; Book by Quiara Aleg
Click Here for More Information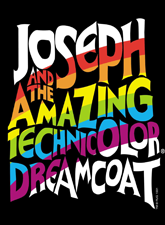 JOSEPH AND THE AMAZING TECHNICOLOR DREAMCOAT
VISTA Vocational & Life Skills Training Center
2/21-3/2/2014
The Biblical saga of Joseph and his coat of many colors comes to vibrant life in this delightful musical parable. Joseph, his father's favorite son, is a boy blessed with prophetic dreams. When he is sold into slavery by his jealous brothers and taken to Egypt, Joseph endures a series of adventures in which his spirit and humanity are continually challenged. He is purchased by Potiphar where thwarting advances from Potiphar's wife lands him in jail. When news of Joseph's gift to interpret dreams reaches the Pharaoh (wryly and riotously depicted as Elvis), Joseph is well on his way to becoming second in command. Eventually his brothers, having suffered greatly, unknowingly find themselves groveling at the feet of the brother they betrayed but no longer recognize. After testing their integrity, Joseph reveals himself leading to a heartfelt reconciliation of the sons of Israel. Set to an engaging cornucopia of musical styles, from country-western and calypso to bubble-gum pop and rock 'n' roll, this Old Testament tale emerges both timely and timeless.Lyrics by
Tim Rice
; Music by
Andrew Lloyd Webber
Click Here for More Information
THE FOREIGNER
Connecticut Theatre Company
2/14-3/2/2014
The Foreigner is a comedic play by
Larry Shue
set in a rural fishing lodge in Georgia. Froggy LeSeuer, a British explosives expert often visits the lodge while training nearby at an army base. On this particular visit, Froggy has brought along his friend Charlie. Charlie suffers from a crippling fear of making conversation with strangers. Before leaving Charlie at the lodge, Froggy tells all of the inhabitants that Charlie is from an exotic foreign country and does not speak English. Charlie quickly hears more than he should from the other inhabitants, as they believe he doesn't understand a word they are saying.
Click Here for More Information
NOISES OFF!
Little Theatre of Manchester
2/14-3/2/2014
Go behind the scenes - literally - as we watch one of the most inept theater companies on Earth try to stage a show, all the while battling clashing egos, romantic entanglements, and other crises. Slamming doors, onstage and backstage intrigue, and an errant herring all figure in the plot of this hilarious and classically comic play. The cast includes: Jennifer Augeri, Ed Bernstein, Emily Borne, Vanda Doyle, Rob Grgach, Mitch Hess, Angie Joachim, Shawn Procuniar and Brian Rucci.
Click Here for More Information
LES MISERABLES
CURTAIN CALL
2/7-3/8/2014
This international smash-hit may be the most popular musical in the world. In 19th century France, Jean Valjean is released from 19 years of unjust imprisonment, but finds nothing in store for him but mistrust and mistreatment. He breaks his parole in hopes of starting a new life, initiating a life-long struggle for redemption as he is relentlessly pursued by police inspector Javert, who refuses to believe Valjean can change his ways. Finally, during the Paris student uprising of 1832, Javert must confront his ideals after Valjean spares his life and saves that of the student revolutionary who has captured the heart of Valjean's adopted daughter. His world-view shattered, Javert commits suicide, and Valjean at last attains the peace he has sought for so long.Epic, grand and uplifting, LES MISÉRABLES packs an emotional wallop that has thrilled audiences all over the world. The sung-through pop opera is ideal for a cast of exceptional singers and overflows with melodies that are already standards. A spectacle on Broadway and in London, LES MISÉRABLES is equally effective with a minimal set; it is its powerful affirmation of the human spirit that has made LES MISÉRABLES a popular masterpiece.
Click Here for More Information
A SONG AT TWILIGHT
Hartford Stage
2/20-3/16/2014
Noel Coward; dir:
Mark Lamos
.
Click Here for More Information
4000 MILES
Long Wharf Theatre
2/19-3/16/2014
The Claire Tow Stage in the C. Newton Schenck III Mainstage Theatre:
Amy Herzog
; dir: Eric Ting.
Click Here for More Information
View All Show Listings for Connecticut
Click Here to View BroadwayWorld.com Connecticut Calendar
Related Articles
From This Author BWW