Latest Articles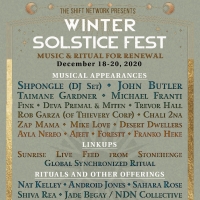 The Shift Network Announces Winter Solstice Fest, Featuring Shpongle, John Butler, Taimane and More
by Chloe Rabinowitz - December 09, 2020
The Shift Network have announced the Winter Solstice Fest, a free and intimate livestream event, set to run from December 18th-20th, 2020. The three-day festival will bring an international line up of musicians, ritualists, artists, visionary speakers, indigenous elders, and more together with a foc...

Farhan Releases New Single PAIN OR PLEASURE
by Tori Hartshorn - April 08, 2019
Acclaimed Indian actor Farhan has released the new single, 'Pain Or Pleasure, the latest track to be taken from his upcoming debut album Echoes, out April 12th....

Engelbert Humperdinck to Release 'Warmest Christmas Wishes'
by Kaitlin Milligan - August 30, 2018
Energized by the yearlong celebration of his 50th Showbiz Anniversary, iconic pop singer, Engelbert Humperdinck feels the urge to start his next decade on a celebratory note as well. Coming hot on the heels of his first album of original material in over a decade, the acclaimed The Man I Want to Be,...