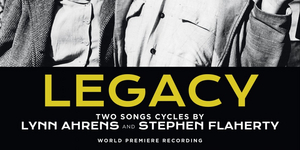 Bright spots in 2020 have been few and far between, but 'Legacy,' a previously-unreleased pair of song cycles from Lynn Ahrens and Stephen Flaherty, is definitely one of the year's unexpected highlights.
Pianist Simone Dinnerstein Gives Virtual Concerts For Duke Performances and Meany Center For The Performing Arts
Committed to continuing to reach audiences during these challenging times for live performance, Simone Dinnerstein announces two upcoming virtual performances presented by Duke Performances on January 30, 2021 and Meany Center for the Performing Arts at the University of Washington on February 12, 2021. Both of these intimate concerts were professionally filmed at Dinnerstein's home in Brooklyn, NY (see photo above).