Now Playing Onstage in Vermont - Week of 4/21/2013
View All Show Listings for Vermont
Click Here to View BroadwayWorld.com Vermont Calendar
INTO THE WOODS
JOHNSON STATE COLLEGE/DEPT FINE & PERFORMING ARTS
4/24-4/27/2013
The Brothers Grimm
hit Broadway with an epic fairytale where worlds collide.
James Lapine
and
Stephen Sondheim
take everyone's favorite storybook characters and brings them together for a timeless yet relevant piece and rare modern classic.The story follows a Baker and his wife who wish to have a child, Cinderella who wishes to attend the King's Festival, and Jack who wishes his cow would give milk. When the Baker and his wife learn that they cannot have a child because of a Witch's curse, the two set off on a journey to break the curse. Everyone's wish is granted, but the consequences of their actions return to haunt them later with disastrous results.One of Sondheim's most popular works, INTO THE WOODS is a musically sophisticated show with the opportunity to feature actors adept at dark comedy. Designers will especially enjoy highlighting the fantastical elements of this magical word.
Click Here for More Information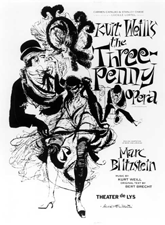 THE THREEPENNY OPERA
Middlebury Community Players
4/25-4/28/2013
Brecht and Weill turned to
John Gay
's 18th-century 'The Beggar's Opera' to fashion this savage, biting commentary on bourgeois capitalism and modern morality. Set in Victorian London, the bitter tale is told of the predatory outlaw known as Mack the Knife. He secretly marries the daughter of Soho's underworld boss, but is soon betrayed by his sinister in-laws and sent to prison. After being freed by the police chief's daughter, he is again betrayed- this time by a prostitute-and sentenced to death. At the final hour he manages a reprieve from
Queen V
ictoria herself, thus providing a menacing finale of ferocious irony.Book and Lyrics by
Bertolt Brecht
; Music by
Kurt Weill
; English adaptation by
Marc Blitzstein
Click Here for More Information
GOOD PEOPLE
Vermont Stage Company, Flynn Space
4/24-5/12/2013
Why does opportunity knock for some, while others can't catch a break? And where's the line between kindness and selfishness? Those questions loom large in this thought-provoking play about two teenage sweethearts who reconnect after 30 years. Mike is a doctor with a lovely home in an upscale neighborhood, and Margaret is an out of work single mom whose teen pregnancy led to dropping out of high school, and scraping by ever since. Their common humble roots and now radically different lives spark a fascinating, funny, and honest exploration of the ways in which class, race, luck, goodness, and the choices that we make can shape our lives.
Click Here for More Information
GOOD PEOPLE
Vermont Stage Company
4/24-5/12/2013
FlynnSpace: -
David Lindsay-Abaire
; dir: Tara Lee Downs.
Click Here for More Information
View All Show Listings for Vermont
Click Here to View BroadwayWorld.com Vermont Calendar
Related Articles
From This Author BWW